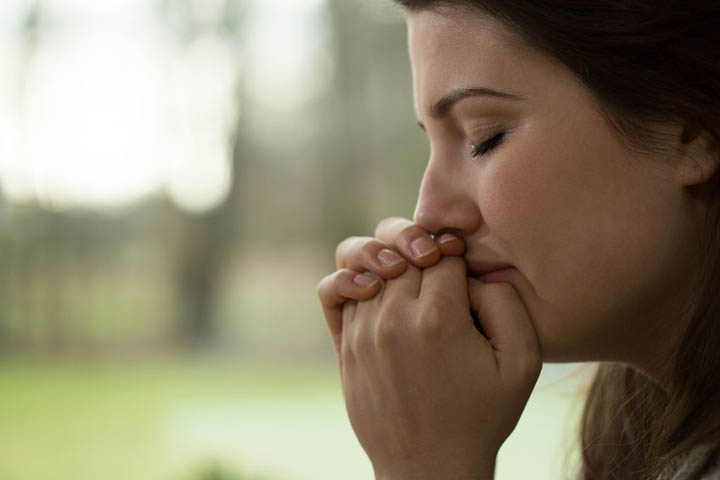 What do you do when the relationship that you're in has simply worn you down to the point that you have almost no self-esteem left, but you just can't bring yourself to let go and move on? Our story this week comes from gorgeous Angelina, who can't imagine life without him, but is feeling completely broken down at this point.
Here's her story:
Hi Jane.
Please allow  me to preface this to say that my husband is my first real love and I have identified myself with my marriage so long that not only is this excruciating but I also have almost no self esteem left because I forgot who I was.
From day one I always had misgivings about the person who is now my husband and we even argued a little on our first date but I let his other qualities shine through and chose to ignore his anger and tendency towards cruelty until the more problems we faced in life, (his overbearing, overly intrusive Eastern European minded mother and housing issues along with his demanding job) took a toll on me.
I felt we didn't handle any of these issues as a team, just him wearing me down with his anger and near total hatred of me until I caved in but this never felt right so I'd stand up for myself by getting angry at him.
He is so stubborn and his mother has messed his mind up so much, (she is very very good at guilting him and passing on her hysterics to him, she wants to be the first person in his relationship calling all the shots of the marriage), that I found myself reacting in anger and frustration to try to get him to do anything good for himself.
A kind touch would not work but ironically it was my kindness that he said he fell in love with.
He always eventually came around to do what needed to be done until last winter, (when the stress of housing - we mistakenly bought a terrible house and have been dealing with unscrupulous contractors since to try to put it back together along with a new really terrible boss at work made him feel like a failure), He had a nervous breakdown.
Now, all I hear is how literally EVERYTHING is my fault, NOTHING is his fault and he refuses to show ANY physical intimacy of any kind and just keeps saying he feels like he is just a giant black hole - that he feels nothing especially for me, but refuses he to get any help.
It's important to note here that he never blames the house or the boss at work even though these could very well be the issues.
I have been researching, studying, taking classes, (I even went to therapy to save my marriage by myself because he refuses to go),  on how to save my marriage but nothing has seemed to work and all I hear about is how the failure of the marriage is because I am such a terrible person and he can't remember anything good.
He did eventually go on medication as his "last attempt to save the relationship" and it finally seemed like it was beginning to work but he felt emasculated so went off it without tapering and this made him worse.
We have parents in different states and I just didn't feel I could deal with his mother and the crumbling marriage so I went to see my parents and when I tried to contact him to check in after not receiving any communication, not even a merry Christmas or happy New Year, he said "don't come back and only all through texts".
I have been trying to communicate and come back for over a month and a half again after the same thing , (with him telling me not to come back and not communicating), happened last year and when I left this time I thought we were doing better and making progress.
I guess I was wrong again.
So, I've just stayed with my parents feeling like a loser because I made my whole life about him succeeding at work. I have  no job right now because again, I made my life about him and him finding success.
I have no real friends but I am independent and have used my gym and friends at the gym and trying to find an outlet through be creative in someway as an escape. There is NOT another woman, I know that for a fact. Though I torture myself telling myself there is.
I really love him but I obviously lost myself and his theatrics don't help with life. He is the only man I've ever been with physically and we've been together for 12 years. I feel old now, which he constantly tells me I am.
I am 33 and my self esteem is completely gone because he was the worst voice - actually telling me horrible things - that have stuck in my head.
There were really good times but the constant blame and total lack of intimacy for over a year have hurt me to my core. I think we make progress no then we are right back to square one. He blames me asking him to go on medication to try to help him as one of the reasons he wants nothing to do with me.
Is there anything I can do to help him come back from what I see as depression and view me in a positive light or be able to see the good times we have had aging or have I lost him forever? The thought of life without him terrifies me.
What is so terribly wrong with me? Am I really that awful of person? I've just been trying to help him.
My opinion does not seem to matter and the marriage has become very crowded with his mother inserting her negative feelings. Thank you in advance.
Please take care.
- Angelina
My Response:
There's nothing wrong with you, Angelina. But being with someone who blames you for the deeper issues that ail him that his sensitive ego won't allow him to admit, sets you up to feel like there's everything wrong with you.
When his voice becomes the loudest and it's filled with blame and guilt that he's projecting on you because he can't bear the shame of taking it on himself, it doesn't take long before this becomes your voice, too.
Add  to that the long history you have with him, the investment you feel of years of being with him of living with him, it is not something we can break off lightly.
There's a dynamic here that comes into play when we're with someone like this. You were drawn to him for the same reasons he was drawn to you. You both represent something beyond each other.
The part about his overbearing mother gives such insight to what's going on behind the scenes for him. And somewhere, in your own dynamic, there is something about this man that meets a deep need for you as well.
These kinds of relationships are the most difficult to navigate, but they're not impossible.
The most important thing you can do is to start by understanding that how he's behaving has everything to do with him and his fears and his place of wounding – further supported by his feeling emasculated by getting help and seeing medication as a weakness.
This is how so many men feel, and it's why we're the ones who try to help them through, who keep on trying to help, loving them through whatever they're going through.
It's also why they need us, why they choose us, and why they don't want to let go of us completely. To them, we're the lifeblood that gives them hope. For as long as we're not giving up on them, they can believe there's hope.
This is what turns the question from "what does he need to do?", to "what do I need to do?"
When you love an emotionally unavailable man, you are basically loving a child. Unconditional love is the only thing that can get through to him. But that's going to put so much on you.
There's a reason he's acting like a child in so many ways. Mostly, it's because that's where he was wounded. That's where his emotional growth was stunted. He couldn't move forward because his feelings that he was very much feeling weren't being accepted. So at this point he became stunted and this is where you still see him now, emotionally.
Yes, you can do it. But it takes a certain type of women to be able to do it.
If you can't accept his behavior for what it is, if you keep trying to change him rather than lead him to see a different way because of your acceptance and unconditional love of him, you can't do it.
My question for you is why do you want to love him unconditionally? What is it about him that make him deserve that kind of love from you? Unconditional love accepts everything.
Why would you love him like that? Most of us are loving him like that because that's how we want to be loved. But look closer at that because projecting that kind of love on him that we want for ourselves is a very tricky territory.
Since we need so much, giving him that love will never guarantee we get that love back in return. Instead, what it almost always does is set us up to be resentful, to feel wronged, to feel so angry that we gave him what he couldn't give us and that somehow we're owed because we did it first.
But that's not all bad. It's going there in the first place that allows us to look deeper at these concepts.
Of anger that most of us have never been allowed to feel. Of resentfulness. Of judgment. Of this kind of tit for tat thinking. Of being somehow owed something when he never agreed to it – and we never set it forth as an agreement to begin with.
All of this aides in our own growth process, and that's why this can be such an awakening to ourselves and the very things we think we're all about - like unconditional love - only to find out that we too have loaded answers here that aren't quite as black and white as we'd like to believe.
Get to know yourself, Amanda. Get to know the real you behind the image, behind the person you've become.
My guess is you've been with him from before you even knew who you were. There's nothing to fear by discovering who you are. It may feel scary because it shakes up the status quo, but what it does is bring out what's operating underneath there anyway, whether you realize it or not.
The more women I work with I've become more convinced than ever that the absolute key to being with a man like this is first filling your own cup full enough so that you can see him objectively. Then and only then can you decide if you're up to the task of loving him the way he needs to be loved, before he can give love, and whether you can throw out what love is supposed to be like in exchange for what love actually is.
You're the only one who can decide if he's worth this, but the only way to know for sure is if you come from a place of a full cup instead of one that looks to him to fill it up.
Ironically, as long as you look to him, he can't give it to you. But also ironically, as soon as you can give it to yourself, that's the only time you can give it to him, and  then he may be able to give it to you.
That's why none of the tricks work. Because when you've got this kind of a sensitive man, he sees right through anything that even remotely seems like it's fake, and only gives you what you need when he knows it's real.
I hope this helps.
Love,
Jane
What do you think? Do you have any other words of encouragement or advice for our gorgeous friend Angelina? Please share them with us below in the comments!