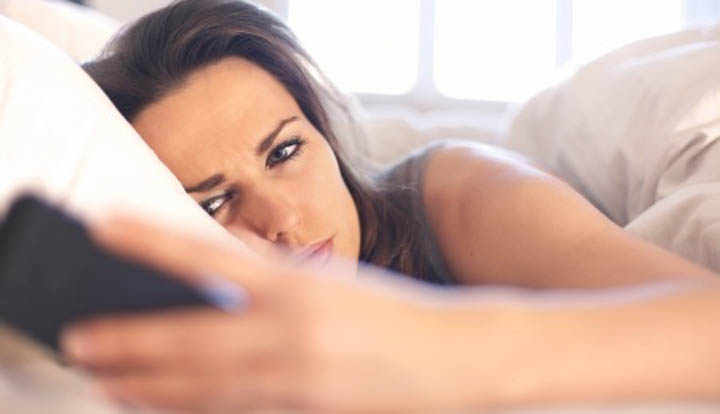 Online dating has brought us the amazing ability to connect with so many different people so quickly. Unfortunately, it also means that those same people can disappear faster than ever before. The question this week is from our beautiful friend Laura, who was recently ghosted by a guy on Tinder that she really thought she had hit it off with.
Here's her story:
I'm brand new to online dating, but a friend convinced me to give Tinder a whirl.
About a month ago I matched with a guy, and we really hit it off. Texted daily, and he asked if he could call me.
Yep, actual phone call.
Every time we talked on the phone, it was for hours. We talked about what we wanted, and were on the same page in regard to wanting to settle down, marriage, etc. He told me he was only even still on Tinder bc he was able to see my pics that way.
During that conversation, he mentioned something about me still messaging guys on there.
He had a vacation planned, asked me to go with him...I couldn't bc of a work trip. He works 80 hours a week, so once in a while, he wouldn't respond to a text, which I understood.
Last week, texted me that he was excited bc his schedule is changing in two weeks, and he was going to have free time so we could spend more time together. Last Friday, I sent him a good morning text (he did it almost every day, once in awhile I would send it first), and he didn't respond. I didn't hear from him all weekend.
Aaand, then panic set it.
I waited until Monday, shot him a text asking if he was excited for his trip, no response. At this point I assumed he just ghosted. But I had a few drinks and wed sent him a message on tinder saying he must have been abducted by aliens but hopefully they dropped him off at his vacation destination.
Said I thought he was great guy, hoped he had a great trip, and left it at that.
But in hindsight, I realize it might have come off passive/aggressive. Tinder said he'd been active so I presume he read it. Last night I changed a few of my pics on Tinder and this morning, poof! He unmatched me.
The coincidence is unsettling to me.
Did I let panic and paranoia just overcome me?! Part of me wants to contact him in a week or two and just ask him what happened...and yes, I realize how crazy/needy I'm sounding, but wth...I feel like I deserve some explanation at this point, even if it's that he just lost interest.
I mean, what's the worst that can happen, he already stopped responding to me. Lol.
There's just a part of me that is blaming myself and wondering if I pushed it too far!
Help.
- Laura
My Response:
Ah, Tinder. The dating site we both love and hate.
It gets such a bad rap, and so often because of stories just like these. So much potential, but it rarely seems to quite work out that way.
I've heard so many stories of cheating, of men only looking for one thing, of the very best of the worst from Tinder than any other dating site. That if he picks us, it must mean something because of its reputation for being mostly filled with players and the best-looking men.
So if we're on there and he actually is asking if he can call us, then it must mean we've really got it going on.
Or we think of it as we're going to be able to change the player, to love the guy who on the surface appears to not need anyone at all enough to turn things around. Except the exact opposite happens.
He's not only looking at you.
You're not the only one he's engaging with, and at the first sign of you getting too close – yes, even if he initiated it (I know, it wasn't even your idea!)  - he's gone. You've been ghosted.
Of course in a situation like this you're going to second guess yourself and wonder if it was something you said or did, or didn't say or didn't do. We all do it.
The thing to remember here, Laura, is that you were responding to a change in pattern, a change you sensed in that part of you that always knows more than we ever give it credit for.
Yes, you could have left it, and he may have responded at some point in time. But to go a whole weekend without communicating with you when you mention he had been sending you a morning text almost every day, would make most of us at least a little anxious.
The Monday text after hearing nothing from him all weekend would certainly have been an easy one for him to reply to, but again, his silence told you everything you needed to know. A change in pattern.
Right after he told you his schedule was changing so he could see you more.
Would it have been different if you hadn't texted him again, and especially if you hadn't sent him the tongue-in-cheek text after a few drinks on the following Wednesday? There's really no way to know, but probably not.
It's much, much more likely that what was really going on with him had nothing to do with you – even your panicked, paranoid self that might have let a little or a lot of itself show through – and everything to do with him.
First of all, he's on Tinder. Let's not forget that.
Secondly, he made a point of telling you he was only still on there so he could see your pictures. Why make a point of explaining that to you?
And then the most important part, your own gut instinct. Call it anxiety, paranoia, whatever you want to call it, but when we get a sense of something, there's almost always something there.
Whether it's a wake up call to do some work on ourselves to find out why we feel this way, or because there's something we're picking up on from him that's telling us more of the truth than he is, there's something for you to explore here.
Yes, you could reach out again to try to get an explanation, but you already have everything you need to know. The rest is just our own curiosity, or what we'll later use against ourselves to beat ourselves up all over again.
Let me give you what I think you really want to know. Let's go back in time.
He's just texted you that he's excited because his schedule is changing in two weeks so you'll have more time together. You're excited, right? Of course you are! So you send him what should be a normal "good morning" text if you're going by the  current pattern of communication in your "relationship" or whatever you're calling it.
He doesn't respond.
The weekend goes by and still nothing back from him. So let's say you chalk it up to him being really busy, too busy to reach out like he usually did. And then, because you were the last to initiate contact, you decide not to text him the casual text on Monday.
Now by Wednesday, and probably much, much earlier since you're one of us, you're pretty sure he's done a disappearing act but you can't quite get your head around it – or about why.
If it's any consolation, I don't know if any of us could. But this time around, instead of sending him that additional text while loosened up from a few drinks  - which is what it sounds like you're wrestling with the most – you again refrain from sending anything and simply go about living your life, assuming that all this means is that he couldn't get it together and isn't worth your time.
And since you know you're worth, you already get it that you're beautiful, confident, and radiant just as you are, so you recognize that it's only his loss.
Now how does that make you feel?
Better because you gave him space and time, and you left it with the ball in his court to respond when he wants to? Or are you still going back in time, wondering what happened because not knowing is still eating you up inside?
Now let's go back again.
Let's do everything the same, all the way up to Monday when you reached out to ask him if he's excited about his trip. Totally benign, right? And yet still, he didn't respond. Note that part. He's already gone there.
If "good morning" initiated by you was too much, and now a follow-up asking about his trip, clearly showing that you just want to know if he's still alive and still interested in having anything with you, are still too much for him, than what does that tell you about him?
Wednesday's text, however passive/aggressive or whatever else it might have come off as, only showed what was certainly understandable on your part after your previous pattern of communication with him.
You're reaching out, wanting to know what's going on, and he's giving you nothing. How you responded was how you felt. And how could you not feel something?!! If he had a sense of humor or wasn't really in over his head with you, he would have responded in the only way a decent guy would have. With a sense of humor of his own.
"Oh, sorry, I've been crazy busy. No, aliens didn't abduct me, just been really busy. Talk soon."
Or something along those lines.
Something, anything, right?
But the bigger point is that you wouldn't have been left waiting  - hanging is more like it – if he was truly on your page and looking for the same thing as you.  That's what I want you to take away from this, Laura.
It doesn't matter what you did or didn't do; this isn't about that.
This is about him.
He unmatched you because he decided you weren't on the same page, or he wasn't looking for the same thing as what he realized you were – and he clearly wasn't.
Yes, even after all those long, late-night conversations.
You can check out my new audio program "Why Men Pull Away", if you want to really understand what went on here. Most of us free ourselves by coming to a greater understanding of  that "Why".
But to reach out again to try to get it straight from him? You could, because after all, you're right you have nothing else to lose – except maybe a little part of yourself or your dignity if that's what it would feel like to you. But on the other hand, I'm all about finding out what we need to find out to move forward, from whatever source, we need to, even him.
Even if that means doing things we'd never thought we'd do if it helps us to get our own answers and move forward. After all, there aren't too many worse things that continuing to beat ourselves up and lament what we woulda, coulda, shoulda done.
So do what you need to do for you, balancing what feels worse, what feels better, and always what you're worth.
In the end, the only thing that matters is that you do what you can live with. With someone who is truly right for you, there are no "if only's"; there are only two people on the same page, wanting the same thing with each other AND willing to do whatever that takes to make It happen. Don't believe anything else!
Hope this helps, Laura. There's someone else out there for you who won't ever leave you second-guessing yourself – or him!
Love,
Jane