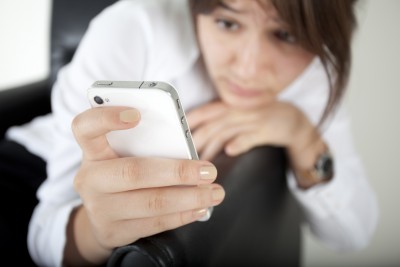 Almost all of us have been there before at least once in our lives.  The perfect guy, the one you've been waiting your whole life for, suddenly disappears, never to be heard from again. No call, no text, not even a goodbye note. There you are, left all alone, wondering what happened, where'd he go, what went wrong, and, most importantly, what should you do now?
While some of us try desperately to get him back, others go back and forth second guessing everything and blaming ourselves for being the reason he disappeared. Most of us, at one time or another, have found ourselves so utterly devastated by the disintegration of what seemed so promising, so full of potential, that we are unsure of how to move on.
The good news is that there's a process for getting through this and getting back on track, to where you were before he disappeared.
Express it.
Whether you punch couch cushions or a punching bag, cry into your pillow until your tears are finally dried up, scream at the top of your lungs or pour out your heart to your best friend, the key is to let it all out. Let yourself really feel everything no matter how painful, say everything you want to say until you get to the tears and then let it all out. There is nothing as healing as those tears that finally come when we realize that underneath our anger and our rage at what happened is simply a hurt little girl who wasn't ready to give up on a dream. From there, true emotional healing can finally begin and life can begin anew.
Write it out.
Write a letter or email to him letting him know how much he hurt you and how much it hurt you that he disappeared. Don't miss anything you want to say to him. Write out every detail, every feeling, every way you feel betrayed, misled and disappointed with the way he suddenly disappeared without a trace, without any explanation.
But don't send it to him; this is for you, not him. It's in putting it down on paper that you get it all out while it serves as a reminder of what it was really like with him when your memory can only conjure up all the wonderful things about him and the relationship and forgets all too easily the reality of what it was really like. Then when you no longer need this reminder, once you can see the reality of what was instead of the fairytale fantasy of what you wanted it to be, get rid of it.
Forgive him.
Yes, you read that right. You have to forgive him for the fact that he disappeared without so much as saying goodbye. Let go of the anger and the sadness realizing that he just wasn't there didn't know how to handle the situation any better. He wasn't on the same page as you and as much as he might have wanted to be, he didn't know what to do to get there and wasn't able to be honest and upfront with you when he realized this. This isn't about excusing him or lessening what you went through; this is about you recognizing that he is just as human as you and can make mistakes, too.
It doesn't absolve him of what he did or the responsibility for his actions, it's simply about you making a decision to forgive him and let go of holding a grudge against him. It's about not letting that kind of negative energy permeate your relationships going forward. It's this lack of forgiveness that all too often ends up with us having hardened hearts with jaded attitudes even when we move on from these past hurtful relationships. It's when we truly can see him for the less than perfect guy that he really is that we can learn to forgive in a genuine way that allows us to forgive ourselves, too.
Realize it was a gift.
The bottom line is that he wasn't the one for you. You weren't meant to be together. And it really was a gift that you found out now, as painful as this realization can be, before you invested any more of your time and energy on someone who isn't there, isn't on the same page where he can give you what you're looking for from him. It doesn't get any easier the longer you're together; it only gets more painful. So know that you've been saved from so much more heartbreak down the road by finding this all out now.
Now you're available for someone who is on your page.
You now have the time and energy to spend on someone who is right where you are, looking for the same thing you are with someone just like you. There is nothing that compares to this when you find it, and the surest way to finding it is in the process of letting go of the ones that aren't where you are, as painful as that can be to accept.
Above all, by looking at our relationship endings this way, we can begin to see that these things really do happen for a reason, and when it's meant to be, it will be! And when it's not, it's a beautiful thing if we choose to see it that way; as it clears the way for the right one to arrive.