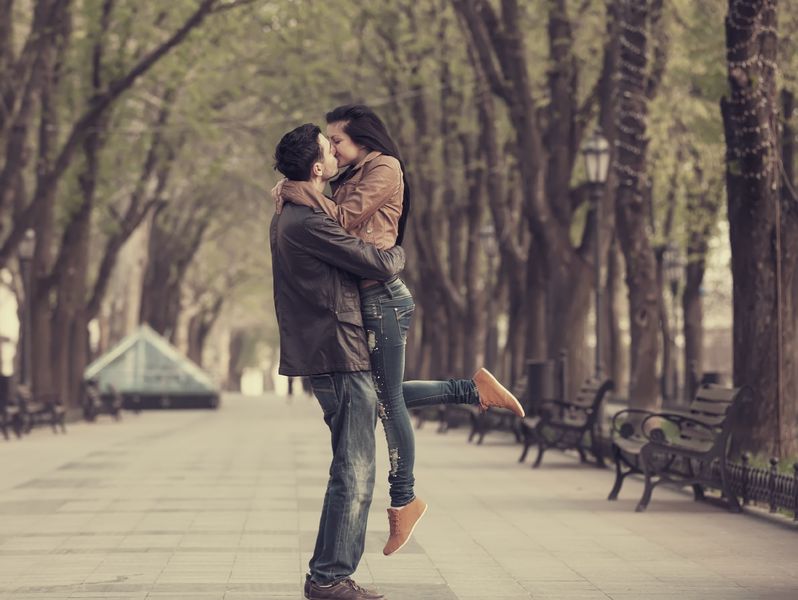 Our gorgeous friend, who has called herself "Mayan Goddess", is wondering how to break free of a guy that she can never seem to say no to.
Here's her story:
He says it's complicated with his on-and-off-again girlfriend... He said, I don't want to break your heart.
How do I know when to say, "no" when all I think about is being with him?
My story short version:  It was three years ago when I first laid eyes on him.  He started working where I was filling in for a coworker for a month. It was weird. We couldn't keep our eyes off each other. I would catch him staring at me.
When we looked at each other it was like we were gazing at the stars (at least from everyone else's opinion.) I was married at the time. He had a girlfriend.  Although, we chatted every now and then, we were respectful to one another.
It took three weeks before I mentioned I was married and before he mentioned his "girlfriend."
We were in the elevator alone one time and I just was so nervous, I was red and felt like I couldn't breathe. He, too, was red staring at me and having small talk. It was only 20 seconds or so but felt like it was an eternity.....
I filled in every now and then for my coworker for three more months.... He finally was transferred (or moving up the ladder) and went on to his next assignment.  We never did anything nor ever said anything for that matter, but we just knew.
That was the last time I seen him. 2012/February... I had said to myself, "Wow, Lord. How lucky is his girlfriend? What I would give to experience being with such a highly-respected/kind/thoughtful guy??? She's super lucky!"
In those two-and-a-half years,I thought about him often. Wondered if we would cross paths again. I knew sooner or later we would. It was inevitable because of where we worked.  (Legal system.)
I had been in a abusive marriage for a very long time. My marriage finally ended.
I had been separated from my husband for eight months and finally my husband filed for divorce. I was devastated. I cried for a week, but then whah-lah! It was like magic. I was okay with it. I had accepted it and was ready to move on...whatever  that meant.
A week later, I had been in trial and was coming up the stairs from my office. As I was walking up the stairs, I hear voices and I recognized one (and thought no way).
It was like slow motion....it was him!!
We looked at each other and I almost fainted. He turned bright red and held the door for me. Excited we were. He was nervous cause he kept asking me the same question "So how ya been?" Lol. He was there getting something signed.
So I walked in my courtroom and kinda just said okay see ya.... I walked away thinking wow, I'll probably never see him again.  About a minute later the door opens and it's him asking me to come here. Uhhhh, I was about to s*** in my pants.
We talked in the hallway, body language was like magnets. We were totally into each other. Our eyes gazed. It was just obvious. Staff had to come get me twice and practically drag me back in...so he asked for my number.
That part was important because the rest won't make sense.
From that moment on he's been like magic. We texted 'till 6:00 a.m. he couldn't talk cause he was doing OT so we texted. Every day, every night 'till 2:00 a.m.  He got off at midnight. I started work at 8:00 a.m. He would come work overtime in my building, like a lot. He showed interest. Finally he convinced me to sneak out one night and talk to him....
He told me he didn't wanna break my heart or that I should have expectations.
This was after I asked him if he had a girlfriend. Weird huh? So he was in an on/off relationship. I then backed off and told him I'm not comfortable w/that, but that I wasn't looking for a hero.....Ya right!
He kissed me. Picked me up. Held me. Caressed me.
And when I finally invited him in, it was just pure passionate affection. The way he held me was like heaven. No sex. But just kissing and holding each other. Massaged me. Kissed me on my forehead. Awwwwww.
He would stay with me till 5:00 in the morning.
I was in love?? He pretty much swept me off my feet. Still no sex.
So for a month we texted and saw each other until he made me mad. I ignored him and went out of town. Didn't respond to his nonstop text of "are you mad at me?" "Can I take you to lunch?" The sad faces.... Ugh!! I was dying. I didn't wanna hurt him.
So I gave in a day later and texted. He continued to come see me after work (midnight) about three times a week.
All this has stopped. Poof!! I only see him once or twice every two weeks and his text messages have dwindled down to about once or twice a day every other day or two days. Sometimes I'll ignore him and won't respond until a day or two days later.
I told him I didn't care if he texted or not and that I had been a bad girl. He asked why. I gave no explanation. It's now four months and I just can never seem to say no to him. I don't ask him questions.
Just when he comes over it's as if he's done nothing wrong in my eyes.... How do I say no?
- Mayan Goddess
My Response:
Dear Mayan Goddess,
As I was reading your email, three words kept coming up for me, fairy tale romance.
The chance meetings, the perfect timing, the "other woman" who really doesn't mean anything to him, the coincidences that are anything but; you transported me back in time to a page right out of a romance novel.
I can see why you're hooked. It's the kind we love to read – and even more, to be a part of -  because it has all the makings of an epic love story.
Except for one thing.
It's missing the crucial reality part. Oh, the potential for it is there – otherwise, what reason would you have for staying with it to find out the ending for yourself? But other than that potential that only the tragic heroine of the story can see, there's nothing else there.
There's a man who doesn't leave you with  many options because he's already warned you away. He's showing you with both these words and his actions that this is as much as he has to give you.
He'll have all his reasons – and maybe an excuse or two as well. My guess is he's always wanted to be someone's hero. And it sounds like you've been looking for someone to be your hero all along.
Isn't that how most of us get here?
You don't ask because you don't really want to know. It feels like he's done nothing wrong in your eyes because what you see when you look at him through your eyes is very different from what anyone else sees. It's your fairy tale, your dream, your little piece of heaven when you're with him, and so the last thing you want to do is say "no" to something like this.
Unless you want something real.
Unless you want someone who can be there for you in the hours before midnight and after 5 AM as well.
Unless you want someone you can ask questions of and not be afraid to hear his answers.
Unless you want someone whose first words to you aren't about him not wanting to break your heart and about you not having any expectations.
What you're seeing is who he is. What he's giving you is what he's capable of giving you. What he's showing you by his behavior is what is working well (so well!) for him.
But as always, we can talk about him and all  his reasons for behaving like this until we're blue in the face, but it won't change your own specific situation unless we bring it back to you.  Because this isn't about him, this is about you.
It's about what you want – if you're honest with yourself. It's about what he's worth to you – and if you don't know your own worth, whatever he is will seem like so much  more than it actually is.
You're not alone here, Mayan.
You're in a place so many of us have been, or still are. It's a place so many of us gravitate to with seemingly little effort on our part;  it's a story we're almost afraid to admit we know well. Because if we're honest with ourselves, there's a little bit of that story we all want; and we'll stick around just a little longer just in case it's the one with the happy ending we've been longing for. There's no shame in wanting that.
Or in any of this.
You'll say no when you want to. You're that strong, you're that powerful, you're that determined.
But you have to want to.
And if you don't, don't tell yourself you do.
Instead, own where you are and what you really want. And then go out and create that beautiful life for yourself, instead of labeling yourself, or living out someone else's life for you. Make it your own.
I have a feeling you know exactly how to do just that.
Love,
Jane
What do you think our beautiful friend Mayan Goddess should do in this situation? Tell us in the comments!