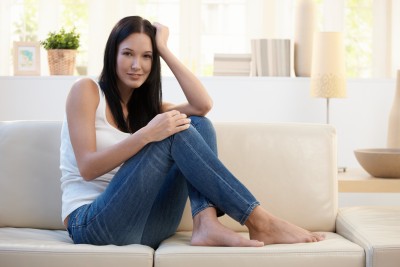 If you feel like you've been working so hard to meet the right guy, you've tried everything from night clubs to dating clubs to speed dating, well I've got some good news for you: It's time for a break. It's time to realize that you don't need a man to define your life!  You don't need a man to have a world to fit into. In fact, it's the opposite – your life is exactly that – yours.
I know you've heard this before, but it's time to really get it. As much as we may know in our hearts that we've been going down the wrong path, attracting the types of guys that just aren't able to give us what we're looking for, we still find ourselves rejecting the guys who are actually healthy and ready for a relationship in favor of the excitement and drama of the roller-coaster ride Mr. Wrong takes us on.
So why don't we stop this self-destructive behavior?
Well, the truth is that it's a lot easier to keep doing the same thing over and over again than to stop and take a good hard look at ourselves, and do the work to figure out what's motivating us to keep repeating these same patterns over and over again.
It's not easy, because our current behavior is comfortable on some unhealthy level and that's what keeps us from doing our own deep work to finally understand why we're doing this to ourselves.  Everything we do works for us on some level; usually it's on a deeply subconscious level – but there's always a reason.  It's difficult to look at ourselves and start to peel away the layers of our defenses to discover what's really going on, but if we want to get off of the rollercoaster it's work that needs to be done.
Often, the decision is made for us, when we hit rock bottom; when the circumstances no longer allow us to hide from the truth, and we finally have to face it head-on.  Or it may be we just simply get fed up and find ourselves ready to do whatever it takes because we refuse to go through this heartbreak one more time.
We realize that we are utterly tired of this same old game and the same old disappointing outcome.  We come to see that it's really been the same guy with just a different name and a different face each and every time; even though while we were in it we were so sure this time was going to be different.
That's when we finally do the one thing that may actually have a chance at turning our situation around: we give up our search!
We stop.  We breathe.  We sit back.
It's at precisely this moment when we finally stop trying so hard to make something happen that we clear the way for the love that's been waiting for us for so long to finally get through to us.   And slowly, very slowly, from that low place where we feel we can hardly lift our heads to face another day of doing the same thing over again, we finally see the light.  And a faint glimmer of hope.  That there just might be something better for us out there.
We don't have any idea of what that looks like right now, but something in us stirs.  And we know we just need to be with ourselves for a while.
I can't explain it, but something about giving up the search, something about giving up all of the trying to make things happen and all of the effort spent trying to be what we think these guys want us to be, we find a peace within the surrendering.  And we find an unknown strength to start over.
And this is how the healing begins.
So here's what we're going to do to get us to that place of healing, that place where we can start to build the strength, the confidence that will allow us to become confidently one before we can ever become a healthy part of two.
We're going to put our search for Mr. Right on hold.
Yes, you heard me right. I want you to, right now, commit to taking 3 to 6 months off from your hunt for Mr. Right.  3 to 6 months off from any type of searching, either online or in the physical world.  This means no online dating, no nightclubs, no going anywhere that you normally go intentionally to meet men.
What we're really talking about here is a mindset.  The mindset that you're just not looking, and you've decided to be completely happy on your own for this defined time period. The mindset that you're focusing on you right now, and you are only going to do things that make you happy.
But keep in mind, we're not necessarily talking about taking a break from men, we're just talking about taking a break from the search for men. So if you're out, doing something you enjoy doing for the sake of doing it, because it makes you happy, and you happen to meet a guy that you like and he asks you out, well then by all means go out with him (because often times, once you let go of the searching, this is exactly what happens.)  What we're talking about here is the freeing of yourself to simply enjoy everything that life has to offer – friends, family, adventures, pursuing new interests or reviving old ones – without the constant thoughts of "will I meet someone?" Go into it with the mindset that you're absolutely fine if you don't even meet any men during this time period, much less go on any dates.
It's very important to set a defined time limit, so that you can feel comfortable knowing that you're not giving up for good – just long enough to clear your head. It may help to think of it as a vacation from the search. A chance to revive your soul, rejuvenate your senses, and quiet your spirit. A chance to spend some time with people that you haven't spent time with because there was no chance of meeting a guy while with them (think: Friday night with Grandma and Grandpa.)  Or a chance to spend some wonderful time alone, reading, painting, or trying something new.
If 3 months seems just too long, and you're right now thinking "but it's spring! It's the best time to meet men!" then at least commit to one month. Longer is better, as it really gives you a chance to delve into yourself and discover the real you, but committing to one man-search free month is better than nothing, and it will get you started.
I think you'll find that after just a few weeks you'll feel so much freer, and you'll gain so much clarity that you won't ever resume the search. And you'll find that you are so much happier when you're following your own interests instead of doing things just because a guy might be there. You'll really begin to know the real you, and what she likes to do for fun.
And the best part is, when you do meet that guy of your dreams, and he asks you "what do you like to do for fun?", you'll have plenty of answers for him.
And he'll find that very attractive.