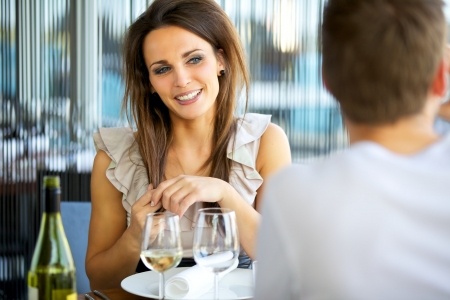 Yes, you do have to know who you are, what you have to offer and all those things that make you confident. You need to know what you're looking for, what you really believe about love and why you keep choosing the same types of guys and expecting a different result even though they're exactly the types that aren't on the same page as you.
But apart from all this important work we do to find out who we really are and what we're looking for, beyond our soul searching to find our story and discover our own unique blind spots, triggers and programming. Aside from knowing what's ours, what's someone else's and what comes from our culture, there lies the practical art of dating.
It's time to revisit this concept of "dating" because it's holding the bridge between being alone and finding someone to share our lives with.
But most of us are approaching it completely the wrong way.
We need to see dating as more than simply a means to an end. We need to see it as an enjoyable journey, filled with adventure, new people and places, new friends and renewing old acquaintances. And the key word here is enjoyable.
It's time to take this awful pressure off of ourselves … and just date for all the right reasons.
Date to get to know someone better.
Date to get to know yourself better.
Date to get to know who you are and what you're looking for.
Date to know what you do and don't want.
Date to find out about different types of people.
Date to find out about different hobbies and passions and pastimes and causes and vocations.
Date to find out about places you'd never otherwise know about and experiences you'd otherwise miss.
Yes, I know full well from my own personal experience that there's going to be both the good and what you'll call the bad. But without the one, we wouldn't get to the other.
Without taking a chance on someone, we wouldn't find the one worth taking the chance on.
Something happens we we take all the pressure off. Something comes from that conscious action that allows us to relax, to sit back and observe instead of trying so hard, looking so deep, and making this dating experience into such an all or nothing experience.
Date to find a friend.
Date to grow your world.
Date to stretch yourself.
Date to grown.
Date to enjoy someone's company instead of being alone.
Date for fun!
There's no other  way to get to know someone than by spending time with them, getting to know them better by being with them purely for the sake of getting to know them better.
There doesn't have to be sparks. They can come later – and they often do! There doesn't have to be instant chemistry. There doesn't have to be the little voice that rushes ahead and sees the father of your children or your soulmate.
In fact, there really shouldn't be.
Dating is simply how we do this in our culture. It's how we get to know someone.
But there is one important caveat; don't jump ahead. Don't imagine the future with him or write him off yet either. We've shown ourselves too many times that our type is not compatible with our dreams and desires. This is about a new perspective on a familiar path.
Don't sleep with anyone yet, no matter how tempting it is. We think we can, but it never fails, we just can't without getting ourselves emotionally involved to a point of no return. Keep to public places if  it's too tempting and you don't trust yourself to be alone with him. We're going for the whole package; not a one-night stand (or a three-date stand).
Date often. Date more than one at a time.
This is about getting to know lots of different types of people, and feeling what it's like to broaden your circle of friends for now. It's about keeping your social calendar busy so you're not spending so much time wondering if and when he's going to call.
Soon  you'll meet him. A different type from all the rest, someone who's giving you reason to believe he's on the same page as you and looking for the same thing – with you. Someone who you're attracted to. Someone who treats you well – without needing to sweep you off your feet. Someone who's real. Someone who's taking it slow so he can get to know you better, too. The one who wants the same kind of commitment from you that you want from him.
The kind of guy who proves himself worthy of you. The right guy - the one who's right for you - will.
Take any of your story about dating like this and put it on notice that it's time for a new dating story. You're doing the choosing here, and this new way of looking at dating is how you choose.
Does this change the way you look at dating? Tell me your thought in the comments!