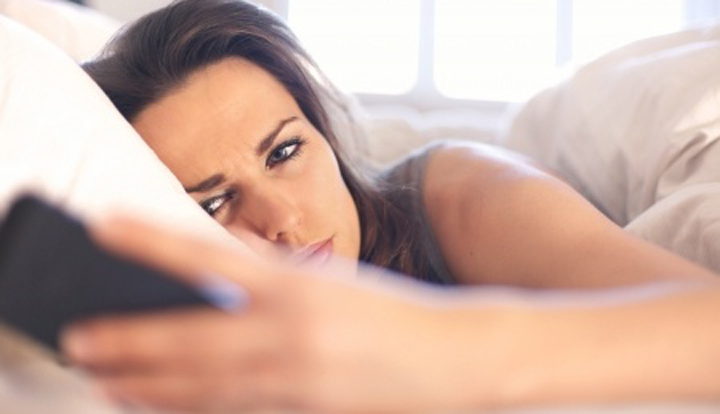 One of our beautiful readers, who I'll call Sarah, is feeling like she's on the wrong side of a one-sided long distance relationship.
Here's her story:
My boyfriend and I have been dating just coming up on 6 months. He is nothing like anyone I've ever dated before and that's what I found most appealing.
Now he just moved to the Middle East for a new job, and I'm here in the U.S. and our communication isn't as I hoped anymore.
Full disclosure I told him I loved him before he left..and I knew beforehand so it wasn't just because he was leaving. When I agreed to tell him I was fully prepared for him not to return the sentiment so when he said thank you, I was kind of okay with it.
But days later and I just wasn't. In person he is the most loving and he's always telling me I need to be open and share my feelings. Well it angers me when he says this cuz he doesn't in return.
We would text all the time and call each other. The first couple of days he was gone, moved out of the country, we still talked as usual despite the 11 hour time distance. We figured, oh, it's not that bad, cuz there is a grace period where it's not too late there and not too early here...plus we both have this understanding of texting each other no matter what time.
My main issue is it feels like I'm the one always initiating contact. And as much as I miss him I just want to talk with him but I feel like I need to wait for him to initiate just to see what would happen/what he would say.
He updated his contact photo via our msg service and I noticed he cropped himself out of a photo with another woman beside him and my mind just went THERE.
Yes I trust him, but like 5% of me just cant help it cuz he's in another country and despite what we promise each other, things can happen.
Should I just wait for him to contact me? Cuz i don't want to seem like this obsessed girlfriend.
-Sarah
My Response:
Two things stood out for me in your email, Sarah.
The first, is when you say your main issue is that it feels like you're the one always initiating contact. Yes, that's a concern! And no wonder you're not sure if you trust him even though you feel like you should.
But why should you? That's my question to you.
What assurance do you have from him that you should trust him being far away from you in another country despite promises that may or may not be anything more than words? How can you possibly trust, with that kind of blind faith, a guy who you've only known for 6 months, who said, "Thank you" when you told him you loved him before you let him off the hook?
Of course your mind went there!
He cropped himself out of a photo with another woman beside him. Another woman. Our minds are supposed to go there!
Sure, your worst fears might not be realized here. Sure, you could be wrong. But what matters more than anything else is listening to that little voice inside you that's sounding the warning bells telling you there's something here to listen to, something to check out.
Let's go back to what sounds like the reason you reached out here. The fact that this feels one-sided to you as you're the one having to chase him down to keep your relationship going.
That doesn't feel good, because it's not.
That's not what a real relationship is, much less a long-distance relationship where your fears are that much closer to the surface because you don't have something called proximity to easily check in and see what you've got.
You need more contact, not less, when you're apart like this. You need more reassurance, not less.
Let's go with what your intuition is trying to tell you here and see what happens if you give him the chance to initiate with you.
What happens in that space? Does he miss you? Does he reach out to show you he misses you by communicating with you enough to do something about it?
We know he can. The question is, are you both on the same page here about when it's been too long to go without communicating with each other?
That matters, Sarah. It really matters.
It tells you if this relationship has got a chance to make it through the challenges that long distance brings. It tells you whether he's worth all the time and energy you're giving him.
Yes, you made promises. Yes, he's different from anyone you've ever dated before. But there's always a concern when you tell someone you love them first and you're left waiting (and waiting, and waiting) to hear the same level of commitment from him.
I know I wouldn't be OK with it, and I'm guessing you never were either, as much as you tried to convince yourself you were.
I know you were excited. I know it felt so right. We always hope a relationship with someone who gets us more excited about love than we've ever been will turn out right.
I'm not saying it will, and I'm not saying it won't. I am saying to let him show you something, to let him prove by his actions – not just words or promises without the actions to back them up – that he's in this as much as you.
Long distance is challenging, but not impossible if both of you are on the same page. But until you have enough real evidence of that, Sarah, words don't mean a whole lot. Promises don't mean enough either.
So yes, watch. Yes, give him a little space to see if he comes to you. It's his actions that will tell you – that will SHOW you! – loud and clear just how much he's in this with you.
I hope this helps.
Love,
Jane
What do you think beautiful Sarah should do in this situations? Can you relate to what she's going through? We want to hear your voice in the comments below, so share your thoughts, advice and/or words of encouragement with Sarah and the rest of us!