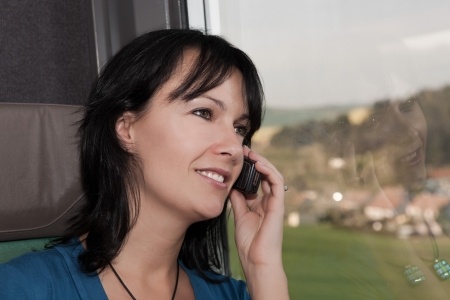 Our dear friend, who calls herself "Agonizing in Ohio", is asking the questions just about all of us have asked ourselves at one time or another (some of us many, many times): Why hasn't he called, and should I call him?
Here's her story:
Hello,
I'm 53, have been married once, and single for 21 yrs. I'm a entrepreneur for the last 25 yrs, I am most  attracted to entrepreneurs.
I know what I want, and would like to find love, and someone to spend my days and nights with, but more than that, someone to build a future with.
On Sept 1, I started talking to a man, he's a entrepreneur, handsome, my age, our kids are grown, he's been divorced for three yrs, and when we met he said he was tired of being the third wheel. We live 90 miles from each other, but that doesn't really matter - I'm in his area all the time with my work.
We talked or texted or emailed almost everyday for the last two months. We've had two dates that were amazing - at dinner we would look into each others eyes, and giggle like two kids in love. He seemed very sincere, polite, always called when he said he would.
He told me he loved my laugh, and after the date, I was the best part of his weekend - even said maybe next spring I could go to France with him. We were building on our conversation, on how we were alike, and how he understood me.
He was in France for a week and emailed and sent pictures everyday, said he couldn't wait to see me when he got back....
Here's where it always gets tricky: WORK, ENTREPRENEUR.
He bought a company a year ago, and has 20 employees, also is a very successful CEO for several other companies. When he got back we talked Monday, but I noticed he didn't say I'll call you tomorrow or in a couple days.
I didn't hear from him for three days,so I texted him to make sure everything was OK, he texted me back, and yes that it was, that he was typing notes from day 1 of Q4 strategic planning session, and tomorrow day 2...He said sorry for being AWOL...Xxoo
I said that's fine, I understand.
In another text, he told me things were just crazy right now!!!! He said he missed me, and that was 2 weeks ago...
My three part question is: Can you be too busy, and should I wait to see if he calls by the holiday, and does it matter who does the calling if its right?
Thanks for your time!
- Agonizing in Ohio.
My Response:
Dear Agonizing in Ohio,
In a word: No. Someone can never be too busy to connect with you in some way if he really wants to.
And that really is as simple as it is.
Think about yourself: if you want to connect with someone, if you enjoy spending time with someone, hearing their voice, hearing how they're doing, sharing what's going on with you while listening to what's going on with them, you reach out.
You find the time to connect in even a small way, as much as you can. Especially in the beginning – which this is now, being under 3 months that you've known each other.
But specifically what that looks like to an entrepreneur who is running his own business, as well as several others, may be different from what it looks like to you. While you may also be an entrepreneur who understands the time and schedule involved with running your own business, you may still put love, and specifically, a love relationship, at a higher priority than he does.
He may be so busy with his life because his priority really is his work, and a love relationship may simply be a much lower a priority for him than it is for you.
It's the change in pattern that is the most telling, that he went from calling, texting or emailing you "almost everyday for the last two months" to no contact for two weeks. And specifically, when he came back you noticed he didn't say when you could expect to hear from him again - something else that you obviously picked up on as being different from his usual pattern with you.
Because, of course, one would think that he would want to see you again if he just got back.
But instead, you didn't hear from him for three more days, when you reached out again to see if everything was OK.  Again, you obviously sensed something more in this lapse in contact from what you had come to expect. His response that things were crazily busy with work, and he was sorry for being AWOL, could be understandable, except for the fact that he hasn't called or texted for two more weeks.
Two very long weeks, I would imagine is what it feels like to you.
My question to you is: Do you want to wait until the holidays to see if you've heard from him, or is this waiting, this wondering, this need you have to know what he's really feeling - is this any more agonizing than putting yourself out there again to confirm what it sounds like you already know?
Because that's what this is really about.
It's not about following any set of rules or living by someone else's advice - it's about being true to yourself and looking at this from a place of your own power. From the perspective of a woman that knows who she is and what she deserves and refuses to settle for anything less than that.
Whatever has changed for him is entirely about him.
If he's so busy right now with the acquisition of this new company that he has no time at all for any kind of contact, then that's simply where he's at.
It's great information for you, though, because it's telling you more about him and what he's really looking for and what he's not. It's revealing what he's capable of giving you when he's crazy busy, and what he's comfortable with in terms of communication with you during these times.
Can you live with this?
Take back your power and turn this around from your own center of that power, Agonizing, because this also has to work for you if it's going to work at all.
Are you OK with what he's able to give you?
That's the most telling question underlying all the other questions you want to know the answers to. He's going to do what works for him. He's going to behave in a way that reflects what he's most comfortable with.
It's his actions that you're seeing that tell you so much more than his words ever could. It's why you're here.
Because you're absolutely right that if the two of you are on the same page, if you both want the same thing with each other, then you reaching out to him won't change anything. And if you're not, and if he doesn't, it won't change that either.
He's given you his answer already. Where the answers really lie, are with you.
Love,
Jane
What do you think? Should our dear friend Agonizing in Ohio call him, or let it go and move on? Let us know what you think in the comments!