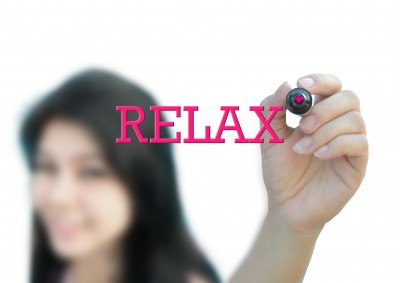 This is NOT how it's supposed to feel.
It's not supposed to be this hard. Really, it's not. All the things you're doing to increase your chances of finding him - The One, Mr. Right. All the over thinking. The second-guessing. The desperate calls to your best girlfriends, maybe even your mother. Should I or shouldn't I? Do I or don't I? It sounds all too familiar, doesn't it?
Well, you're not alone. But all this planning, thinking, prepping, and basically trying so hard isn't the way it's done. Every little thing you do or say isn't being recorded and judged and analyzed to determine just how worthy you are to receive the grand prize of true love.
It just doesn't work that way
There is no contest, no prize, no competition where the one who tries the hardest wins. This is real life, and real love.
And it's not about you trying so hard that you don't even know who you are anymore because you're out there being whoever and whatever you think you're supposed to be in order to land that man.
Forget the rules
Forget the catchy magazine article titles, forget all the rules. Those might be what sell big, but this is about you!
Your life. Your love. And about you finally getting it right and getting the love you want… and deserve.
Think about it - how many times have you been down this road? How many times have you been doing the same things over and over again, meeting the same types of guys, or not meeting them at all, expecting things to be different the next time?
It's just not working
We both know it's just not working, but we're so programmed to think we have to do something that we keep doing the same things over and over again. And then we wonder why we're heartbroken again, alone again, left out again in this elusive search for love that never seems to end in our favor.
But what if all this doing, all this trying to make it happen, trying to find the love of our lives, trying to meet Mr. Right, hoping to finally get it right and start living our happily ever after – what if that's actually what's keeping it from happening?
It's time to turn the tables
What if we turn the tables and really believe that it's our birthright to attract true love and the person who's right for us into our lives? That we're worth it. Just because we exist, just because of who we are.
And we deserve nothing less.
What would that do to the recordings we subconsciously play in our minds that have us trying and doing all the crazy things we do to try to bring this type of love into our lives?
You are beautiful
If we truly believe that we are enough, more than enough, just by being who we are - if we truly get that, than there is nothing to try. There is nothing to perform, nothing to manipulate, nothing to pretend. There is nothing to compete for and nothing to prove to anyone.
There is only the beautiful person of you and who you really are deep down inside your heart of hearts. There is just you being you - the real you.
The healthy, strong person who is worth all the love another healthy, strong person has to offer you. And nothing less. For either of you. That's what true love is all about. It doesn't usually happen overnight. And it doesn't happen one moment before either of you are ready for each other.
It does happen
But it does happen. And all the trying in the world to make it happen won't make it happen any quicker than by you just being yourself – in fact, it will slow things down.
The only reason we all try so hard in the first place is because we don't truly believe in ourselves. We must begin to catch a glimpse of who we really are, the goddess within us that we see on the occasions when we remember that we don't need a script, or a performance.
We so often forget that we don't have to do anything; it's not in the doing that we attract that special person into our lives. It's in the living. The living of our own lives, following our own passions, while we quietly, calmly and confidently allow love to enter.
We just need to be true to ourselves, and let life happen. Follow our hearts, live our lives, pursue the things that interest us, find our passion. Keep living the life we were made for, full of everything near and dear to us. There's no room for trying so hard in that kind of living.
It's time to take a step back and relax
So let's take a step back, breathe and relax a little. Or a lot, for some of us.
There. Isn't that so much better?
Feel what that's like. Because that's how it's supposed to feel. Without the trying so hard. All that energy. All that thinking.
Feel the difference?
And that's how we know we're in the right place. The right state of mind for the journey. Do you get that? Good, because now we're ready to find ourselves. That person we keep talking about who's been trying so hard to get it right, and ending up in the same place every time.
Let's go find out who she really is.
This post is from part 1 of my book Find Your True Love: 10 Simple Steps to Getting the LOVE You Want...and Deserve. Want more? Get your free copy here.