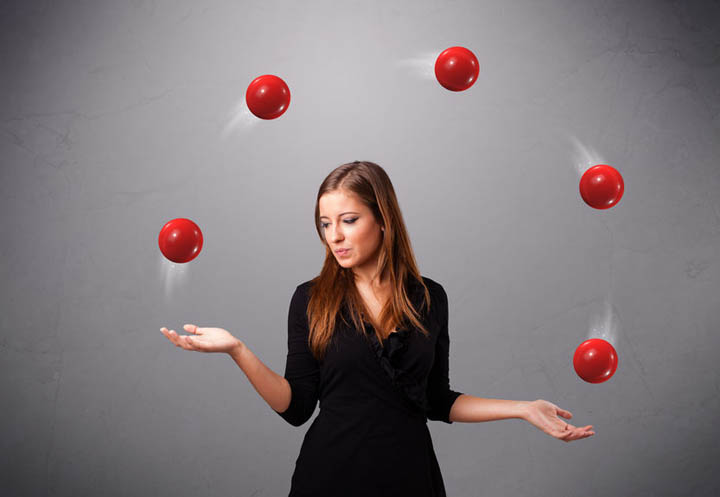 With every new relationship, we learn. Every time our hearts break, we learn.
I'll never do that again, we say. I'll make sure to do this instead. Sound familiar?
I used to think there was something wrong with me because I couldn't NOT jump in with both feet whenever that intense chemistry kicked in. I used to wonder why I couldn't be like other women who managed to keep their objectivity and take their time getting to know a new guy without putting all their eggs in one basket.
Because unlike them, I spent way, way too much of my time and energy waiting for him to call, to make plans with me for the weekend.  It was such an anxiety-provoking way to live waiting on him like this, and yet doing anything else - making plans with someone else -seemed like I would be showing him I wasn't all that interested and he would lose interest in me.
Turns out, the opposite is true. This is now one of the things I would do so differently.
Date more than one guy at a time.
It's so easy for us to fall into this trap, which is exactly why so many of us do. As soon as we feel "the spark", we automatically assume he's feeling it, too and that it's simply destiny that we're meant for each other. We stop even so much as thinking about any other men, because we just know he's "the one".
In the very rare occasion that it's true, everything works out great. But most of the time, going all in headfirst only leads to things falling apart fast.
The problem is that while we're falling head over heels for him, we're also giving him subconscious signals that we're his for the taking. The chase is over. And this is why he pulls back when he senses he no longer needs to try to win you over, and it's also why he suddenly starts to focus on his fear of losing his independence.
That's when the calls and the texts start to slow down. And it's this, of course, that triggers the fear in us that he's slipping away.
So what do we do? Right, we pull in closer. We might even start to chase him - with calls or texts. We may try to mask it by sending him a cute picture we think he'll like, or an article we think he might find interesting - but the truth is, we're madly fighting our own insecurities and just trying to get it back the way it was.
But the problem is, it won't ever be the way it was, because now it's different. You've become exclusive; to him at least. And he knows it.
Like I've said before, this is NOT about playing games. It's not "playing hard to get".
It's about being true to yourself and recognizing that the whole point of dating is to spend time finding out about each other in the world of reality. When we go all in too quickly, it colors our mind, it changes our thinking and blinds us to things that we would normally be able to see very clearly. We're no longer in the world of reality. Yes, it might be lots of fun over there, but it's not real. And it's not healthy.
When we're in this other world, filled with sparks and fireworks, rather than making him prove that he's worthy of us, our brains instead try to prove to ourselves that the choice we've already made is a good one. Psychologists call this "confirmation bias" and it's a trap that's very easy to fall into.
This - along with so many other reasons - is why I recommend to always date more than one person at a time until you've both had a clear discussion and have mutually decided to become exclusive.
No assumptions.
You're not exclusive until both of you have specifically said that you want to be exclusive and you aren't dating anyone else.
I know this can be difficult, especially when you think you've found your dream guy. But here are some of the benefits you're going to find:
When you're dating multiple men, you'll keep from becoming exclusive before he's ready to.
You'll be distracted from thinking about him too much.
You'll be distracted from texting him or calling him because you're thinking about him too much.
When you're out with him, you'll be giving off the vibe that you're in control and you're doing the choosing. This gives you the confidence that you need to have while dating.
It will keep you from "getting ahead of him", and it'll allow him to do the chasing, trying to win you over, both of which he's wired to do.
You'll find yourself dating men you normally wouldn't consider, which helps to break toxic dating patterns and opens up opportunities with men you would never otherwise have realized you could be attracted to!
It helps keep you from becoming intimate with him too soon. If you're considering it, remind yourself that he's most likely dating other women and see if that changes your mind!
I go into exactly how to do this in my program "Beautiful, Confident, Radiant YOU!", and I also recommend it to most of my private coaching clients.
A case study.
Let me tell you a story about one of my clients. She found me a while back in the midst of her worst heartbreak ever, and after the tears, after the letting go of the dream, she started to entertain the idea of dating again.
In her late 40's, she simply couldn't imagine the idea of dating more than one man at a time. She wanted to take her time to get to know just one man really well before she divided her time and energy on more than just one.
Besides, to her it just didn't sound very loyal or honest. What was she communicating about the kind of a women she was by dating more than just him? After all, it was an exclusive committed relationship she was looking for, so how could she be expecting that of him if she wasn't being exclusive herself?
I didn't argue with her. I've learned that each of us have to come to this particular one on our own. It triggers our old stories, our programming and how we've been trained to be as women.
And yet, as we worked together and she ventured back out into both the online and real world dating realms, it wasn't long before she shocked me with her news.
"I'm actually dating three men right now", she said. All of them very different. There's one I'm more attracted to than the others, but the other two are interesting in their own ways.
I had to smile. This was the same women who, not too long before, had told me adamantly that she could never see herself dating more than one guy at once. She had even laughed at the mere suggestion of it.
But here she was. A women who had so little confidence in ever finding someone who would love her again. Who shortly before was a broken shell of a woman. Now dating three different men - I was so proud of her!
Over time, the one she was most attracted to revealed himself to be the player. Of course she had felt such an immediate attraction to him. He was so good at the beginning part!
The other one had some red flags that she would come to recognize along the way, but it was the third one that surprised her most the more she allowed herself to get to know them all. Slowly, but surely, she found herself falling for this guy. A man that she almost stopped seeing earlier on when the sparks were flying with the first one.
But something piqued her interest enough after all the heartbreak she had been through with similar men who knew exactly what to do in that intense beginning, that she allowed herself to simply show up and see what happened next.
You're just getting to know them to see what they're like, I reminded her, and to get more clarity on what you like.
She, of course, thought she knew exactly what she wanted, but actually going through the "getting to know someone" process allowed her to gain so much more clarity in real time, by being able to compare and contrast between the three.
And more than that, she wasn't anxiously waiting for the phone to ring, the text and email messages to come in, the plans to be made. For the first time in her whole life, she felt in control of her dating life!
If she had stuck to her old pattern, she would have gone "all in" on the first guy, only to be left again broken hearted and alone, calling me in tears. But this time, things were different, and she wound up being exclusive with the guy that she had least expected to fall for.
Okay, Beautiful. It's your turn.
I know we've got it ingrained in us that we can't do this, that it's just not us, or that we're somehow going to turn off the right guy if we do. I know we think we're not supposed to, or that it's a double standard if we do, but honestly, there is nothing else that keeps our anxieties in check and keeps us focused on the reality of who someone actually is instead of the fantasy that we always seem to go to.
That matters!
Yes, you can do this, and yes, you need to do this for YOU! Be one of the women who thought they never could and did – and lived to share the unexpected turn of events that happened. This matters!
And if you need help, I'm here for you.
What do you think? I know this is one topic many of you feel very passionate about, so I'd love to hear from you! Share your thoughts with us below in the comments.