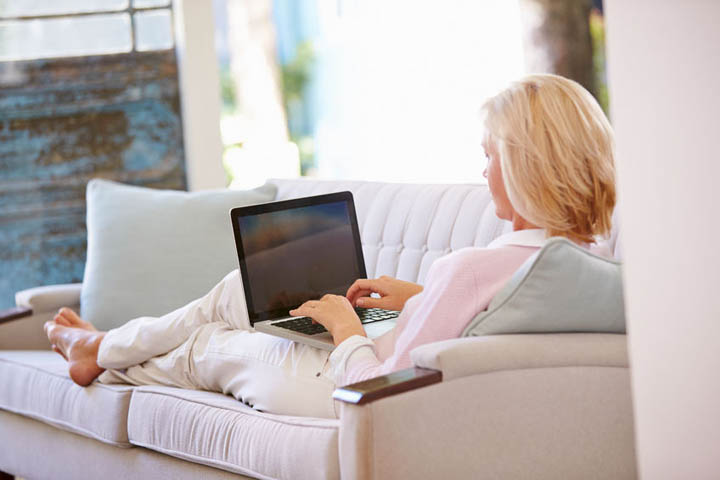 Our beautiful friend, Cyndi, has been dating a guy who seems to be a bit "hot and cold". Right when she feels like there's a connection, he suddenly disappears on her for days at a time.
Her Story:
Hi Jane,
I am a 48 year old woman, and currently in the middle of a divorce, which luckily is very amicable.
I have been separated for almost four years. During the last four years I have dated and been in relationships with it seems like the same kind of man - either unavailable or still in love with their ex's - so as you can see they haven't been successful.
Even though I learned a new lesson with each man, I am still  confused as to how I should be acting especially in the early stages.
Which leads me to my question.
I have been emailing, texting and talking with a man I met on an online site. At first I would hear from him daily, then he would disappear for a few days, then come back, with an explanation of being really busy, and then disappear again.
Then finally after 5 days of not hearing from him, I sent him a note with the assumption that he had moved on, and I just wanted him to know I had enjoyed our chats and wished him luck with his journey.
(Always like to leave with good karma).
Within two hours he was back saying no he hadn't moved on and explained a whole story of how busy he had been.
OK he leads a very busy life. I get it.
So one afternoon when we were  talking, he confessed I wasn't the only woman he was talking too. I also get that's how these sites work, yet I am uncomfortable talking to more then one man, and choose to just concentrate on one suitor at a time.
So by chance we got together that night for drinks, and had great conversation, not a dull moment. Laughed for hours.
I thought I felt a connection. When he walked me to my car, we even kissed, which I felt like was more of a connection.
But when we said goodnight, I didn't get any kind of sign or suggestion to see each other again. Got a text 30 minutes later asking if I got home safe, and to tell me he had fun. Then didn't hear from him for two days, and now I get random texts about every other day at random times like 11:00 at night, or 6:00 in the morning.
Nothing suggesting he wants to get together again, or even that he is interested.
I have even put it out there that I am not doing anything when he asks what I am up to. That's where I am confused.
Is he just seeing if I am still there? Or what??
Please help me understand, because I am interested, but not really feeling it from him. Do I still keep talking to him or move on?
P.S.  I have been told to let him be the one to contact me, because if a woman contacts a man early on they feel you are to needy.
Please help me!!!!!
Thanks for listening,
Cyndi
My Response:
Oh you're so not alone on this one, Cyndi.
Your letter could have been written by so many women wondering the same thing; how does one successfully go about dating in the new territory of texting, online dating and social media - what are the rules?!!
The short answer is that you are still the one who's in control. You decide what you can live with and what you can't. You decide what terms are set in stone and what you can budge on under the right circumstances.
You still hold the key to your own happiness; the challenge is figuring out what that looks like for you in the context of the new dating scene.
Your biggest indicator of what's going on hasn't changed. It's your intuition.
After 5 days of not hearing from him you knew something had changed. He was busy, ready to pull back from you after the thrill of the initial chase. And then he went back to more of the same.
Chasing. Seeing who else looks interesting online. Doing more of the same.
Why? Because he can!
This is where you teach him how to treat you by your own consistent actions. If you want someone to chase you, don't chase him.
If you want someone to treat you like gold, treat yourself like gold.
Adopt the mindset that you ARE gold, that you're worth so much to the right person, that you can never be too much or not enough for the right kind of man!
We don't have follow through because we doubt ourselves. We listen to that voice inside our head that says "Who do you think you are?" or "That's arrogant", when the reality is we'd be hard-pressed to come across as selfish or arrogant or proud because our mindsets are set so far the other way!
In fact, it's exactly because you're asking these questions that you need to be more clear with yourself on who you are, on what you want in a relationship, on how you want (and know you deserve!) to be treated.
You've got to teach this man how to treat you by your actions!
I'd need more details to really give you a complete plan for what to do in this situation, but typically, with a guy like this, you really need to be the prize. He wants to have to win you over.
So how do you give him what he wants?
Simple. BE the prize!
Have a wonderful, full life. Make sure he knows, by your actions, that he's going to have to work for it if he wants to be with you.
This will mean changing your mindset on being "uncomfortable talking to more then one man, and choose to just concentrate on one suitor at a time." Especially with online dating, you need to keep your options open, and this means dating (or talking to, emailing, etc.) multiple men at a time.
I generally recommend actually dating about 3 at a time - more than that and it's gets difficult to juggle, and less than that you don't really get the full benefits.
I know it may feel uncomfortable at first, especially when you're feeling a "connection" with one, and not the others. But here are a few of the reasons you want to keep doing this (especially when you're feeling a connection):
When you're dating multiple men, you will keep from becoming exclusive before he's ready to.
You'll be distracted from thinking about him too much.
You'll be distracted from texting him or calling him because you're thinking about him too much.
When he asks what you're up to, you'll actually be busy, which is what he'll find attractive.
If he knows you're dating a few (or even several) other men he'll automatically see you as much more of a prize.
When you're out with him, you'll be giving off the vibe that you're in control, and you're doing the evaluating and choosing. This gives you the confidence that you need to have while dating.
It will keep you from "getting ahead of him" and it will allow him to do the chasing, and win you over, both of which he desperately wants to do.
Keep dating at least three men until one of them initiates the "relationship talk" and asks you to be exclusive.
Until then, assume you are not exclusive, and that he's still dating other women as well (you don't have to tell him that you're assuming this, just assume it to yourself until he specifically tells you otherwise).
This will also help to keep you from being intimate with him too soon – if you're considering it, remind yourself that he's dating other women (and probably being intimate with them also) and see if that changes your mind.
Don't look back and regret making your preferences known or showing him what you need from him. How he responds to you is information. It's for you to see the reality of who he is and what he is (and isn't) capable of being and doing for you.
Men still do call women. Men still do show up and open doors and behave as men.
But it takes a woman who won't settle for less in her mindset so that this comes through in her energy and her essence and causes a good man to rise to the occasion. That's exactly what he can (and wants!) to do.
This is where not settling for less or resigning ourselves to accept crumbs because "that's just the way men are these days", keeps us finding these types of men.
These men are not all men! Don't allow men like this in your life, and you'll find the others. Hold up a standard for these men to rise to by your actions, by your essence that comes through when you're confident that you can expect to get exactly what it is you're looking for and you'll find exactly that.
That's how this works!
If he isn't there or doesn't give you what you want, you accept that instead of changing what you know in your heart of hearts you don't want to change.
So do YOU want to keep talking to him even though you know he's got other women he's talking to as well? Are YOU okay with putting yourself out there only to never have him take you up on it?
When you feel like gold, when you remember your own power, you won't be needy.
You'll naturally want him to reach out to you because that tells you so much more than you reaching out to him will.
A man who is interested contacts you. A man who is interested makes sure you know he is without any doubt or wondering why or having to google your answers.
Shift how you view dating - make it work for you, not against you – and this will all become so much easier on you.
I hope this helps. Remember you're beautiful, you're desirable, you're everything someone is going to want when he's the right one for you! And don't you ever forget it.
Love, Jane
Do you have anything to add to the conversation? Let's give Cyndi some help below in the comments. If you can identify with what she's going through, please let her know!
And if you're ready to learn more ways to get him to chase you, try my program "Beautiful, Confident, Radiant YOU!"