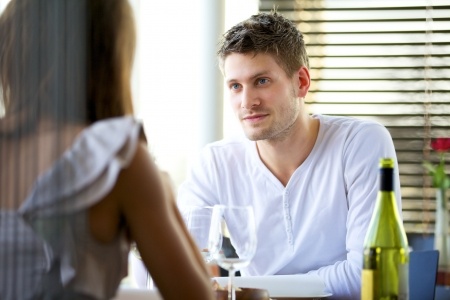 "I've never treated anyone as bad as I treated you, Jane. I just wasn't there but I didn't know how to communicate this to you."
It was the other side of the story, the one I never heard before.
But now, with a new life and a new, more confident me, I had sought out the guy who had broken my heart just a few years earlier to see if he would meet up with me when I was back in town.
He agreed to, and we did, although if I was honest with myself, I was looking for more than just an explanation. I also wanted to see what might still be there now that time and distance was now between us and I was finally feeling confident on my own.
You know, that "let him see me now with how much I've changed and see if what couldn't be back then, might be possible be now" kind of story we all want to see.
And so over pasta in a hip little restaurant in the trendy West end of my hometown Vancouver, I asked him what I never had the courage to ask when I found myself sick over our relationship a few short years ago: "Why?"
He didn't know.
He couldn't answer me.
Except to say that he knew he had never treated anyone as badly as me – as badly as I knew in my heart I had allowed him to treat me.
He didn't call when he said he was going to.
He left me hanging when I was waiting to confirm plans with him.
He went out with his friends instead of going out with me.
He contacted me when he wanted to and would rather spend time alone much of the time instead of with me.
And yet we were supposedly in a committed relationship. Although having never defined it, I now realize it was all based on assumptions.
I assumed we were on the same page because we were dating, he had assured me he wanted to be with me, and I assumed when he said "let's just see where it goes" that it meant the same thing to him as it did to me.
What I didn't realize was that over time, as much as he had come to see that I was looking for more of a committed relationship than he was, he thought he might get there, too.
He enjoyed being with me, he just couldn't get past it. And as I would later discover in my conversations with my friends' boyfriends and then later with my husband's single guy friends, there was a similar patterning occurring among so many of these men.
If they weren't on the same page as someone they were dating who gave more than they were able to give in return and wanted more of a commitment than they were ready for, they didn't know how to communicate these differences without either ending it completely or simply making it too uncomfortable to continue seeing each other.
And the irony was they didn't really want it to end, but they couldn't live with themselves giving so much less than they felt they "should" since these women in their lives were giving so much to them.
So that's why they would disappear, they wouldn't call back, they would give even less of themselves so that they wouldn't have to come right out and end it.
But to communicate that wasn't something they were ever taught or shown how to do, so instead, what we see is the disappearing act, with them getting emotionally distant to take the pressure they were feeling off of them. It's never about anyone else except them.
But of course, that was the part I never knew, that so few of us ever do.
Instead, we tell ourselves the exact opposite of that story.
To us, it's all about us. And what we're not. And what we should be. And what is wrong with us. And why we're not worth being with because we can't ever seem to get it right.
We don't realize that it's not about us, but who we're choosing. It's that we're simply choosing the same types of guys over and over again.
We make it about why we're not good enough, why we're too much of something and not enough of everything else. Of why everyone else seems to get this, but we don't.  And then we let it spiral us down as we beat ourselves up,  reprimanding ourselves about what we "should" have done differently or "should" have known better.
How could you have known?
You were doing the same thing as he was, getting to know each other better, finding out how compatible the two of you were and he was simply inspired by you to become so much more, to finally get this right himself and be able to commit to a real relationship with someone who brought this side of him out, too.
But it wasn't enough because it was coming from you, not him.
Do you see this?
He doesn't turn this on himself and start beating himself up for what he isn't and what he can't do. He shrugs it off as just the way it is, seeing the reality of the situation. He doesn't get caught up in a fantasy of something else that has nothing to do with two people who it turns out aren't right for each other.
He's not taking it personally.
He's not holding it against you. He's not thinking you're a "bad" person or not worthy of love or inherently "wrong" or any of the other things we tell ourselves this disconnect, this two people on two different pages story is about.
It's only you who insists on doing this to your beautiful self!
This same guy who was now telling me how his side would never know how many nights I had lain awake obsessing about what to say and what to do, over analyzing every part of our past conversations trying to figure out what was really going on.
He would never know the notes I had written to myself trying to remember that his reaction to me had nothing to do with me but everything to do with him, if only I could have believed it at the time.
Don't let yourself get caught up like this in a story that has everything to do with you and nothing to do with him.
It's not your fault that he can't give you  what you so want him to. It's not for you to take on what was never yours in the first place. This story you're telling yourself about your own version of "why" isn't the version he would tell you.
If he's honest with you – and honest with himself - it wasn't that you were too needy or too clingy or too whatever else you've told yourself it must have been. It was that he wasn't there, that he didn't quite know what to do with you, and he didn't know how to express himself in a way that would have freed the both of you.
It's time to put the old story to rest and tell yourself a new one. The real one. The one that frees you now.
How about you? What assumptions are you making about his side of the story? Tell us in the comments!