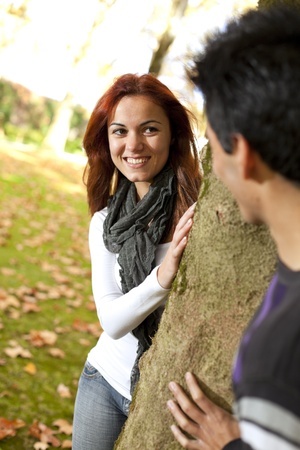 One of our beautiful readers, Elizabeth, is wondering how to get out of the friend zone with a guy who, by all standard definitions, seems to be interested in her, but is telling her that he's not attracted to her.
Here's her email:
I've read most of your emails and find them very inspiring. I have a unique situation of friend vs lover.
I've had a crush on a 29 year old male, I am 30.
We have traveled together to Japan and plan to do so in the future to Switzerland, Utah and possibly China.
He's what I call a shy nerd, had only one girlfriend in his whole life and only for 3 months. I never had one myself aside from online boyfriends and dates from online dating sites.
He's smart, goofy, sincere and handsome.
He and I clicked playing baseball and talking about nuclear fusion. We attend lectures together that inspires the future. We have spoke about advances of the world and books we love to read. Our parents get along, and we feel comfortable together. He would drive an hour just to see me almost every weekend and if I don't talk to him for more than a week he'd be 'concern' and call and text til I reach him.
I expressed my feelings for him and he declined it, more than once. Sating he was unattracted to me.
Usual response?
Ignore him and continue life. But he won't let me!
He'd text and insist why am I ignoring him? If I am upset with him, or if I state "I am busy" he'd prod as to "what have you been doing?"Continue Reading