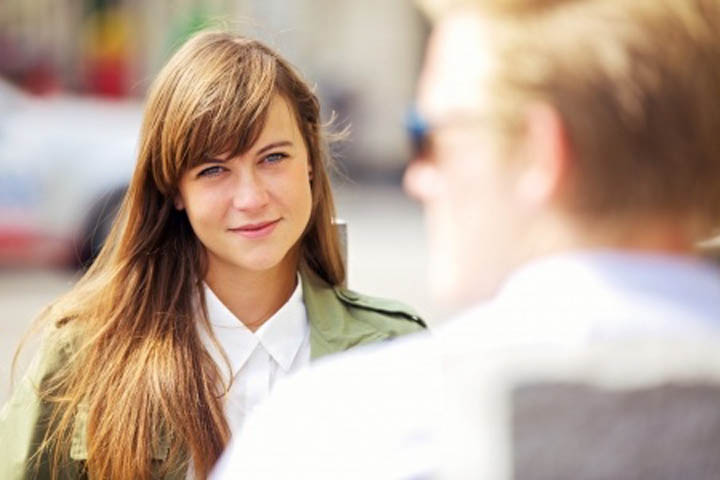 Beautiful Mia writes to tell us about her fear that her boyfriend of 2 years may be losing interest in her.
Here's her email:
Hi Jane,
First of all, I just wanted to say I love reading all the advice you give, even when it's not relevant to me. You have such an addictively soothing way with words!
I was hoping you could give me some advice about my relationship of almost 2 years.
When we first met, my boyfriend and I hit it off immediately. We were so excited to talk, text, call, and arrange dates with each other as much as possible.
It seemed like anytime we did anything apart, we were quick to tell each other every second that we missed. I never officially moved out of my apartment, but I've basically lived at his place ever since those early months of dating.
Individually, we've always been pretty good at setting aside "alone time" or "friend time." We didn't feel the need to text or call the other during those times, especially because we knew the other was enjoying themselves.
A few months ago, he changed jobs and now I don't get to see him as much. He sets his own work hours, which usually ends up being 12 hours/day out of the house.
We used to bond over our love of cooking, but now we either go out to eat or eat dinner separately. We only kiss once when we leave for work and once we go to sleep. I feel like we don't get the chance to enjoy any of those cute mundane tasks or moments we used to have.
Whenever I tell him this, he tells me that I'm just focusing on too many negative things.
I've been trying not to, but I've been noticing more and more that he rarely checks up on how I'm doing or how my day went.
I feel forgotten. I get upset.
On the contrary if I check up on him during work or when goes out with friends, he tells me that I need to stop trying to hog his time since we live together.
I'm so afraid that I'm not that interesting to him anymore and that I'm fighting for a hopeless relationship. How can I address my concerns with him in a productive manner that's focused on finding happiness, not finding complaints?
Sincerely,
Mia
My Response:
Dear Mia,
I'm sitting with your letter. I'm imagining what you were feeling as you penned your words. And as I read them through again and again, more than anything else what I'm hearing is your fear.
Things have changed.
He's started this new job. He's choosing his work hours and they're long. By choice. His choice.
You're feeling left out, left behind. I get that, and it's totally understandable. So many women have been in your shoes and have felt the exact same way.
I can imagine the questions going through your head.
Does he love his work so much or are the rewards promised to him in exchange for his work so appealing that he can't hold himself back from working such long hours? Or is he trying to escape something, and is he throwing himself into his work so he has a purpose to his life that satisfies that need?
Or is this just a matter of him subscribing to a culture of identity through work that so many in our society find themselves in? Or is it really what you fear most, that he's losing interest, that you're not interesting to him anymore and you're fighting for a hopeless relationship?
Without knowing you, without knowing him, it's hard for me to say for sure what exactly is going on here. But I do know that communicating directly with someone who you've been in a relationship with for almost 2 years isn't supposed to be this difficult.
That's the concerning piece here for me.
When you can't simply talk to him about something's that bothering you without a response from him that says you're "just focusing on too many negative things" or being told you need to "stop trying to hog his time" since you live with him, something's clearly wrong.
And while you might be experiencing that comfortable place where you trust and love each other enough to know that even though some of the cute, mundane, tasks or moments you used to have might have been replaced by something more solid, this isn't what you're describing here.
Are you responding to his pulling away, however subtly it may be, by pushing for more? Could this be causing him to pull even further away?
Maybe.
But it sounds like there's more here than just you responding and him responding back.
Communication is so important to any relationship, Mia, and being able to express concerns, to talk about problems and know you'll be heard is essential for its survival. Because if there's one thing I've learned with crystal clarity in my own marriage of 15 years, relationships take work.
And most of this work is found in and around communication.
There's a two-sided give and take that needs to be happening in any relationship actually worth working on. The overall tone needs to be one of equals for this to work in the long term for you.
That's what you're going for here, right?
Longevity. Long term. Like with marriage and kids and stuff like that (eventually), right?
So you first need to look at that. Is there that? Can you talk to him? Do you feel like he's open to hearing you, to hearing your needs and not just his own?
Because all the advice about using "I" statements and everything else isn't going to help if you're putting all your time and effort into a relationship that's already too one sided for him to be open enough to hearing you in the first place.
But that's where I'd start.
Own what you're going to say to him. Own the fact that you're feeling strongly enough about what's bothering you that you're choosing to build a bridge between the two of you.
When you're feeling stronger in your power because you realize you have your own power to begin with, when you recognize that you're choosing to communicate with him because after all, you love this guy, that's when you set a tone of love and togetherness to begin with.
Pick a time when you're both not rushed, when he's not tired, when neither of you are irritable, when you don't have any time constraints on either one of you.
Tell him what you love about him, what you appreciate him - all the positive things he does for the two of you - and then share your concerns with him while owning each and every one of them.
Something along the lines of: "I miss you. I miss what we used to have. I want to spend more time with you. I want to feel like a priority for you. I feel loved when you do (this). I feel like a priority when you do (that). Would you be willing to do these things for me?"
And then ask him what he needs from you in order for both of you to get to this place you want to be. Remember that you love him and that's why you're here, that's why you're having this conversation with him.
If he's on your side, he'll want to do what you're asking him to do so that you can feel good about the relationship and him. That feels good to him, too.
If he doesn't want to, the response you get from will be telling.
Remember, you can handle it. Whatever his response, it's important information for you to have. Remember that communication is everything and worth the risk of finding out where he's coming from if for no other reason than to get some clarity from him.
One final word, though, Mia. You can't be the only one focused on finding happiness. He needs to meet you there. For your concerns to not sound like complaints, he needs to be open to hearing you and work together with you to strengthen your relationship together.
I hope this helps.
Love,
Jane
What are your thoughts? Is he losing interest, or is this simply a natural progression of their relationship? Share your words of advice and/or encouragement for beautiful Mia down below in the comments!