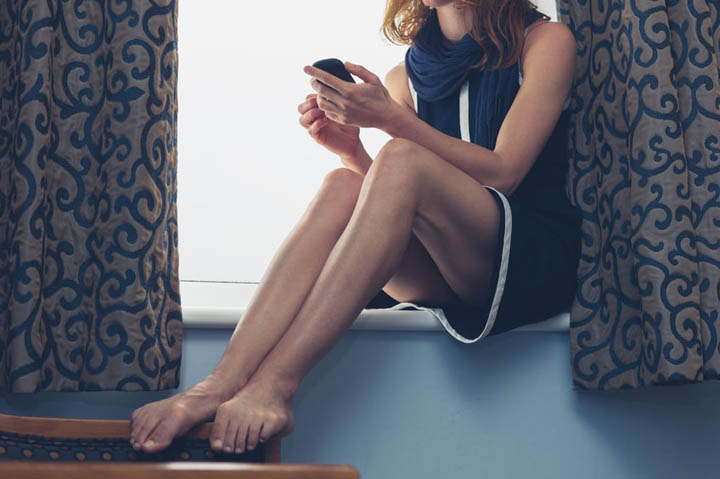 Our beautiful friend, Abby, is going crazy because her boyfriend almost never calls her or texts her, and she's wondering what it means.
Here's her email:
Hi Jane!
First of all, I ADORE your website. Thanks so much for all the incredible advice you give!
So, I would love to get your perspective on this...
I've been dating a man for 3 months now. We are exclusive, and he's absolutely crazy about me when we're together in person. He's super talkative, affectionate, and I know he cares about me.
But, when we aren't together, he barely talks to me.
I miss it when I used to date men who I could have late night phone calls with, witty text message conversations with, and feel comfortable contacting whenever I feel like it. This guy though... that's just not who he is.
I feel so disconnected from him when we aren't together.
My mind starts to think, "Why doesn't he have the URGE to check-in with his girlfriend? Isn't that a bad sign?"
I've brought it up to him super calmly and kindly, and he reassured me that he's just not a big texter or caller. He said that's just not who he's ever been, and he's never going to be that way. He told me over and over to please not think his phone call/texting frequency has any correlation with how he feels about me, because that's definitely not the case.
I appreciate that he was very honest about how that's who he is. The problem is, he's so independent and happy on his own, and I don't feel wanted when we aren't together. Yet when we ARE together (and he still is a gentleman and takes me out, too!), everything is great and I know he's into me.
I just feel lonely in this.
I don't know if I'm too needy, or if he's too independent. I don't want to be stupid and let go of this great man, who really is the package deal except for this one aspect.
Any thoughts on this, Jane?
I have my own friends, career, and fulfilled life. But it makes me sad that I don't feel comfortable even texting my own boyfriend. I shouldn't have to play the game after 3 months, right?
Thank you!!
- Abby
My Response:
Thank you for your sweet words, Abby. I'm so glad you found your way here!
You're absolutely right, Abby. You shouldn't have to play the game after 3 months, you should feel comfortable texting your own boyfriend. But if you don't, where does that leave you?
It leaves you with some decisions to make. Decisions that have nothing to do with what should be but everything to do with what actually is.
You've talked to him. You've told him how you feel, and what you found out was how he feels.
In his own words, he told you he's not the texting kind, the communicating kind, and he never will be. He doesn't want you to take any of the way he is on this personally, because it's about him, not you.
My question for you is this: Can you?
Can you let him be him? Can you live with the way he is – and the way he's telling you he'll always be?
Yes, it may just be one area. But if it's the most important area for you, if it's just that important to you, then while it may only be one area, it may be that it's enough to be a dealbreaker for you.
Most men aren't the emotional creatures we wish they were. Most were never allowed to be and were told and are still being told in our culture that they shouldn't be.
Some of the most sensitive men with the most potential were most affected by those cultural messages. Yes, it's possible that some men have the potential to change, but whether they can or do first starts with accepting them right where they're at and being strong enough in yourself to not allow them to bring you down, but rather being true to your own light so they can be inspired by you.
I go into this in detail in my program "Why Men Pull Away".
When you understand that, it makes it so much easier not to take this personally, but to simply decide whether who he is and what he has to offer is something you can live with – and live well with!
Otherwise, you only sell yourself short, you only end up trying to change someone, trying to change a situation, trying to manipulate even subconsciously what you end up resenting both him and yourself for. That leads to misery, not happiness.
Try something for yourself. Try accepting him right where he is.
Try not thinking about how your exes could talk for hours with you and everything this one can't. Obviously they had their own shortcomings of you'd still be with one of them. Give yourself a time limit. A month, a week, a year.
However long you can live with.
You're in control here. You're the one who gets to choose how this goes. Every time you find yourself thinking about how things should be different from what they are, try accepting the reality of what actually is instead.
At the end of your time limit, check in with yourself. Can you accept him? Or do you need more?
Can who he is right now be enough for you?
If it's not, don't kid yourself. Don't pretend you can do this if you can't. That's simply not being loving to yourself. And that's one of the worst things we can do to ourselves. Pretend we can when we really can't.
Push aside when we can't. Act as if, when it's anything but as if. Live in a fantasy world when reality is right there in front of us.
Giving him the space he obviously is more comfortable with only works if it works for you, too, Abby.
Following someone's lead and allowing them to pursue you only works if you can still feel your own power within that dynamic. Feel strong and beautiful in your own feminine energy instead of labeling it needy. And allow yourself to feel his masculine strength and independence instead of labeling it too independent for you.
He's every bit as human as you are, Abby. Don't put him on a pedestal.
Don't look at what he is as being more than and what you are as being less than. You're both equals in your own sense of masculine and feminine. What matters is whether you still want him if you can't change him and whether you still would even choose him if you could.
I hope this helps!
Love,
Jane
What are your thoughts? Do you have any other words of advice or encouragement for our beautiful friend Abby? Share them with us in the comments!