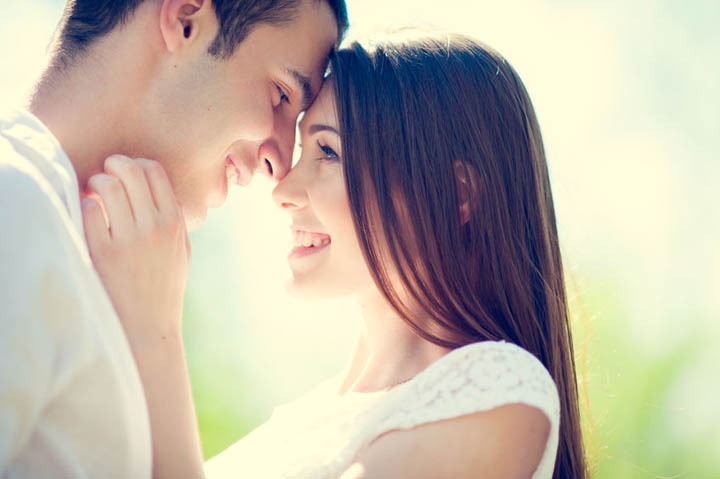 This week the letter comes from one of our amazing anonymous readers who I've called "Heidi". She writes in to talk about her insecurities with the man she loves. Sound familiar? We all have them, in one way or another.
Here's what she had to say:
Hi Jane.
I'm 23 years old and I've been in a relationship with my current boyfriend for almost three years now and it's been going really great. He's an amazing guy and has never done anything to betray me, etc.
My problem, though, is my insecurity about this relationship. I know I love him and he loves me back but what if he finds someone prettier or smarter than me?
He's friends with loads of girls, not close to them but he knows them well. What if he starts liking one of them more than he likes me? He's known me for 5 years and I admit it can get boring at times.
Someone else could be more interesting and exciting for him than his girlfriend of almost 3 years now.
How do I keep him interested? How do I make sure he doesn't fall for someone else. I love him so much and I'm so afraid to lose him. How do I keep the spark alive?
- Heidi
My Response:
Oh, Heidi, how I know about the "what ifs"!
You've taken me back to my own 23 year old self, full of insecurity about my relationship at the time that meant so much to me, too. I didn't know anything of what I know now. And I asked myself these very same questions.
What if he finds someone prettier or smarter than me?
Sure, I was human. Which meant I could be boring at times. After all, someone else could easily be more interesting and exciting for him than his girlfriend of almost 3 years now. Right?
Yep, I felt that too.
How do I keep him interested? How do I make sure he doesn't fall for someone else?  How do I control all this and keep things the way they are now, right now? Because I love him so much and I'm so afraid to lose him.
Check, check, check, and....check.
Heidi, when I read your email in my inbox, I immediately knew the message I wanted you to hear.
You have to read this. You have to know this. Now, not later. All of us do. And especially those of us who are young enough to be 23 years old and feeling everything you are.
The sooner we get this part – and set the record straight – the better our whole lives are going to be. It matters that much.
You see, unless you were lucky enough to grow up in an environment where you were consistently reminded of your inherent value and worth every single day, this won't come naturally.
If you're like most of us, you got the other message our culture usually programs us with instead. The one that says you have to keep taking care of other people's feelings, and your role is to do the work in a relationship to keep things going well. That it's your job to make someone happy, to keep creating harmony, and to take the responsibility for everything that happens  in that relationship.
Even if you're the only one doing it and it doesn't feel right to you.
Now, I don't know the other half of your relationship. I don't know him, and except for the few words you've given me here, I really don't know you. But it sounds like there might be a reason you're feeling this way. I think you should explore your feelings about him and try to understand what may be causing these feelings of insecurity.
You mention that he's friends with a lot of women - that's probably a good place to start. I'm not saying that men can never have a platonic relationship, but most men prefer the company of other men, so if he's hanging out with a lot of women enough for you to make a point of it, that's a red flag. Even if it's not yet to you, I want to validate that you have every right to question it, even if you're not questioning him.
Most of us don't hear what I'm about to say here until after we've been to hell and back. So whatever I can give you as a preventive to all the heartbreak and all that goes along with it, is worth something that you probably can't even grasp yet.
Why is this all up to you? Why are you the one who has to be exciting? Why do you have to put all this pressure on yourself to be pretty enough, smart enough, interesting enough, sparkly enough, exciting enough  (and especially not boring, right?) to make sure he stays in love with you. To make sure he doesn't fall for someone else prettier, more exciting, sparklier?
But what I have to ask here that stands out as so clearly missing, is the part about his role and the responsibility for this relationship that he holds.
What about him? What does he get to do for you? Is he worried about being all these things for you? Is he worried about being everything he can be so you won't be interested in someone else who's more of these things than him?
It's time to take him down off of that pedestal you've got him on, and recognize that he's the one that needs to work to make sure he doesn't lose you!
I know that's easier said than done - our programming runs deep.
You don't have to have all of this programming to have this, but if you have some of it, that's already too much. Because it leads to all kinds of other things that matter and have an effect on our insecurities. It can't not.
Heidi, you're both young. So yes, there's that. And by that I mean that both of you are pretty young to have set your sights on each other to determine that you're in this committed relationship and are going to be together now and for the rest of your lives down the road.
What I'm saying to you is live your life so that you'll be happy and proud of your life regardless of what happens in this relationship. I really hope for your sake that you guys make it. Because I know you want this with him.
But there's something else I have to tell you, Heidi, and that's that what you think you want right now that means the world to you – namely him – and what you actually might need 10 or 20 or 50 years from now might look like something very different. I want you to know that whatever happens here, you can trust that it's going to be exactly what you needed and everything and more that you wanted it to be.
Even if you can't see that now, I promise you it will, it does.
And I want to tell you the most important message I've got for you  -and for everyone else, for that matter.
You want to know how you keep him interested? You turn this around. You remind yourself that it's not your job to make someone happy, to keep someone interested, to keep him loving you. It IS your job to make a life (and keep making a life) that makes you happy, that makes you smile, that makes you laugh, that makes you love your life and all the people you choose to have in it.
Create a life you love, go out and do the things that make life colorful and beautiful and amazing.
Do what you can to make a difference in this world so that you can feel good about why you're here. Be around children and animals as much as you can so you don't lose sight of innocence and living in the moment.
Don't look for him to fill your cup full. Fill it yourself.
If your life is the cake, then your relationship with him is the icing on the cake. Don't let the relationship be your life. Ever.
If you're doing all this, if you're taking responsibility for being the only person responsible for your happiness and he can't see you through his own eyes for all that you are and all that you have to offer him, then he can't see you, Heidi.
You're not here to make someone see you. You're here to be seen by the ones capable of seeing you. Nothing more. Nothing less.
It's actually quite simple except that we make it complicated when we make it our job to make someone see us who isn't capable of seeing us, instead of simply saying "next".
I hope this helps.
Love,
Jane
What do you think? Do you have a similar story to share or any words of advice or encouragement for beautiful Heidi? Share them with us in the comments below!