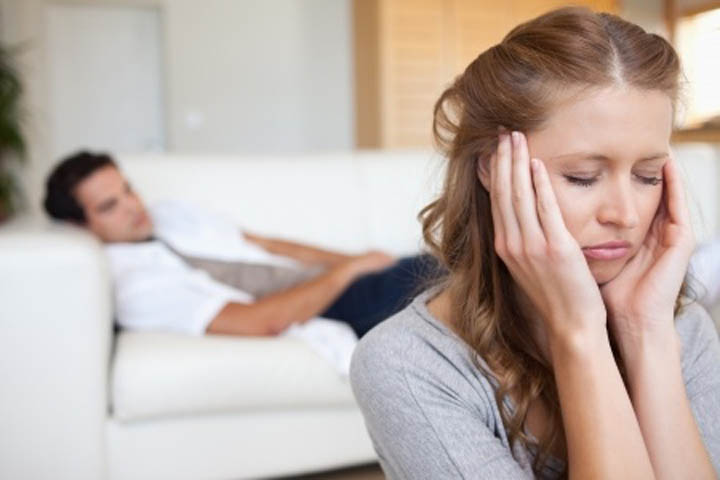 There's a question you have to ask yourself before you stay one more day in a relationship waiting for a man who isn't committing to you.
I know why you're waiting. I know you see enough good in him, enough potential in him to make him worth the wait.
But you're not doing yourself any favors and wasting a whole lot of your life and time right now if you can't answer this with anything but a definitive "yes".
If he NEVER changes, do you still want him?
I need you to read that again. Slowly, carefully so you can let the full weight of this question really sink in.
Because, after all, you're here because you're trying to change him. You're here because you're trying to change the relationship. You're here because you're desperately trying to change something to turn this relationship - and thus, him, around.
You know exactly what he needs to do. You know exactly what it would take for everything to be absolutely wonderful again.
You saw it in the beginning. You've seen enough signs to give you hope all the way through.
And that's why it's so clear to you. He just needs to do this and this and this and everything will be perfect.
It's the waiting part you came here for. How do you wait this out? How long? What do you do while you wait? And how do you know if you should be waiting at all?
You know what makes him change? You know what makes him commit?
You not wanting him to change. You not needing him to commit.
Yep.
Simple. That's it.
And here you were expecting it to be something complicated.
I know. It's supposed to be, right?
That way we can go into lots and lots of detail of the thousand and forty seven things you're supposed to do to make him commit. Right?
No.
Here's the irony of this.
If he senses that you're trying to get him to commit, that you're trying to get him to change, that you need him to change before you'll accept him, he's going to resent you. And he's going to resist.
He's going to think you're trying to manipulate him and he's going to chalk you up to every other woman in his life since his overbearing mother who tried to manipulate him back then.
You know how long it took me to learn this? Oh, it took me years to figure this one out. Years and years and years I spent on this one!
The problem was, I couldn't accept him. Not any one of  the many hims I waited for along the way.
As much as I tried, I needed someone to fulfill my dreams, to live up to my fairytale knight in shining armor expectations and no matter how much I tried to accept whoever my particular him of the time happened to be, I couldn't do it.
Somewhere along the way I came to ask myself why.
And found out I was following yet another script about how healthy, real relationships were supposed to go. Except that same script was right out of the pages of a fairytale or a movie or some other script that was anything but real.
But did I ever actually accept any of these guys for who they actually were? No! Because I had been an A student of the school that said I could change him if I just tried hard enough, or loved him enough, or cried hard enough, or manipulated him in my own subtle way just hard enough.
Because as long as you're able to answer this, as long as you're thinking clearly, as long as you're looking at him and not through a fantasy, we've got something to work with.
Fantasy is what keeps this relationship thriving exactly as it is. The opposite place from the one where you step out of it long enough to ask yourselves the deep, hard questions like this one is the same place where you find your answers. It's where your answers become clear, where he becomes more like a person and less like some perfect ideal.
That's what's behind this acceptance thing.
It's not paying it lip service as much as it's getting to the root of it and the programming behind the opposite of acceptance. It's about bringing the relationship out into the light to see if it's got what it takes (if you both have what it takes!) to stand up to the scrutiny of that light. The scrutiny of something real, of something more than just a fantasy of what could be or might be if only he would do or say or be whatever you believe that to be.
That's what makes it.
There are no guarantees. Everyone is different. Every relationship is different. Every one's potential is different and whether they have it in them to live up to that potential always (ALWAYS!) remains to be seen.
But if there's one thing I've learned from my all too personal firsthand experience with men who wouldn't commit, from years of analysing why that was and what I could do about it and what I couldn't, and then from going through it all over again with so many of you, it's this.
You can't makes someone change who doesn't want to. Inspire them, yes.  Give them a reason, provide them with the motivation, be that woman who shows them what's possible when true love happens, yes. But don't pretend you love someone for who they are if you can't. Don't try to sell them on unconditional love if you're longing for that so much for yourself you can't see what it means to also give it to someone else.
That never works.
Pretending you can never works.
Believing you can when you can't never works, no matter how much you believe you can.
This guy we're talking about is one of the most sensitive men you've ever met. He's one of the most sensitive men you'll ever meet. It's only because he hides it so well behind that strong façade that it's not yet obvious to you.
These are the men with the greatest potential.
Why otherwise would you be here, why else would you put yourself through everything you have? You know it. He doesn't.
Will he change? Maybe, maybe not. But as long as you have your eyes wide open to who he is right now in front of you, I know you're going to be just fine either way.
With or without him.
Separating fantasy from reality is the very first thing you've got to do. So what have you got? Fantasy? Or reality. Here's a clue. Fantasy can't survive when you hold it up to the light of reality. Reality can, and does.
It's something you choose to either accept or not.
Start here. What's been hidden from view?  Then go journal about your discovery. Bring it into the light. See what else it shows you. There is no right or wrong answer. There is only you and what you can live with right now!
So what about you, Beautiful? Share your thoughts with all of us in the comments below!