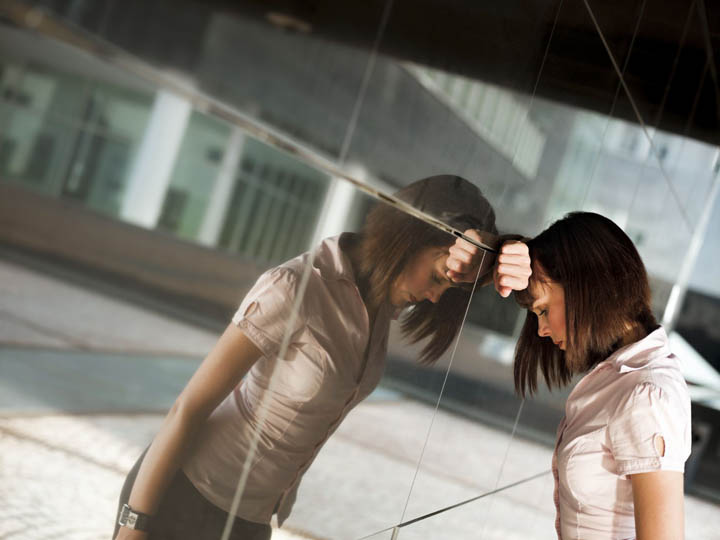 One of our beautiful readers, who calls herself "Bdoll", has been with an emotionally unavailable guy on and off for the better part of the last five years. He had consistently told her that he didn't want a serious relationship, only to suddenly break up with her and start a serious relationship with another woman.
Here's her email:
I dated someone for 4.5 years on and off.  They say when someone says they don't want to get married, or have a long term relationship, it means "with you!". Or does it mean 'in general'.
He told me from Day 1, that he did not want a relationship, but had one in every sense of the word anyway. The chemistry between us was like nothing I had ever experienced before, it was the pinnacle of any adult relationship I had had previous.
The timing was not right for him, and I believe this to be critical for a man.
This was a 52 year old man, never married. Very charismatic, educated, smart, and had been in plenty of relationships, live-in and long term. Had his choice of woman, always. But wasn't settled in his career, and very unhappy about it.
I too, was unstable in career, and unstable in life. But we had alot of good things together, intellectual compatibility, chemistry, emotional comfort and closeness, excellent communication, things in common, sense of humour and fun.
He broke up with me several times, I think he was not ready (timing), and he was concerned that I wasn't the right person.
I thought it was because he just could not commit and he was dysfunctional. I don't think a man is looking for 'the one' at 52. I think he would just be looking for 'a great girl that complimented his lifestyle', not the fantasy of a relationship we had when in our 30's.
After several breakups over 4.5 years, finally 9 months ago, he broke up with permanently. I thought he may come back, again.
He did not.
Within a few weeks, was dating someone from his past, and is now living with her, and appears to be committed. She is stable, financially, and otherwise. He has been so unstable, this would be something that would be very important to him and something I could not give him.
Her behaviour is undoubtedly far more acceptable than mine was. Insecure outbursts kept at bay, since she had something to offer, thus would not be pushed away constantly. Nor would he continue chatting with other women for fear of losing her.
He was emotionally unavailable to me, but I feel is available to her, he's living with her!
As I walk around feeling like a dead person, my question is, is this a guy that was emotionally unavailable to me because he was unsure, and the timing wasn't right for years? Or did this guy change his motus operadi because he met the right woman that has something he really needed?
This is a guy that for 15 years said he didn't want to be in a relationship, long before he met me. And now he's yet again living with someone.
- Bdoll
My Response:
Dear Bdoll,
They also say "Believe him".
Because more than anything else, that's the part you need to hear.
After all you put up with, after all you went through for him, it doesn't seem fair. You want answers. You want to know why.
But, Bdoll, it's never as amazing as we make it out to be in our own minds. Yes, this new woman may seem to meet a deep need in him by the fact that she appears to be "stable , financial and otherwise", but appearances can be so deceiving.
You're only seeing the surface part; the part we add-on and make into something incredible in our own minds.
He's the same person, Bdoll. She may give him something that makes him feel like she's worth trying to change himself for, because being with her makes him feel like he has a sense of purpose by living vicariously through her. But true change can only happen if it comes from within ourselves, not for someone else.
Much like we're attracted to the ones who seem to hold so much promise by possessing the same characteristics we ourselves want to possess, he's attracted to the fantasy of what she offers him!
But we can't change for another person simply because we want them. We have to be willing to do the work!
What she appears to promise him if he can get there may provide the incentive to make that change, but he's only switching roles and trying to be more of what she wants him to be in exchange for the security she brings him.
There's only one way to look at these things, Bdoll. You only want someone who can give you what you're looking for. This man who told you he didn't want to get married or have a long-term relationship meant what he said.
Your 4.5 years of back and forth in a relationship that was never what you wanted it to be is your proof of that!
This was and still is never about you – it's about him. The fact that you couldn't help him or save him from himself has no bearing on your worth.
Shake off this dead person persona and come out into the freedom of this new life.
You're free, Bdoll!
I know it doesn't feel that way and you've got this feeling hanging over you that he's choosing her and not you because there's some fatal flaw about you or that you weren't enough or whatever other story you're subscribing to.
Shake that story off you!  It's time for a new one.
The one that tells you the real story: That you hung on for so many reasons to try to make nothing into something and couldn't do it because you were the only one who wanted it to work!
Take the appearance of what they appear to have off the pedestal you've put it on and remember what the worst times of your 4.5 years together were like to you. Remember what they felt like to you. That's who he brought with him to this new relationship that seems so good on the surface.
Take the focus off of him and put it back where it belongs; on you. It's probably been a long time since you've focused on who you are, on what you want, and what you deserve to have in your life.
This is how we find it, Bdoll. Through our wake-up calls when we're forced to look within and makes us grateful in the end. Not at another him who gives us a reason to shift the focus to him, but to you.
Let him go. This isn't the end of your story. It's how it begins!
Love,
Jane
What do you have to say to Bdoll that you want her to hear? Share it with us in the comments!