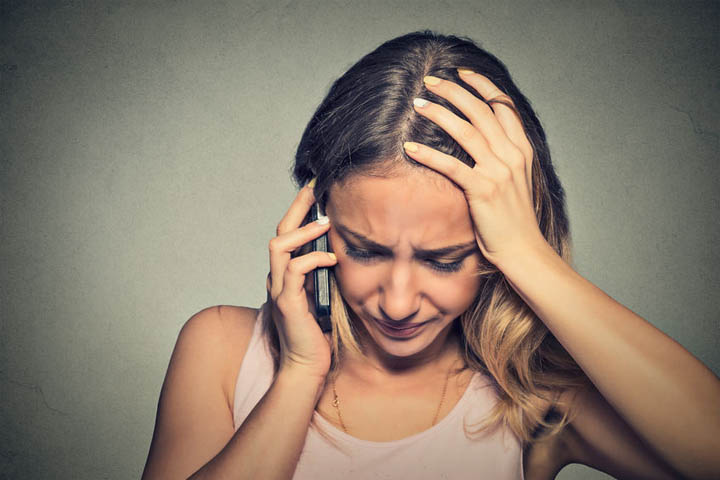 Our beautiful friend, who has chosen to remain anonymous (I've called her "Hurt"), feels like she's been lied to by the man she was dating.
Here's her story:
Last year around this time I started "talking" to a guy that had been my friend for the past 7 years. I knew him because he was friends with a guy who I previously "talked to" but ultimately nothing manifested between me and his friend and to be completely honest his friend was a terrible person with no real good intentions for me.
So after years of flirting we started to actually act on our feelings and started doing relationship things.
Always going out, spending quality time with each other, meeting family and friends. Everything that a couple would do.
And the moment that I felt was a serious "we must be heading towards a relationship" moment is when he confronted his friend like and man and told him what was going on between us. To make a long story short their friendship ended because of this.
Everything would go well then around the end of the summer I started to see signs that something was going on. Something was off about him.
I would have to be the only one who initiated conversations, I would see him flirt with other girls on social media, he was distant.
And whenever I would ask him if he wanted to end this (because I was always completely aware we weren't in a relationship), or if he wanted to talk to someone else, or didn't like me anymore he would always say nothing changed and that its all in my head and that he would have no problem with telling me if things had changed.
But as time progressed the distance got stronger and the conversations with me asking what is going on continued until one he told me he thinks its just best we be friends. Confused I automatically blamed myself thinking I pushed him away and he said it wasn't me.
Either way I was extremely hurt.
A short time later I find out through a friend that he said he was about to get into a relationship and that he felt bad about how things ended and how clichéd the situation was between me and him (he just didn't like me the way I liked him).
And that was that "aha" moment because all along I had been right.
He was seeing someone else and that he did not like me but yet chose to lie to my face and invalidate my feelings by telling me its all in my head. I of course confront him and he said that the situation he's in now wasn't at all the case or existent when we were talking.
I don't believe him at all.
And what hurts even more is that he seemed so cold about the whole situation and that was the last conversation we had.
I spent Christmas and my birthday crying over the situation but ultimately had no contact with him after December. Fast forward to early February I saw him at a party. I was one of two people he knew at the party.
I knew there was a chance I would see him there and I decided to play it cool. He comes to the party and acts super distant from everyone. Doesn't say a word to me but I catch him randomly staring at me at the party.
But of course doesn't say a word and after a while he just leaves.
After the party I felt frustrated and hurt again because its like we were friends for 7 years and now you cant even say a word to me. So I texted him about it and he tries to give off this persona where he doesn't care about anything.
He actually says "I don't even know why you would want me to say something to you?"
And I'm just confused as to why we can't even be cordial or better yet why are you acting like you don't care when your actions say otherwise. If you really didn't care you wouldn't have been awkward.
I just don't understand why he could face me like a man and tell me the truth about him wanting to end things when things first started to go sour.
When I first felt in my heart that things were changing.
Why did he have to lie to me?
Then for him to treat me like a ghost and not say a word to me like I did something foul to him is just crazy to me.
I know he still cares but why is he acting like he doesn't? Why doesn't he just apologize? We were friends before this and he's completely thrown that away.
Please help me gain insight.
- Hurt
My Response:
Dear Hurt,
How it hurts to have someone go cold on you when all you want is the truth, the decency of an honest explanation and an apology.
The extent to which he can turn everything off and simply walk away, giving you lies, brushing you off and moving on, pretending he doesn't care, shows just how uncomfortable he is communicating anything about where he's at or what's going on with him.
He's scared to, Hurt.
He doesn't want to hear that he handled this badly, that he's not treating you the way you deserve to be treated, that he's been dishonest with you.
He already knows he didn't handle this well. He knows he isn't treating you with the respect you deserve. And he knows he hasn't been completely honest with you.
But to acknowledge this, it's too much for him. To communicate with you, even just to apologize to clear his own conscience, would require him to be honest with himself as well as you.
To admit that to himself is to admit he's done what he never thought he was capable of doing. To lie, to pretend, to misrepresent, to lead you on.
That's what this is about. Him, not you.
You want him to give you something - anything - so you can try to make it better, so you can find out why he changed, and most of all, so you can answer your own question of what you could have done that could possibly have been "so foul to him", so you can release yourself from looking back and blaming yourself for something you might have missed.
You didn't miss anything. Nothing that matters.
If you're with someone who's truly right for you, it doesn't matter how imperfect you are, how much you mess this up, it won't matter with someone like that.
In his mind, it's easier for him to move forward without going back to where he must acknowledge what he's done. To have you angry at him, to have you tell what he's done to you, is not something he wants to have to deal with.
And so he doesn't deal with it. He doesn't deal with you.
He's cut you off, coldly.
The colder a man does this, the more he's fighting his own internal battle. If he were more comfortable in his own skin, he would be honest with you. He would tell you where he's at, he would apologize, he would try to let you down gently while still being honest with you.
His fear of being called out for his behavior would be pale in comparison to the relief he would feel at knowing he was clearing his conscience and being honest with you.
But this isn't him.
This is a man who can hear his own mother or father or whoever he still feels he answers to, telling him he's been "bad", that he hasn't lived up to their expectations, that he's let them down.
If you can remember that in his mind, this isn't about throwing your friendship away; it's what being honest and upfront with you feels like to him. Uncomfortable, scary, and worth avoiding at all costs.
Not because of you, but because of him.
I know this is hard to understand. I know it's made even harder because this isn't who you are and this isn't how you would ever be with him or with anyone else.
But if you can accept that this – this being what he's showing you about who he is and what he is and isn't able to be for you – that this is where he's at, then you can start to separate what you want him to be and hoped he would be, from who he actually is.
If you can accept that this is who he is, that he's showing you what he's capable of and what he's not, then you can separate yourself from him enough so that you don't need to take what he is and isn't capable of personally.
You can't make this one all better, Hurt. You can't fix it as much as you want to be able to. You can't make him do what he isn't capable of doing.
Cold works for him because he can hide behind it. It keeps you at bay. It keeps him from having to answer to you or anyone else if he can keep hiding behind it. Because he knows all too well that if he lets his guard down, he has to deal with what's behind that guard.
And that would be too real for him.
Feel everything that comes up for you. Let the tears fall. Wrap your arms around that little girl inside you whose heart is breaking.
It hurts like this because you have such a beautiful, open, caring, loving heart that loves like you do with abandon! That's a beautiful thing!
But only when it's with someone who's in this as fully as you are. Someone who isn't going to suddenly start drifting away. Someone who's as invested in you as you are in him.
Allow yourself to find some healing for that awful hurt that feels like your heart's been ripped wide open. There's more to your story than how this one ends.
Find your peace in that acceptance. Find your power again in recognizing that you're the one doing the choosing and this side of him that he's showing you isn't what you're choosing. This is part of him, too.
You can trust yourself. You sensed this. You had a feeling that it was coming. You knew. Trust that.
That can be one of your greatest lessons if you allow it to be. That you can trust yourself, that you do know more than you give yourself credit for. And that you deserve all the love in the world.
I hope this helps.
Love,
Jane
What do you think? Do you have any other thoughts or words of advice or encouragement for our beautiful friend "Hurt"? Please share them with us in the comments!