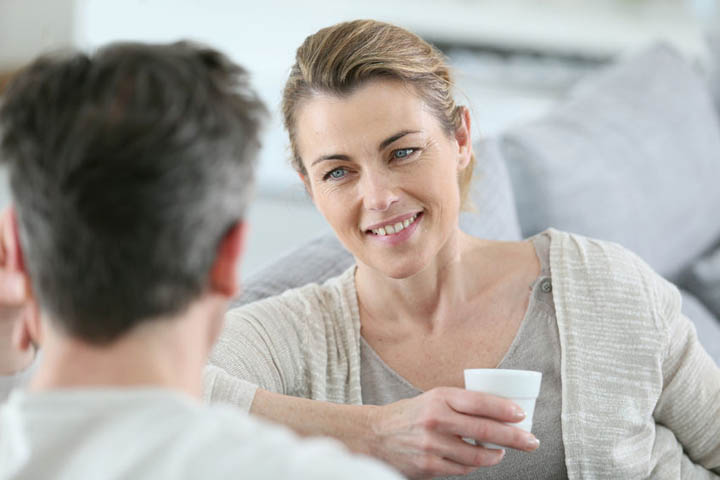 We know how this works.
No matter how we come to it we've already got our answer.
I can't become this confident, beautiful, radiant woman UNTIL he picks me.
I can't prove I'm worthy UNTIL he validates me.
I can't become that woman I know I've got the potential to become UNTIL he elevates me.
But this is where we've got it so backwards.
He can't commit to something he can't see. He can't commit to something he doesn't even know he's attracted to himself. He can only commit to something he can see.
Until he can see you, he can't commit to you.
Stay with me here.
Is this about him seeing you? Or about you showing yourself so he can see you?
It's both.
You see, if you're constantly giving him mixed messages because you're not yet sure yourself of who you are and what you're all about and where your boundaries lie, then he can't respect those boundaries. He can't decide how he feels about you because you keep moving them.
And it's more than boundaries.
If one minute you're telling him one thing, and the next you're contradicting yourself by what you're showing him, he's not going to know who he's getting or what you require of him. But show him consistency in where you draw your line in the sand, show him what you absolutely refuse to back down on and what you've got some wiggle room with, and he'll learn well who and what you are.
But what if you don't know? What if you're so flexible it actually does change from day to day? What if you only know how to be what someone else wants you to be?
What if this is all new to you and you're overwhelmed at even the idea of knowing where you begin and someone else ends and what is reasonable to expect of someone? What if you don't know what is reasonable for someone to expect of you?
Then find out! Come on a journey with me to that place deep inside you where the real you lies. Where the you begins, where the you is contained who knows what you can live with, who knows what you can't, who doesn't pretend and will never lie to yourself about what you really do know.
He can't see you until you can see yourself, Beautiful. That's the first part.
The next part – whether he's capable of seeing you - is up to him. But there's no way of getting to that second part if you don't have the first, the part that you have all the control in the world over. What you show up with. That's the beauty of you. That's all you!
And if he can't see you, if he isn't capable of seeing you no matter how much you know yourself, know matter how much you show up with knowing exactly who you are, exactly what you have to offer, exactly what you bring to this world, and he STILL doesn't give you that commitment you're looking for, that's your answer.
He's not the one for you.
Is it really that simple? It never feels that simple.
And what we feel, we feel deeply. It feels so much more complicated than that. It feels like it takes more than knowing one's own boundaries and limits and lines in the sand.
Yes, there's more. Because there's always more when we're involved. If it were just that simple, we wouldn't be who we are.
But when we stop for a moment and see this piece, we allow ourselves to look at something different from where we've been looking before. And it's right there, in a different mindset, in a different place, with a different focus – regardless of how fleeting it may be – that we shift and grow and change with a level of awareness we didn't have before.
Stay with me here. Stay curious. Stay with any new way of seeing for yourself that feels different, even if different feels uncomfortable.
What if it really did come down to this? To you gaining your clarity. To you seeing yourself with the power to influence this man. To change this guy you can't get off your mind, no matter how hard you try.
You shift something, something else will follow suit. Forget all the overwhelming possibilities that leave you filled with uncertainty and indecision. Pick one thing to get clear on. Just one.
And tell me what it is  - what it needs to be – right here in the comments.
Clarity. It's how we see. It's how he sees.