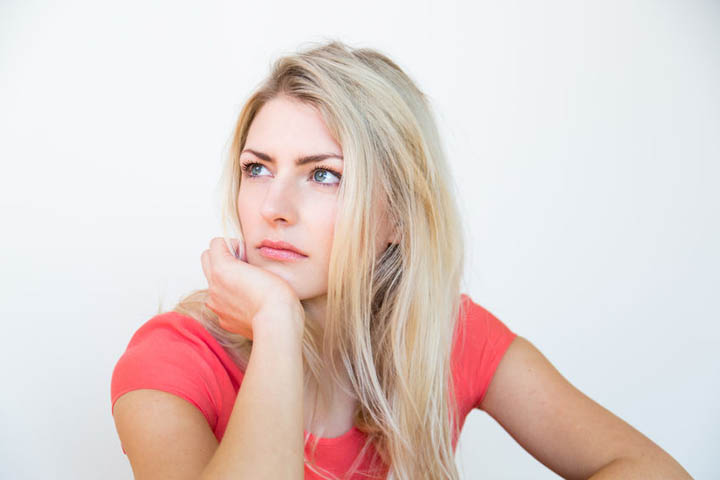 Beautiful Kim has been in an on-again-off-again relationship with a guy for quite a while now, and she's left feeling nothing but drained and confused. Sound familiar?
Here's her story:
Hey Jane,
So I met this guy Tommy almost 8 years ago.  When we first met he pursued me, got my number from his friends, texted me all the time etc. etc.
Long story short I have a son and had issues necessarily finding a sitter for him and had to cancel a couple dates. We stopped talking after about the 3rd time. I never once stopped thinking of him.
Over the years we have always tried re-connecting, hanging out. He is the guy that opens all the doors, buys all the drinks, says "Yes sir" and "Yes ma'am."  
When I'd get ready to leave his house he'd refuse to let me leave and wanted me to lay with him till the morning. Even saying things like "I really miss how you fit in my arms." Promising to go do things such as football games, bike rides, etc. etc.
I had literally given up all hope this year but we ran into each other out one night and since then he has literally been messaging me constantly - at least 4-5 times a week - and we talk about whatever and all of it.
We are both now recently single from long relationships. I've been hurt deeply by my past relationships and don't have the energy to keep investing in dead ends.
Yet last week when we hung out he brought me around all his friends and begged me not to leave, gave me hugs etc. in front of them, which I assumed was a great sign.
Then St. Patty's day he snapchatted/texted me all night saying how much he wished I was there. He even texted me Tuesday night saying he was sorry for not responding to my message earlier that evening with a pic.
I am SOOO CONFUSED.  I can never tell if he wants more and I don't think I can deal with another 8 years of this.
PLEASE HELP!
- Kim
My Response:
We can't play with fire and not expect to be burned. And in the same way, we can't play with confusion and not expect to be confused ourselves.
Welcome to the club, Kim.
It's not just you. He's confused, Kim. He doesn't know what he wants.
And like most of the men who leave us drained and confused, they also present themselves as some of the most sensitive, good-natured, gentlemanly, attuned men we've ever known. It's not because they're not all these, and it's not because they're trying to confuse us or deliberately play us like this, it's simply because they don't know how to move through the real stuff.
The real stuff of relationships isn't something they've ever learned how to do.
So what you're signing up for (if you want to see where this goes) is more confusion, more drain, more of the same until he figures out what he wants and why. Oh you can certainly inspire him, but more than that, he has to be motivated enough to want to make something out of your relationship.
Is it as simple as giving him space, letting him pursue you, being – not playing – but actually being a little hard to get?
Maybe.
But something tells me there's more to this guy than just the typical MO. And I think that's why you're here. And why you reached out. And why you're confused. Because he doesn't seem like he's just like the rest.
There's something more.
So here's my question for you - do you want to see where this goes?
Is he worth being confused and drained to see this through a little further? Because if he is, then we need to talk. If he isn't, then you've got your answer.
If we talked, here's something of what I'd ask you:
Is this about you asking him to define things before he's ready to? Does he pull back in response to sensing some pressure to be more, to give you more, to define the two of you before he's ready to? Or does he do this without you saying or doing anything, because he's triggered without you having to say or do anything besides being yourself.
You see, some men are so sensitive underneath, we don't have to do anything to give off the vibe that we're the real deal, that we want the real thing – meaning a relationship. And especially when you are the real deal, when you are as close to perfect as they've found, that this puts more pressure on them than they know what to do with.
Ironically, without you doing anything at all!
This is why the old "he's just not that into you", isn't always as clear an explanation as it seems on the surface, and it's also why you almost always have a sense of when that's what it is, and when it's not the case.
So if this guy carries some worth for you, and I'm assuming he does or else you would have already given up and moved on and wouldn't be here asking for my advice in the first place, I'm going to ask you to throw out any preconceived notions you have about what it means to be in a relationship with someone.
I'm going to give you a little unconventional advice and suggest you play this by ear for awhile and see if this guy is someone who needs a backdoor entrance into a relationship rather than the usual and culturally approved front door.
Meaning, I'm wondering if he needs to know he can trust you before he gives you any reason to trust that he's for real.
So you throw out convention and the usual progression of things and you play it by ear for a while to see where things go. With this new mindset – and one that you're choosing coming from a place of your own power, by the way – you get to see what he's made of when there's nothing to do but be.
You simply enjoy his company, you enjoy your time spent with him without anything heavy, and you see how things play out. For a time limit that you also choose.
And then at the end of the time limit – this isn't one you tell him, about, instead it's the one you decide for your own purposes – you decide what you want to do with him.
Are you ready to move on? Give him more time? Or something else altogether?
Because Kim, I'm not convinced we can see our way clear on these men until we've given it everything we've got, until we've done what we imagine ourselves regretting down the road if we didn't do, and that it's only after that we can decide what is actually in our best interest and not just our own deeply personal feelings of rejection, and not being good enough.
Yes, remind your heart that this is only a trial to see what might be underneath with him so you don't get yourself so attached that you can't get yourself back if he just can't do this.
When you've done everything you can – and then some – is the only time you can see through the feeling that it's not you, to the reality that yes, it really is all about him.
And that's one place, Kim, where the confusion and draining melts away and in its place we find the one thing that brings us peace: clarity.
But to get there, we have to go through. I don't know of anyone of us who gets there any other way.
I hope this helps!
Love,
Jane
What do you think beautiful Kim should do in this situation? Let her, and the rest of us, know below in the comments!