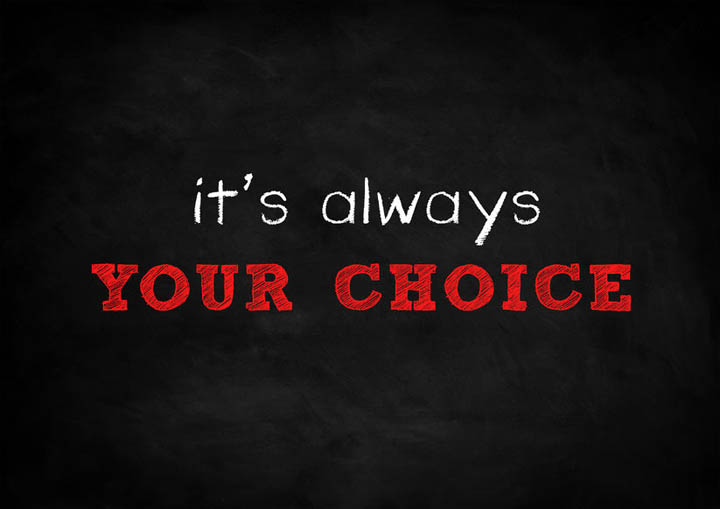 You look back.
You look back at what was, not what is. You retell the story of how it should have been with your memory of what you did wrong.
It's not too late!
Throw out the convention. Throw out the desire to have it the way your mind says it has to be.
This is your choice. You get to choose what terms you're willing to accept.
This isn't about him, it's about you.
I've been working with a woman for years now, who has been trying to change the man she loves. She's miserable without him, and so is he without her. But together, they fight.
It's amazing when it's good. But it's heart wrenching when it's not. They've fallen into a pattern of push and pull that she's aware of but he's not able to see.
Unlike what she often feels, she has a choice.
She can keep pushing him, trying to get him to change. Or she can accept that who she has in front of her is the man he is. Years of being with him have told her this truth.
This works for him. He can't, or won't, or isn't able to be anything else.
She's proved this over and over and over again.
So now she has a choice.
She can choose to accept this and make a choice based on this reality.
Or, she can keep trying to change him.
The choice is hers.
But if she does choose to accept the reality she's trying to prove different, she's in for a pleasant surprise.
She gets her power back.
She gets to choose.
Does she love him enough to keep him in her life knowing who he's plainly shown himself to be? Can she let go of the fantasy she holds in her heart of what she wants him to be?
Because this is the tough part.
You can have him. You can absolutely have him.
And this is the part you fight.
You fight with yourself after because you recognize that the choice was there all along but you couldn't make that choice.
It didn't feel right, you couldn't pretend it did, you couldn't live with his terms.
But when it's over, you're left with that emptiness. That emptiness only those who've gone through this understand so well.
So my question for you isn't about what anyone else for all their well-meaning advice has to say to you; it's about what you can live with yourself.
Can you live with something different? Can you live with the difference from the way it was supposed to be, to the way it really is?
You're only settling if you view it as settling. But if you're choosing, then the part of settling that kills our self-esteem and leaves us with nothing left of our self-respect to stand on, isn't what we're talking about here.
My caution to you is to make sure you're not pretending you can do this if you really can't. The one person we can never lie to is ourselves.
The truth will always come out in our heart, in our bodies, in our pain.
Throw out convention. Throw out the rules. Throw out the script. Your life is how you choose to live it and you answer to no one – NO ONE – but you!
What about you, Beautiful? Have you ever been in a situation where you were struggling with the way you want it to be in your head vs. the way it really is? Share your story with us below in the comments!