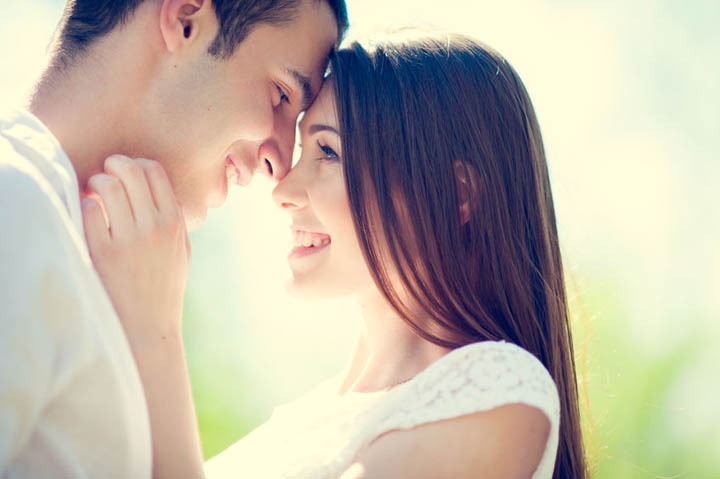 You want to know. No, you need to know.
Is he The One for me?
I get asked this question all the time. Did I know my husband was the one when we were dating? How long did it take before I knew for sure? And how do you know?
Is it the way he makes you feel?
Is it how he treats you?
Is it how much chemistry there is between you?
Well, I can tell you that when we first met, I didn't know for sure. In fact, since we met twice (with a year and a half between the first and the second time) I can tell you that the first time I definitely didn't know for sure.
But was it because of anything to do with him? Or was it more likely because I had learned from my long line of heartbreaking experiences with men that it takes more than a date or two to know for sure if anyone is the one?
More importantly, it's this idea of someone being The One that we need to talk about. Because as much as I believe in soul mates and the one and Mr. Right, I also believe there's more than just one person who can fill that role.
Look at who you are. Look at how diverse and varied your personality is. Look at how multi-faceted you are in so many ways.
There are parts of you that are drawn to one person over another. But there're also parts of you that are drawn to someone else simply because you're such a diverse individual.
Can you see that?
So let's break this down in two ways.
First, there's the issue of knowing if he could be it. But there's something so important here. Would you know if he was the one? Because what you believe about love is going to be everything to your answer here.
How you know, first and foremost, if he's the one is by how he treats you.
That's it. That's at the top of your answers.
Why?
Because you're going to fill in the rest.
What you want to say is it's all about the chemistry (in fact, you're probably thinking that right now - and believe me, I'm no mind reader!)
We've been so programmed to see the chemistry piece of this as being the most important piece of all.
But this is why all the heartbreak. THIS is why all the pain.
When we make the chemistry we feel as being the most important thing, we miss all the other things that matter. With the most important being how he treats you.
You know this.
You know you're never so excited about someone as you are when there's all that chemistry there for you. But chemistry can skewer our thinking.
Chemistry can leave us blind to the facts. Facts like he treats me like I'm an option. Facts like he only sees the relationship on his terms.
The problem is if we subconsciously believe we're not worthy of love, or don't deserve to be unconditionally loved, we're going to keep proving to ourselves that we're not by the one we believe with all our hearts to be the one. Even when he's not.
And it's this line of thinking that most of us don't even realize we have, that has us choosing the same guy over and over again and believe every single time that it's going to be different because this time, he's showing even more signs of being The One.
What I really want you to do here? Throw out the One.
Just throw out the whole idea of "The One", and trade it in for "someone who I'm attracted to, who treats me the way I deserve to be treated. With love. With kindness. With respect."
With real, live, actions.
Actions that show you he cares about you, that he respects you, that he adds to your life in every way instead of taking anything away.
How he makes you feel is an easy one. You know how he makes you feel. But make sure it comes after how he treats you. Because when you look back weeks, months, years, decades down the road, I promise you that what matters more than anything else isn't going to be anything surface.
Yes, you need chemistry. Absolutely! But we all know the difference between the kind of anxious chemistry that has you feeling like you're the luckiest woman in the world because this guy picked you, and the more subtle kind that has you noticing how happy you feel, how attractive he is, and how much the two of you have in common.
That's the kind of difference you want to be able to recognize.
And if you can't, that's the first step here. One has us replaying a role that was never ours to play; the other leads to happiness.
That's right; happiness.
Because if you're refusing to settle for anything less than that connection that feels like you're in way over your head, you're missing out on the most important part of any relationship. Happiness.
Here's to you, Beautiful. Here's to now being able to know for sure if he's the one for you.
Are you happy?
If not, I want to hear from you. Right here in the comments. Because it's only in our own minds that there's a shortage of "The One".