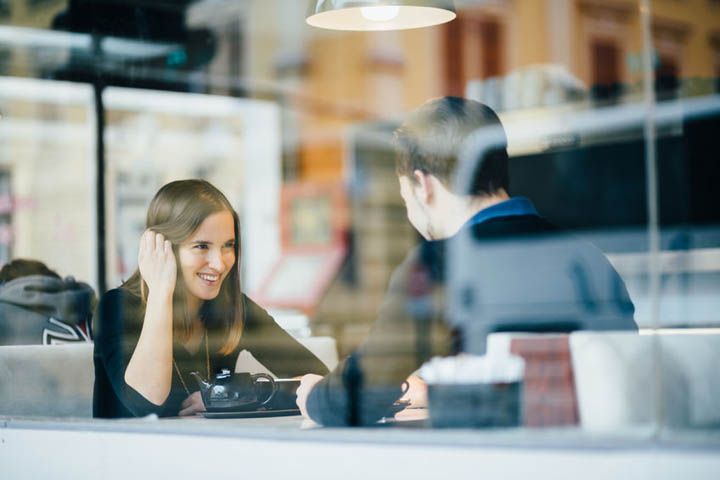 The letter this week comes from beautiful Leah. She's wondering just how much time to give a guy when she's not feeling the chemistry, and she doesn't want to settle.
Here's her email:
Hi Jane,
I bought your program "Why men pull away" and I found it very helpful, especially the "Why Him?" section, as I was really struggling to understand how he could just disappear after all the special moments we shared and all the things he said.
I couldn't shake the thought that he didn't see me as "special enough" but your words make a lot of sense and help me accept the idea that he did see me as special, it's just he wasn't ready for it and it scared him.
I also really liked your analogy on the "mirror": how what we miss the most from him is that part of us that we weren't able to find until we discover it mirrored back to us in someone else.
It just confirms what I already knew: that I need to work on my self-love and self-esteem so that I stop doubting that I am special.
The only bit I am struggling with is the part about giving guys we would never usually give a chance, a chance… It just sounds a bit like settling for a nice guy with whom you have a lot less chemistry, just because he is ready to commit and won't hurt you.
I am all for giving nice guys a chance, my four longest relationship were with guys I initially didn't feel attracted to, but that grew on me because we had great chemistry and I enjoyed spending time with them.
The first two had no commitment problems, the other two did.
I am now going through the painful process of dating again and the guy I had two dates with so far seems like a really nice guy, but the conversation is stalling and I'm just wondering if this is all there is to hope for: a nice guy with whom I can have "ok" conversations with.
And how do you know if you've given the guy enough of a chance and he's just not the one?
Thanks,
Leah
My Response:
Oh Leah, there is so much more to hope for than just a nice guy who you can have "ok" conversations with! So much more!
This is the in-between. This is more of the mirror. This is more of you recognizing what you want – and what you don't!
I'm so glad my program has resonated with you.
And this question you're asking now, is so timely. This comes up so often in our conversations. We want to make this black and white, the extremes of all that intense chemistry and no substance – or commitment – to go along with it.
Or the other extreme, of the nice guy who's almost nice to a fault with no sparks or butterflies at all.  But there's a middle ground that's just waiting for us to discover it. Because for most, if not all of us, we have to dig for it.
It requires some growth within ourselves that we didn't count on having to do. We resist it, because it's easier to go with what we're programmed with. After all, we've grown up in a place where that middle ground might as well not even exist.
First comes the most pressing lessons. The ones we learn first almost always involve the things that are the easiest to learn, but also the most painful.
Like what we don't want. Like what we absolutely could never compromise on. But after that, after we've learned those ones and we can write out our list of "never agains!", we come to the more complicated part.
The things we DO want.
Because it's here we discover that so much of what we want is actually about what someone else told us we should want, someone else's agenda for us. Who that someone is, can be eye-opening. But to simplify it down, it really doesn't matter who or what has decided our must-have list; it only matters that we recognize it may not be our own.
If you make it that you're going to settle for a nice guy with whom you have a lot less chemistry simply because he's ready to commit and won't hurt you, you're absolutely going to feel that you're settling! And then, you will be.
But change it up.
Look for that middle ground between the extremes. Look for the nice guy who you find kind of cute.
The reason why we struggle so much in this middle ground, is because our entire culture revolves around the extremes. Blockbuster movies and popular television shows and bestselling books don't show us that middle ground; instead, they feature the extremes of the nice guy who always finishes last and the emotionally unavailable non-committal guy whose heart is melted by the love of a good woman who's portrayed as the perfect heroine.
We see ourselves in her and we see our man in him.
It doesn't matter that these are fictitious characters having fictitious relationships. That they've been written for a script that sells so well because it connects with that part of us that so wants to believe it will be true for us, too.
This is what is so ingrained in our hearts, in our psyches, in our minds. And this is why we don't know how to find the in-between; it's only these other two extremes that are so familiar to us.
Give yourself enough time to get to know him well enough to know that you can rule him out. Enough time to know that it's not going to grow, that you're not going to have any regrets for not giving him any longer.
This is your best litmus test; could you let him go now without regretting it down the road?
I met the man who would become my husband this way. I went from the worst experience/relationship (that I would later discover had been the ultimate mirror of what I had missed about myself even though I always thought it couldn't get any worse), to the kindest, gentlest man I had ever met.
The two extremes were no accident. I had brought myself both.
I tried to enjoy being with someone who I could trust, who could see a future with me, who wanted to introduce me to his friends and family as soon I would allow it. Someone who was always there for me before I even said a word, who was so accommodating of me. I tried for over 3 months to live in the moment with him, not looking ahead, not looking back and comparing, but at just getting to know this man who was so different from who I was usually drawn to.
I went back and forth before I made my decision. I looked at what I'd be giving up in case I never found it again. I looked at where I'd been and what I'd been through. And I looked at whether I could see a real future for us. I took a long time to come to the decision to let him go to find someone who could love him the way he deserved to be loved.
I realized I wasn't her.
I had to separate out the picture of what my family and friends and the culture had given me of who would be my so-called perfect match. I had to find my match instead. I had to be aware of all the other influences, all the other voices that I was still trying to understand where they were coming from.
I had to find my voice. And you have to find yours.
It's softer than the rest. It's harder to hear. It gets drowned out so easily. But it's that voice you have to listen to, Leah.
Start a new list with that voice that's just now learning it has one. Put the qualities you're most looking for in the long term at the top. Your list matters because it reflects what you see.
How much time you give someone is about finding out in every possible way exactly what you need to make that decision. There is no magic number. But I will say that I always encourage you to give it more time than you think. Two dates is not many and he may just be the type that takes a while to warm up before he feels comfortable enough to come out of his shell.
If you feel like you could be attracted to him, and the only issue is the somewhat lacking conversation skills, then I would definitely give it at least three or four more dates. What can it hurt? At the same time, keep yourself open to dating other men as well.
This isn't about settling; it's about seeing.
Seeing what makes you smile. Seeing what makes you laugh. Seeing what makes you happy. Seeing who you can most be yourself around – and accepted and embraced for it. Seeing who you build a life with, a family with, a home with – without having to wonder if you can trust it.
Oh Leah, I look back at who I used to be as so many of us do, and I see so many things that mattered more than anything else that I thought I had to have to be happy and I've discovered just how little those things matter in the long-term.
Don't settle for the things that really don't matter by thinking you're settling for the things that do!
I hope this helps. Reach out to me if I can help you through this.
Love,
Jane
What do you think beautiful Leah should do in this situation? Should she continue to date this man and see if the sparks start flying? Or should she call it quits now? Tell us your thoughts below in the comments!