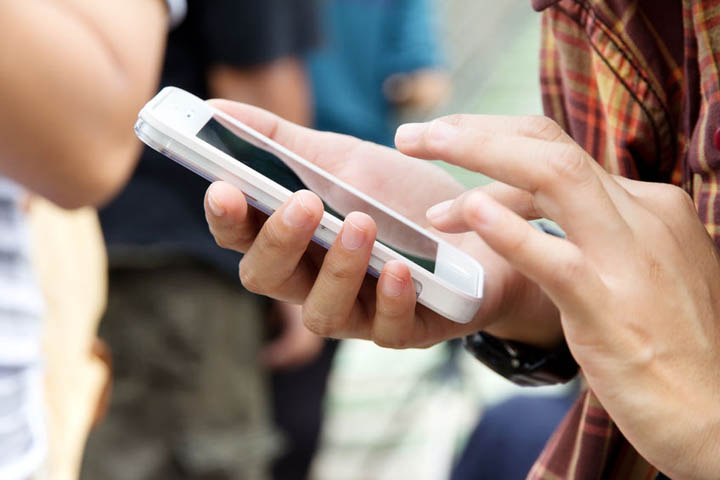 Today on the blog, I'm featuring a letter that could have been written by so many of you. It's such a familiar story that just about all of us can relate to.
When we meet someone and exchange numbers and yet we don't hear from him, we all ask ourselves the same question: Should I reach out to him?
Add on as many more words as you want, go into as many specifics as we all do, but at the end of the day, it's always the same question: What do I do?
In this case, the letter came from one of our lovely readers, Sophie.
Here's what she wrote:
I met a guy a few weeks ago, we exchanged numbers.
The same day we talked for a few hours outside in the car. After that night I never heard from him.
Should I call him or text him? Is he not into me? What are some reason I didn't get any calls?
- Sophie
My Response:
Let me start by saying that although her brief letter is only a few sentences, it's so poignant because we can all identify with this one.
Should we call or text him?
Is he really not into us?
And why didn't he call us?
Let's start this at the beginning.
If you don't want to be dealing with this down the road, let's make it easy. Don't take his number. Give him yours.
I know you have every right to take his number like the confident, assertive, liberated woman you are, but by taking his number instead of giving him yours, you're setting yourself up for this exact scenario.
When he doesn't call or text, you'll want to. Because we always want to know why.
You'll imagine he might have lost your number or misplaced it somewhere and use that as justification to reach out to him, as well as the fact that we're living in the new millennium now and women can do the reaching out as well as men.
See? So don't take his number.
You'll drive yourself crazy trying to figure out what to do, while it shifts the focus off the one thing that you need to take in here more than anything else; he's not reaching out to you because of him, not you.
That's your only take away here. Any one of the possible reasons he's going to have for not contacting you are all about him.
There's nothing wrong with you. There's nothing you could have done differently that would change this. He's just got his own reasons for not calling you that are as complicated as he is.
And right here is where your acceptance of this fact is going to save you. Big time.
Because look at what we do when we've got a number to call. When he doesn't call, we reach out to him. We engage in small talk at first if he even answers, or we send  him a text that might or might not get a response.
But in the meantime, we're waiting. We're left alone, wondering what's going on with him.
And if we think we can alleviate all that waiting and feeling so out of control by taking his number and initiating contact with him, we're wrong.
Because sooner or later down the road, when he doesn't respond or when he only responds when we initiate, we're left wondering whether he's actually into us or if we're just convenient because he doesn't have to do any work in this so-called relationship.
Save yourself from even going down this anxiety-ridden, crazy-making path in the first place.
When he asks for your number, give him yours, but don't ask for his. If he offers it, it's up to you how you want to handle it. If you're not comfortable or don't know what to say, take it, but then throw it away when you get home.
You'll be doing yourself a huge favor! Especially if you think you like him right away.
Because a man who's interested in you follows up. He calls. He might text, but he's always going to follow up with the real thing – a real, live phone call. He knows you can't get to know someone over text.
This, THIS, is your filter.
You're setting yourself up here for what you want and what you don't want to have to backtrack from down the road. You're alleviating all kinds of problems that can come from these supposedly benign things that are going to separate the reality from the fantasy for you in real time.
I don't know of any women who don't want to be loved, and adored, and respected by men.
But when we confuse who's doing the pursuing and set ourselves up to do the chasing right from the beginning, it doesn't get better. It gets worse. And confusing. And complicated. And then you find yourself  here. Don't get me wrong - I love that you're here. But the goal is to get you out of here.
We can do better, Beautiful.
Yes, you CAN reach out to him. But isn't your very reason for wanting to do so really just to ask him why he hasn't reached out to you?
Ironic, isn't it?
He gives you his answer in his silence. He gives you his answer in his non-response.  But when we've been so programmed to believe we can change a man by loving him enough no matter who he is or how much he doesn't want to be changed, we'll do anything to get him to give us a chance.
Let's not do this anymore. Let's not do this to ourselves anymore.
We think we're missing out on the best thing that might have ever happened to us, but all that we're doing is wasting more of our time.
We say the clock's ticking. We say we're tired of him wasting our time.
So then let's go down a different path instead. Let's require more from someone than we've been letting them get away with.
Let's look at things that really matter like character, and honest and respect and love. Let's get away from "Is he going to call?" and move to "Is this the kind of guy who I actually want to have call me?"
Turn the tables around, Beautiful. You're not the chasing kind, you're the loving kind. Don't ever forget that. Especially at the very beginning!
I hope this helps.
Love,
Jane
What do you think? Should our stunning friend Sophie reach out to him, or should she forget about him and move on? Share your thoughts with all of us below in the comments!