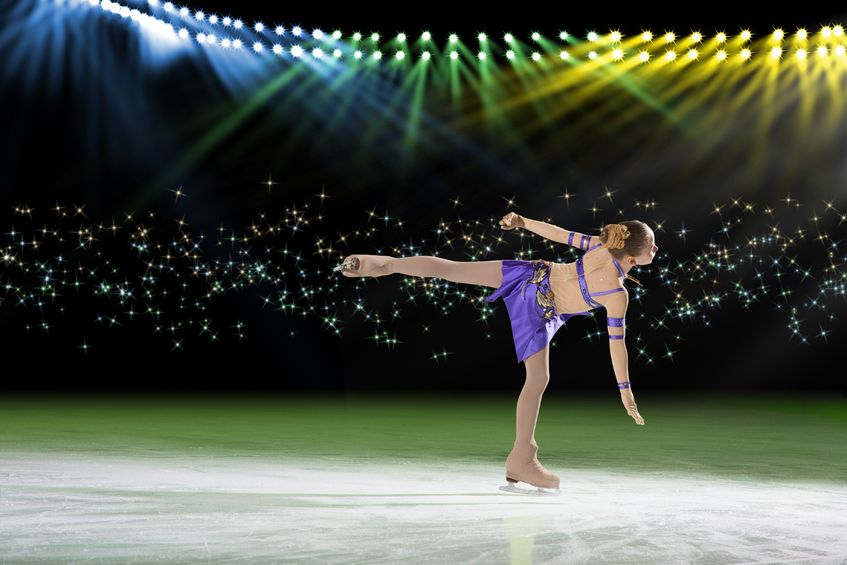 I've recently taken up ice skating again.
You may remember this post where I mention my aspirations to become a professional figure skater as a young girl. I rediscovered my love of ice skating in my late twenties during my own personal quest to find my passions and create the life I always wanted – and rediscovered the little girl with such big dreams in the process.
As happens with life sometimes, the ice skates went into a box and got put in the back of the closet along with a lot of other things while more pressing priorities (like raising small children) took over the forefront of my life.
But now, I'm happy to say, they're once again seeing not only the light of day, but the beautiful cold smoothness of the ice once again. This time around I'm skating with my kids, and it's an amazingly enjoyable activity for me to do with them.
Whenever the music's playing over the sound system, the disco lights are flashing and I'm gliding over the freshly cleaned ice, I get that feeling like the world's my oyster once again.
Like anything is possible.
And that feeling is the exact reason why I'm always encouraging you to find a form of creative expression that speaks to you. Something you love and can feel passionate about. When you discover this for yourself, you'll know exactly why!
But that's not what this post is about.
This post is about why we don't always know what it is that we love doing, because we were never allowed to grow our confidence in the first place.
Recently, on one of my ice skating outings with the kids, I noticed something that provided the inspiration for this post. It's what happens almost every time a child who is clearly new to the adventure of skating on ice approaches the rink.
One of their parents takes them out onto the ice and tries to show them how to move their skates and their bodies so that they can essentially learn to skate.
They hold the child's hands either in front, with the parent skating backwards, or beside them, attempting to teach them various techniques. These well-meaning parents, who are usually good skaters themselves, try to impart onto their child the "how to" of how this skating thing is done.
Of course, the child falls again and again, never staying up for too long, all the while being told by their parent what they're doing wrong. I can see that, to these children, learning this new and alien form of movement must seem like such a stretch.
"But how do I skate?" I can almost hear them thinking.
But then there's a small percentage of little boys and girls (and parents) that do it a little differently.
They go right out on the ice on their own, holding onto these plastic contraptions known as Little Helpers (they look like a child sized plastic "walker" with runners on the bottom). Unlike the other group of children, these kids skate around by themselves with the support of these wonderful Little Helpers pretty much without any trouble at all.
They don't worry about technique or form; they just push off with their skates, holding onto their Little Helper, and glide around the rink with huge smiles on their faces. They're simply some of the happiest kids out there going around and around, quickly able to keep up with most of the other skaters who already know how to skate.
I really can't understand why any parent wouldn't want their child to use a Little Helper when there are plenty available.
My guess is that it goes back to our programming. We don't want to believe that our child needs something that seems like such a "crutch". Or maybe they believe that the child will pick up "bad habits" or incorrect form if they're allowed to use the Little Helpers.
Whatever the reason, the results are clear. You have a small group of children having a blast, flying around the rink with smiles on their faces, building up their confidence, and you have a much larger group of children that are unhappy, scared, and feeling like failures, probably not wanting to go skating ever again.
I realize that this happens to nearly all of us in our lives, even as adults. It's the "sink or swim" mentality.
Unfortunately most of us sink. We sink into a feeling of failure, of "I'll never be able to get this", of "I'm just not good enough".
And it follows us for life.
On the other hand is the group that was allowed to just play, have fun, and experience the joy the activity brings without worrying about being perfect or doing it the "right" way. They're the ones who have started building their confidence. And their joy. And a zest for life.
They've been given something to be confident and joyful about first, knowing that technique can always be worked on later. It's how any of us get from here to there.
We can't work on technique if we can't first get the feel for what we're doing.
It's how our confidence grows.
We have to find that confidence in ourselves by doing something different, by taking a chance on ourselves for a change, instead of worrying so much about what we look like or what we lack. We need to be given the chance to feel what it feels like to live, to embrace all the opportunities we have.
It's the best way to truly build confidence.
Doing, not sitting on the sidelines watching others or reading about how to do it. Getting out there, not just sitting at home planning all the things we're going to do when we have this or that just right, when the impossible conditions we've set for ourselves to finally begin our lives are met.
Not somewhere outside of ourselves, but right here where we are. Right here where you are.
You know the fastest way to build confidence?
Acceptance of who you are. Acceptance of what you're not. Acceptance of the reality of what is.
And then you take all of that acceptance and you run with it. In the direction of your dreams.
Yes, there will be time for tweaks and adjustments and learning better techniques down the road. But without jumping in and getting started somewhere – anywhere that speaks to you – it's just the same old thing.
You can't expect to get something different if all you're doing is the same thing you've been doing all along.
Throw open the doors of your life. Wide open.
Let's see what you've got, what you might have inside you, what you might be capable of given half a chance. You'll know if you need to do something different if you're listening to yourself and checking in with yourself along the way.
What matters is that you're moving. Don't worry about being perfect, about getting it right the first time, about insisting on perfection or nothing at all.
It doesn't matter who's watching, or what anyone else has to say about it. This is your beautiful life and enough of it has already passed without you waking up to all the possibilities of a new tomorrow that lies within you.
So many opportunities! So much more to come!
So much more than you've been settling for, waiting for someone else to set your soul free.
Confidence, beautiful.
I wrote this one for you. Because no matter how hard it is for you to see any reason that there could be something more here for you, I see it, because I see you.
Come look in the mirror and see what I see for a change. Not those wrinkles, not that nose you've never liked. Not that stringy hair you've always wished was thick and full. Not that body that you're always trying to change.
You. The real you.
You'e not any of those things. You're the woman you don't even know. The one you've never taken the time to really get to know.
It's time to change that.
What gets you excited about your life? What stirs your passion? What gives you reason to hope? What dream refuses to keep being stuffed down inside you? What do you want to say to the naysayers who say "Who do you think you are?
Go do it. Start off with a Little Helper - that's what it's there for. You won't ever regret starting off with baby steps.
But you'll definitely regret not starting.
What have you been afraid to try? Share your story with us in the comments!