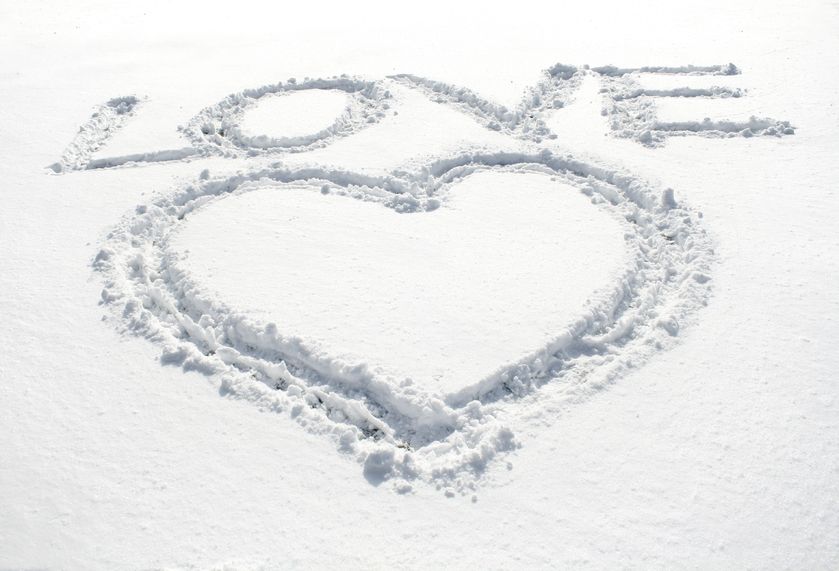 It's that time of year again - the season that brings up so many mixed feelings. On the one hand, it's a time of excitement and joy; on the other, we're often filled with melancholy and loneliness, particularly when we don't have someone special in our lives.
Yes, it's the holidays.
If you're at all like I was (and I know you are), you approach the holidays so idealistically, overflowing with optimism. We always go into it believing that this time things will be different. Better.
This time, your mom will really hear what you're saying. This time you and your dad will really connect and share some special moments. This time your uncle will stop ribbing you about being "still single". This time there won't be family arguments after (or during) dinner.
The dream.
And then there's what I like to call the dream.
This time, we think, he's going to finally realize what he's got in you, and he's going to want a committed relationship.
You can picture it in your mind so vividly:
He comes walking up the path to your front door, a dozen red roses in hand, tears in his eyes. "I've been such a fool" he says.
"I didn't realize what I'd had until now. But now I do. And I'm here. I'm finally ready. And I know what I want. And it's YOU!"
He gets down on one knee and pulls out the engagement ring you'd waited what has seemed like a lifetime for.  "Will you …marry me?"  he says, looking up at you with such love.
And you, with tears in your eyes, barely able to speak, mouth the words, "yes!", as he sweeps you up in his strong but tender embrace and gives you a long, sensual kiss.
We live for that.
Literally.
We'll do anything to make that dream come true.
We'll stay a little longer. We'll be even more understanding. We'll forgive him yet another time.
It's time for a different dream.
Well, this time, we're doing something different. Not one more holiday season. Not one more New Year.
It's been far too long since someone showed you the real you. The beautiful you.
This time I'm the one coming up that walk and knocking at your door. Yes, I'm coming to you without you having to come to me, because just once in your life I want you to experience what it feels like to be sought out and sought after, instead of the other way around.
No, I'm sorry; I'm not him.
But what I'm going to show you is so much better than him, even if you can't see it yet. You will.
I give you a warm hug. We know each other, you see. Not because we've ever met before, but because when you've been through what we've been through, that kind of understanding of each other comes through in our eyes, in our faces as soon as we meet.
I take you with me into the beautiful fresh air. We walk through the trees, down a path that leads to the ocean. We stop and sit down on a rock, listening to the sound of the waves crashing on the shore, big enough, wild enough to contain every single one of your darkest fears, your deepest longings and everything else that seems too much for everyone else.
It's here that it all spills out. Your story, your dreams, your plans, your hopes, your fears. All of it. And when you're done, the truth comes through so loud and clear from here.
There's nothing wrong with you.
Nothing.
Your beautiful giving, loving, caring self simply got lost along the way in the giving and the loving and the caring about the very ones who weren't capable of doing the same for you.
It wasn't your fault.
It wasn't about you.
Two people, two different pages. I know it doesn't really matter. You still feel the hurt no matter how logical the answer is. That's the only reality you feel.
Come walk out on the edge of the ocean with me. It's the place where my dream began again, too. Take your dream, take your beautiful dream you've almost given up on because it seems so out of reach.
It's there for a reason. It's yours for a reason.
All that you want – the man who loves you, adores you, the commitment, the life you deserve – it's not a cruel joke that's been played on you, no matter how much it feels like it.
Dreams still come true when you're with someone who shares the same ones with you.
These other ones couldn't get there because they didn't want to get there. They didn't share your same dreams. They might have talked about getting there, about how much they wanted the same thing, but their actions told a different story until you couldn't deny it any longer.
They wouldn't commit. You were the only one there. No wonder it felt so lonely!
Can you see the difference?
Take back that dream of yours and give it back to its rightful owner: you. It's not his to take away from you no matter what else he took with him. It's not up for grabs.
It's not just your dream to take back, it's your you. The you that loves like only you can love. The you that gives like no one's ever seen.
Embrace those parts of you like you never have before. Because it's these exact beautiful qualities of yours that are going to bring you the real kind of love you're been searching for and make those dreams come true. With someone who - this time - is right for you!
Merry Christmas, Happy Hanukkah, Happy Kwanzaa, Happy (insert whatever you celebrate here) to you, beautiful. This is where your dreams come true!
How about you? What dreams have gone buried, taken away from you without your even realizing they're gone?