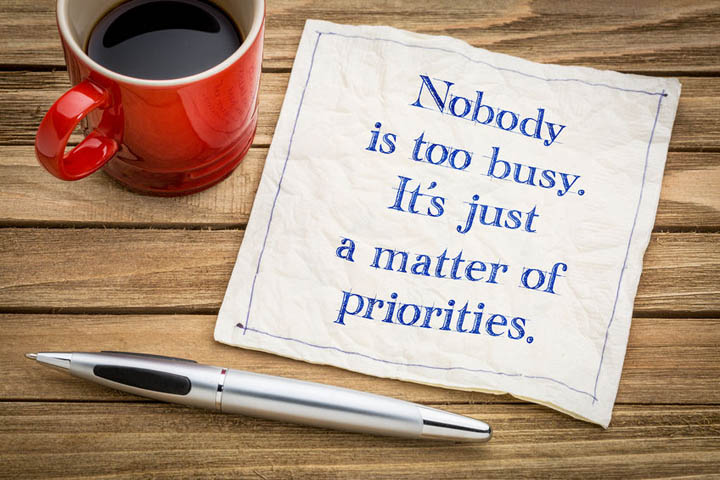 One of our beautiful readers, signed "In love with love", has a story that so many of us can relate to. The boyfriend that just can't seem to make time for (or commit to) a real relationship.
Read on for the full story:
Hi Jane,
I stumbled across one of your blogs, incidentally, a few weeks ago and have been hooked ever since.
You have a unique way of nailing all the issues with dating and love right on the head - it's to a point where you're reading, you think these blogs are made solely for you and speak to your own experience.
So Kudos for proving that relationship experts DO exist.
Anyhoo, I'd like to gather your thoughts on an issue that I've been dealing with. It's been some time since I've recapped events but I'll try my best to make it sensical.
In laymen's terms, I think I've fallen in love with someone who might love me back, but isn't letting themself. The only real excuse I've gotten is because he's too busy for a relationship because of work.
I don't buy that because I believe we make time for the  things and people we want. And if that's not me, why not just say so?
This would be a much easier pill to swallow if he would say he's just not that into me or doesn't see us working out. That I can understand. But this limbo we've been teetering in for months is mentally debilitating and hindering me from moving on.
Can you please advise?
This is long but I feel context is important:
Back in September, a guy had added me on Instagram. It wasn't long after that he asked me on a date. Usually, I'm the chaser or the first to suggest a date, so this already was new and exciting for me.
The first date was good and we continued to talk regularly throughout the week until we met again for our second. We got drinks, shared stories, laughed, held hands - it was great.
He even joined me in attending a party my best friend's mom was hosting nearby. I'm big on spontaneity so that to me spoke volumes. So, we did that, he met my closest friends. He blended in nicely because we're all just a bunch of goofballs who don't take ourselves too seriously.
From that point on, we had been consistently talking everyday, flirting, sending each other playful selfies/videos, and always said goodnight & good morning to each other. I was impressed by how attentive and engaged he was.
After about 2.5 weeks, he started to make me feel really good and comfortable.
Our banter was the strongest I've ever had with anyone, we were connecting - it felt like I was making a new best friend (which is what we all want in a partner, right?).
Fast forward to the day of what would finally be our 4th date is where things started to take a mild turn. We agreed, the night before, to meet for dinner once he got back into town from Orange County.
I hadn't heard from him all day (since the previous night, really) but wasn't panicked because I figured he was out with his friends and enjoying himself.
Finally, 6:00 rolls around and still no text or call. Although slightly irritated, I understand things happen so I didn't mind checking-in and following up.  An hour goes by he finally writes back, saying he's trying to convince his friends to leave and that he'll keep me updated.
OC is only 45 min away so in my head I'm thinking I'll hear from him in the next 30-60min.
2 hours go by, it's 8:30, and I get a text from saying that he is just heading home and that he didn't plan his day well. By that point, my emotions got the best of me and I became a little passive aggressive. I said "all good, buddy. safe travels back!"
I was annoyed!
Not so much that he had to cancel but more so, I felt let down. I was peeved that, after hours of radio-silence, I had to be the one reach out to receive an update.  I hoped that he'd at least apologize or ask to reschedule.  His response, "gracias", was blasé to me and it didn't feel good because I genuinely was looking forward to seeing him again.
*I wish this is where the story ended because things would be a lot more clear. Alas, this is only the beginning of a very complicated, and tricky relationship (or lack thereof).*
4 days went by of not hearing from him. I pushed my pride aside and initiated conversation but not without letting him know what was up.
Verbatim, I said:  "I wanna hang out and keep getting to know each other -you're fun! But, the vibes I'm getting are also confusing. And since it doesn't rain in LA, I'm wondering how many rain checks do we actually need to have 😉 So I guess this begs the question, do you still wanna hang out with me?"
His response:
"As much as I love a scolding text from you before 8am, I've been in meetings all damn day and haven't had a chance to sit and just text you back. I thoroughly enjoy hanging with you, so I'm confused by the confusion I guess. If it's because of Sunday, like I said...I should've planned the Newport day better / just drove myself instead of assuming my friends would want to leave when we originally said we did. That's the only rain check I've asked for! This week has been insanely busy... so I've been asleep before 10 almost every night this week. You're fun and cute as hell, so hanging with you is a no-brainer. Just gotta take care of my sanity too during the week rn and pass out when I need it."
Both confused and releived, I let him know I understood where he was coming from and that I thought things had fizzled out since I hadn't heard from him. I guess the feeling was mutual because he thought I was the one that fizzled on him because he had to cancel.
1st hump down, how many more to go?
Everything was seemingly back to normal. We were back to our usual flirtatious selves, constantly in communication, and looking forward to the next time we would see each other.
The following week or so, with some effort, he tried to meet up but I already had plans. We were still in contact though but it wasn't until late one night, I was thrown an absolute curve ball when he drunkenly said "I love you babe" via text.
I didn't take it too seriously (because, alcohol), but it definitely had my mind racing. I pondered if this had potential; maybe he's a hopeless romantic as well; he's still here so you must be doing something right.
Either way, I  responded the next morning with an inside joke or something and didn't really acknowledge those 3 words.
Over the next 3-ish weeks, we carried on as we were and would see each other when we could. Things were actually looking up for us! But at the same time, there's still a part of me that has to deal with my insecurity and abandonment issues because I self-sabotage in expecting that everything good in my life has an expiration date.
Internal conflict is a push & pull I consistently face.
So, as good as things were, I still didn't have what I needed to feel secure in the relationship, and and that was commitment. However, my less emotional and more logical self recognized it was still too soon to expect any sort of commitment. Maybe an action toward commitment is what I needed? I digress.
Toward the end of our 3 week progression, I had tickets to a concert that I wanted him to come with me to. I had mentioned it before but he denied since he didn't like the band; which is fair in its own right, whereas for me, if the person I'm seeing asks me to a show, movie, opera -whatever-, chances are I'm going to jump at the opportunity as it's an excuse to spend time with said person.
It's safe to say I was feeling a little of unsure of how we were at this point.
Be that as it may, I made the one mistake that is every dating millennial's nightmare. I screen-shotted texts and messages that were about him and accidentally sent them TO HIM, carrying on the conversation as if it was indeed, my best friend.
And, as fate would have it, this was that one friend where every exchange we two have is a dramatized joke or an exaggeration.
Long story short, I was on the fence on whether or not I might be bothering him. She asked when was the last time we spoke and what was said; which of course, was a time I made seem like one since the Elizabethan era along with the silent treatment (both of which we're embellishments for satirical effect).  Nevertheless, we were still in the initiating stage and some days were stronger than others so it wasn't always clear to get a gauge.
While I definitely thought it was over, much to my dismay, he surprised me. He responded with a funny video of himself smirking and shaking his head. His response also followed:
"I think you must think I'm a garbage human being, because one second you think you're bothering me (which could never happen) and another I'm sleeping in your bed and then trying to quietly say bye to you after putting my shoes on, but you think I'm the type that'd ghost and leave without saying bye [I genuinely thought this happened at our first sleepover and he hasn't let me forget it since.] As much as I'd love to say the last 12-16 hours have been a ball of fun, since last night at the Viceroy I've been on and off the phone with my sister who is quite close to breaking up with her boyfriend of 6 years and is very, very, very sad about it and only wants to talk to her gay brother about it. So no, I'm not ignoring you."
For assurance, I let him know I could never think he was a "garbage person" and apologized for giving that impression - I felt the exact opposite. I revealed that I have been burned badly in the past and apologized for projecting it on to him  somehow.
We were pretty resilient in bouncing back from this. Which was telling for me, because in my mind, I'm thinking 'wow, this guy has really seen my crazy and he's still not running for the hills...maybe he's a keeper after all. And maybe I should calm down now.'
Even though days had passed, I still felt pretty awkward. I wanted to do something sweet to let him know that yes, I have baggage but I also have a heart.
One of our inside jokes is our mutual obsession for tea (especially over coffee). I know he takes a Trenta double-iced black tea every morning so I Postmated one to his office as a surprise.
Coincidentally, it came right before a 3-hour meeting he was about to have. Immediately, he texted me and saying he nearly cried at how sweet that was, adding that even his colleague said to "marry him" in regards to the gesture. Again, me, hopeless romantic. Personally, I wouldn't include that last little detail unless I was also smitten about the person because it can lead someone in thinking a certain way.
NOTE: I'm trying hard wrap this up quickly as I can but I feel its hard to get a sense of what's going on without all of the details?
For the next couple of weeks, things continued to go well. The night before he flew home to visit his family for the weekend, we had a really great night. He said to me, he wished I was coming with him.
I was caught off-guard.
He followed by saying his family "would love" me. I really do try to take these things lightly, especially when they don't hold merit, but it's hard for the tender-hearted. To me, that communicates your thinking about me in a way that pictures me with or meeting your family - something I exclusively reserve for someone I'm sure I want to be with.
Family is an intimate entity, no?
Anyhoo, we talked all day everyday while he was away. Throughout his entire time, he'd send me pictures of himself, his animals, funny videos of him or family, home videos, etc. Not to mention, his innuendos even became more suggestive as he started to claim me as his, more frequently use pet names than before (e.g. babe, honey, baby etc.), and "I miss you" became a regular part of conversation.
I even had friends re-read our texts to confirm that what I was seeing was real, I wasn't overthinking, and that this was well on its way to becoming something serious - they all agreed as so.
While he was gone, the build up was high and it had been so long - needless to say, I was excited for when he got back. We made plans for Friday night. I knew he would be in San Diego for the day but he committed to being back in time to meet.
Long story short, he wasn't.
Much like the time before, he didn't answer my calls or texts until 11pm. I was annoyed so I didn't respond with the exception of "glad you made it safe." The next morning, I tried to breeze past it and asked him to lunch. He had a friend in town so he couldn't, which is fine (because, friends visit friends) but again, he wasn't forthcoming in apologizing or offering a time to reschedule.
For deeper reasons (i.e. abandonment issues), that's a huge trigger for me, especially since it was something  we had gone over before.
I got a little bit testy. I was firm in my response, saying:
"Look. I can infinitely be the most forgiving or understanding, sometimes to a fault. The only thing I ask in return is transparency/communication. If you're busy or exhausted, I get that! We all know what it's like to be human. I just hoped in times where my time is involved, you would consider it by keeping me in the loop and not ghost for over 24 hrs, leaving me to call you just to figure out if I'm being stood up or not. Tbh, I just hoped you'd try and make it up by figuring out another time. At least I can tell where your heads at. If that's too much for you though, please just let me know and we don't have to waste each other's time."
I figured I was giving him an opportunity to walk away if that's what he wanted.
He responded:
"I apologize for seeming like I ghosted. That was the last thing I was trying to do. And I'd never want to stand you up. Just was stuck in interviews all morning and then go go go with my boss until we got back. I just feel like you're quick to shade sometimes and I think I'm on edge still from yesterday + have been getting sh** from my friends lately for not being around as much because of work. I absolutely plan on finding a time to hang again, not trying to waste my time or yours. My friend from SJ is in town this weekend so that's why I wasn't bringing up a specific day or time just yet."
For the next two days, things were "fine". We ended up seeing each other on Sunday.
A long story that I'll make short, we had drinks (got drunk) and he said he loved me (yes, again). Jokingly, I covered his mouth and told him to "shut-up." Once we got back to my place, before bed, he told me I was his and only his. Again, I told him to hush and that we can talk in the morning when we're not drunk. However, he leaves earlier for work than I do so didn't have time to chat it over breakfast.
And it's not something I wanted to talk about over text.
The next time we were seeing each other wouldn't be until a few days later at my friends house for Friendsgiving. I texted him the night before to remind him but he had forgotten. He apologized and said he had a work dinner and would try to make it after. I said no worries, text me after and we can coordinate (as there were two Friendsgivings happening).
At about 9:45 I let him know I was switching houses and he could meet me at the next one. He responded two hours later to say that he was just finishing and was too tired to rally. I was mad because this was becoming cyclical - lack of communication.
The next day he flew back home for Thanksgiving for 5 days and we barely talked. There was a cold shift and something didn't feel right. It was agonizing! We were doing great (despite our occasional bumps in the road) just days ago and out of no where, I was presented with shade and distance.
It hurt.
This was the first guy who I had let myself fall for in almost two years. It felt safe. He seemed in it. So I jumped in with both feet. A mistake I'm still regretting.
I sent a Happy Thanksgiving text to gauge interest but it was minimally reciprocated. So I gave him space. We had chatted on instagram here and there but it was hardly anything of significance.
I waited a week after the break, hoping I'd hear at least something but no such luck. It drove me crazy! I knew this was nearing its end. I texted and called one last time toward the end of the week.
No response.
This was it. So I said to him: "I've thought about it, and I'm not that convinced this is working... You deserve someone you're excited about, eager to find time for, and genuinely interested in. I don't think I'm that person though. And it'd be selfish of me to keep you from that. At this point, I feel it's best we stop seeing each other and hang as friends but that may be all I have to offer at the moment. You're a catch and the next person to experience so will be very lucky."
He responded: "Sorry, I was in the office from 8a-8:45p last night. I hate talking about work but I also want to give you an idea of things so that it doesn't seem like I'm just hanging out on my phone and ignoring you all day.... It's only timing that blows at this point. I do agree with you though that there's not much I can give right now and it's not fair to either of us (especially you if you're interested in more.) I have zero other people I'm interested in and I absolutely love hanging out with you, am crazy attracted to you and you're a f*cking catch as well. Like I said, I think timing is the worst thing right now. I'd love to still chill as friends when we can and who's to say a few months down the road if things are more aligned schedule and work-wise that we couldn't pick things back up."
We've talked since then because sometimes, it really is hard to say goodbye and detach. He has fessed up to missing me, says he still thinks about me, and "really does hope a more suitable time finds us because [I'm] great."
I cling onto that.
He was truly different than anyone I had ever met and I know there was something special about him. I felt it. He did too (which I could evidence in other ways but this is already hinging on the length of a Stephen King novel.)
I am torn by what to think and how to move forward. If it was a case of not being into me, I feel he would've said so as he's had multiple opportunities to jump ship - some of which, I've practically handed to him.
But he doesn't. And he hasn't.
We've been on a "break" and haven't seen each other since late December. And it's been since Valentine's Day that we've talked.
Is there a way to salvage this relationship? Was it something I did? Was it something I said? Am I crazy (yes)? Is he crazy (he says he is)?  The person I might love has given me signals A - Z, except for the most important one (wh)Y.
-In love with love
My Response:
Is love anything but crazy for those of us hopeless romantics who are in love with love every bit as much as we're in love with the people within that love?
No, you're not crazy and either is he.
You're just two different people, attracted to each other, attracted to what both of you bring to the relationship, attracted to the opposite world that you provide each other a glimpse into that you couldn't otherwise see.
Crazy is the word we label ourselves with when we don't live like the rest of the practical, logical world tells us we need to be. But without holding ourselves up to that kind of cultural mirror, we're no longer crazy, we're simply who we are and what we're meant to be.
Ourselves.
You did so many things that were you. He did so many things that were him. You behaved like you. He behaved like him.
I could go on and on about all the things you should do, but what would you have then but a picture of who someone like you should be if you want to get someone like him and be miserably unhappy when you finally get exactly him and discover you've lost yourself in the process?
It's simple really.
Without even going into all that many things, I can say that you simply need to let him take this at his own pace, give him the space to be himself, don't nag, don't pursue him, don't get mad (especially not passive aggressive mad) when you find yourself waiting impatiently for him to finally get back to you on where on earth he is when he's supposed to be somewhere with you.
I can tell you to keep living your own life and letting him live his.
I'd remind you to fill your calendar with everything but him so that you're busy – legitimately busy – when he wants to meet up last minute because he suddenly has time for you.
But if you followed that advise perfectly, and you got him back, would it only be an illusion of him? Because wouldn't it be an illusion of you?
Yes, in theory, it sounds easy. Or not. But add in who we are, abandonment issues and insecurities from our families of origin who had no idea how to adequately meet our sensitive needs, and it's the farthest thing from easy; it's a question of being who we are or being who someone else needs us to be – for them.
Is it salvageable?
Yes, if you accept him for exactly who he is and can convince yourself to be content being no more of a priority than the level of priority he assigns to you. Oh, and if you don't have your own needs or at least if you can refrain from making them anything that he needs to pay attention to. Yes, if you can defer to him and his needs. Yes, if you don't mess up and reveal more of yourself and those needs along the way.
Work is a priority for him. Being with his friends and not having to keep track of time is a priority for him. Not having to answer to you is a priority for him.
How do you know? Because that's what he's shown you.
No, it's not too much to ask, neither what you're asking for nor what he's asking for, unless it's too much for the other. And before you go there, no, that's not confirmation that you're too much; simply that this is about compatibility, not about anything more personal than that.
Why does anything happen to us in the end, when we finally have that answer from the perspective we can't see now, the one when we look back and have all our questions make sense? Because he wasn't the one for you and you would never be happy becoming who you would have had to become to be happy with him.
I wish I had a different answer for you, but I hope this is the one that helps.
Love,
Jane
What do you think "In love with love" should do in this situation? Wait it out or let go and move on? Share your thoughts with all of us below in the comments!