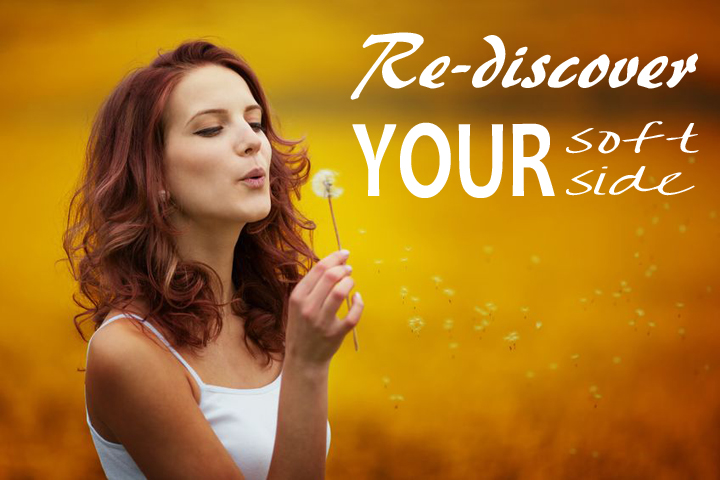 I've noticed a trend recently, one that really got my attention.
Lately it seems like so much of the advice and anecdotes I've been seeing and hearing from friends, on social media, on other blogs, is about how we women can be more "badass", tougher, stronger, harder, etc.
I see so little about what we actually want – and need! – to hear.
The part about who we were made to be. That part that speaks to our soft hearts as strength, not of weakness. The part that embraces who we are in that softness, instead of reinforcing our culture's preoccupation with seeing weaknesses as strengths and strengths as weakness.
We've fallen for it, too.
No, who we are in the depths of our very own hearts and souls can never be described with adjectives like these. No, the words that describe who we really are deep down inside and what we were born to be – as women, not men - runs much closer to our actual hearts.
What a statement about how far we've gotten away from ourselves. That most of us don't even recognize the implications when we see them. It's no wonder we're so hard on ourselves, that we spend more time blaming ourselves for what we're not and beating ourselves up for what we are, than we do celebrating the very qualities that make us the women we are.
Yes, it may speak to some parts of ourselves that we never felt free to express.
Yes, these words – this permission to say them and become them – may grant us a certain amount of freedom that we never felt before. But at what cost to those parts of us that aren't all about this? At what cost to us? Might there be a better way to express ourselves and still get our message across but in a way that dignifies us instead of making us into something we're not?
You don't need any more messages on how to be something other than what you really are. You don't need any more messages on how to reinforce the programming you already hold that there's something wrong with who you actually are.
You don't need any  more encouragement to become something or someone you're not – and never need to be. You don't need any more of the feeling like there's something wrong with you because you're not living someone else's version of what you should be.
And yet we do this to ourselves all the time.
We sell ourselves short, we sell our very heart and souls when we defer to someone other than our own selves. Because we're so good at reading between the lines, picking up on queues that aren't ever spoken, to hear what we should do differently. To become what we should be.
But where does that get us when we sell out once again against the pressure of what we think we need to be?
Hard. Cold. Distant. Tough.
Where's the love in that? Where is our true nature in that? Where are we?
It's no wonder we feel we belong in a different time and place. It's no wonder we think there must be something wrong with us when everyone else seems to be able to wear these qualities proud except us.
No, Beautiful, there's nothing wrong with you. Only with this idea that you have to be something other than you are. That you would feel this pressure to be something that you're not and question of what value then are you really.
This is where the real damage is done. Living like someone tells you that you should. Trying to be what someone else says you should. It's so familiar. This place you find yourself in. Isn't this what you've always done? Heard what was wrong with you from the very people who had no interest in you, and then tried to show them you already had it in you?
Tried to prove that you've had it all along? For what? Who are they? How do they know you better than you know yourself? Ah, but it's all making sense now. This deferring to others, to the "they" they represent is almost second nature to you. So familiar.
How can you not go there?
But what about those beautiful qualities you possess? The soft, loving, giving, caring, wonderful qualities you hold. Oh, but they're worth their weight in gold!
Tell them to walk on by. The most beautiful strength of all is in the eyes of a woman who knows who she is, who knows the strength of refusing to be what someone else wants her to be, but remembers her worth can never be measured in the terms of the world.
No, don't listen to them. It's such a faint whisper you hear. Look at that beautiful woman in the mirror. See how her curves are just where they're meant to be.
She's soft. Feel her skin. It's soft, pliable. Touch her heart. Hear it beating.
That's love like no one's ever known with every beat. Those soft places of compassion, of love, of caring, of empathy, of giving, of embodying everything we've ever called love. You have them all. It's not your fault you've been misled.
We all have.
We don't need more of women standing up like men to meet their match head on. We need more of women, standing up in their power as women with the grace and strength that can only come from that place of softness and gentleness.
That's what he longs for. Not his match. But his complement. Not your match. But your complement.
You were never made to embody the same kind of strength as him. You were never meant to show him his match that resembled only him.
How can he find you when he doesn't know where to look? How can he know where to look when his heart of hearts longs for a strength so different from his that it calls him by name? He's so confused when you show him what he's supposed to want but when he longs for what you already have.
Unbury it. Release this soft, beautiful side of you.
Yes, it can be hurt. Yes, it's fragile. But don't let that stop you. That's the only way it knows how to love. Fully. Completely. Not him, yet. But with the potential to give all that because it's already there.
Because it's the only way we know how to love.