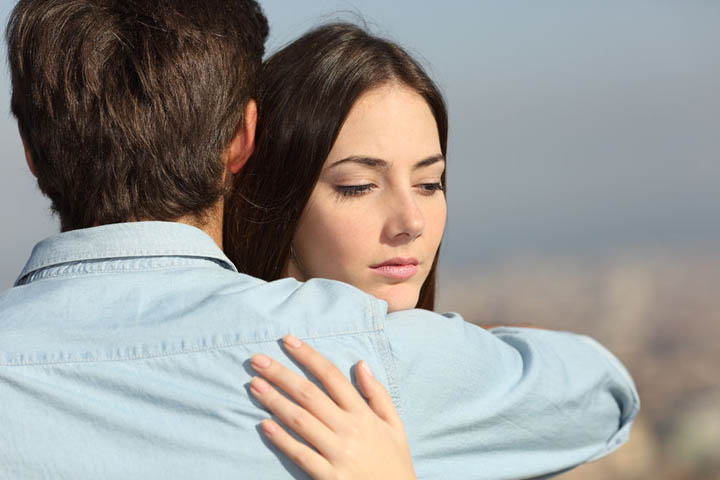 There are some women who come to me with a question that's easy to answer.
When they ask if he's worth the effort, if they should stay, if they should give him more time, the answer's so clear from my outside perspective and with everything I've learned about this kind of man.
Without their emotional attachment, without their personal connection to this man who represents something they can't yet see, I see so clearly someone who should never, ever be anywhere near them, let alone in a relationship with them.
But then there are the others. Maybe it's you, too.
These are the women who are with someone who I would hesitate to say there's some hope with without personally getting to know their unique situation better. Because while I'm all about hope and believing in someone's potential, I've also been around more than enough of these men - and the women who find themselves with these types - to know that this hope and potential should only be reserved for some men, and by no means just any man!
But there's clearly a difference between a man with some real potential and a man whose potential is only seen through our own dysfunction. These are not the same men.
And understanding those differences, understanding what makes one emotionally unavailable man capable of making a commitment to you and another completely incapable, is where I come in.
I've dated these men.
I've been in what I thought were real long-term relationships with these men. I've lived the highs with these men. And I've lived through the many more lows that being with these men entails.
I've waited and waited and waited for these men. I've lost myself in them. And I've done it all again even when I've said I'd never, ever do it again. Being with men like these completely changed my life and helped me understand a breed of men I'd never even known existed.
No one ever told me anything about them.
I thought love was about being the right person, about finding the right person, and coming together, falling in love and progressing naturally to the next step of commitment and in time, marriage.
I thought that was the way love was supposed to work.
I was so completely unprepared for the way it actually worked, so completely unprepared for how complicated it actually was.
What I didn't realize at the time, and only realized after years of studying these men, first personally and then professionally, was that the emotional unavailable man is, in fact, a different kind of man. All men have some elements of emotional unavailability in them simply because of how our culture has traditionally raised boys to become men.
For generations, boys have been told to man up, to suck it up (as in their feelings), to be strong, to never let their guard down. They've been raised with such a lack of emotional understanding for their very real emotions and they've never been given any tools for how to deal with them.
Essentially, they've been brought up in an emotional vacuum - unless they were fortunate enough to have someone in their lives who bucked the system, gave them permission to feel and made them feel comfortable with those feelings both in themselves and in others.
The men we're talking about here are those men whose deep sensitivity combined with an equally opposite deeply insensitive parent. A parent who was so closed off from their own emotions they weren't able to question what they were doing.
This in turn leads to an absolutely toxic combination where their emotional needs were so inadequately met (and maybe where they were shamed for even having those needs at all), that they grew up to be men so devoid of acknowledgment of their own emotions.
The irony is that they can't tolerate any emotion from the women in their lives equally as much as they can't resist the chance to erase their deep shame and prove themselves lovable by choosing a woman capable of the deep emotion they are only aware of in themselves at a subconscious level.
Yet this is their place of deep need that they're actually living from.
The amount of self-work required to be with someone like this is why so many of us endlessly working on ourselves self-help types are drawn to them in the first place. It's why we can't let them go, why we keep hanging on to their potential, and especially why we have to understand what happened (and why) before we can ever hope to move on!
When you understand why, you can choose, you recognize your power in this relationship that feels so out of control and powerless to you!
The very first step to doing anything different, either with your current emotionally unavailable man or the next one you're going to find yourself inexplicably drawn to (and unless you break this pattern, you absolutely will), is to understand why he behaves the way he does, why it's solely about him and the dynamic between someone exactly like you and someone exactly like him, and the many reasons leading up to and contributing to both his emotional unavailability as well as why he is the way he is.
You're not going to be able to do anything about him unless you first understand him.
If you don't know why you're doing what you're doing, if you don't know the reasons why he's doing what he's doing, you'll continue to take everything he does personally, and most importantly, your reaction and response to him will always reflect your own triggers rather than his actual behavior.
Until you fully understand those reasons behind both of your behaviors that form a very real dynamic unique to the two of you, nothing changes.
That's why in all my work with women, as well as my own first-hand experiences, the most important piece of changing this subconscious dynamic is awareness.
You simply can't change what you can't see.
If you're not able to make the investment of working with me one-on-one to get to the bottom of this, I completely understand. But that doesn't mean you can't have the benefit of some of the background I give my clients in explaining the the reasons behind the behaviors and dynamics of the men they describe to me.
In fact, it's why I created my popular audio program, Why Men Pull Away.
Most of the women I work with want to get under his skin, to understand why he behaves the way he does, to be in a position to choose whether or not he's worth this effort and whether or not they could finally take back their power and accept that this wasn't their fault. The answer is always the same - it was completely understandable that they had fallen for a man like this, but was in no way their fault that he had happened to them!
But they don't have to repeat the pattern. And you don't either, Beautiful.
What are your thoughts? Have you experienced an emotionally unavailable man in the past? Share your story with us below in the comments!