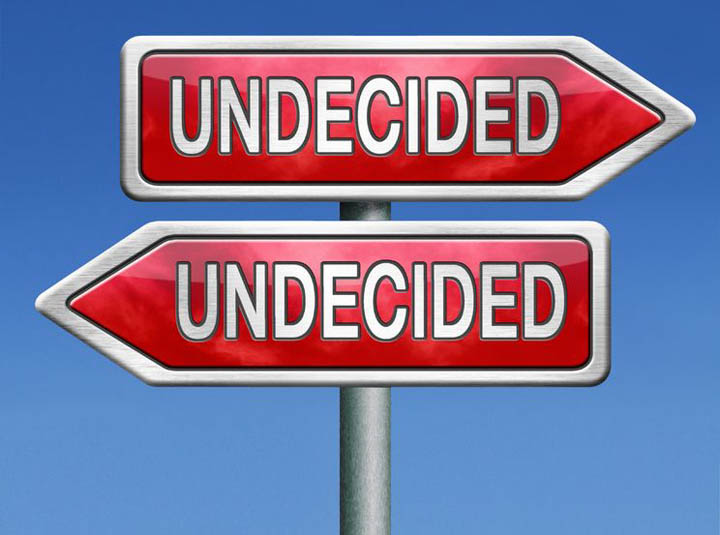 This week our letter comes from a GUY for a change! Yes, one of our handsome male readers! He calls himself "Mr. Indecisive", which should tell you a bit about the story you're about to hear.
Here's his email:
Hi Jane,
I'm a 28 year old male, unfortunately I also have been diagnosed with anxiety...so this hasn't made my issue any easier...
I came across your website and wanted to send you a question I have been struggling on and off with...
I met a woman, a wonderful woman, and we developed a wonderful relationship together over the past 5 months.
Unfortunately big events are coming up which have made me...Mr. indecisive...
She is in the military and brought up about whether she leave the military entirely in Oct. or...she stays in and leaves my state for 4 years and I go with her. Either way, we are discussing engagement rings and this...has...terrified...me since...
Later on she did clarify that she simply meant she wanted to know if there was a possibility of a future with her (she does not want to get engaged at this time), but that question has apparently triggered me.
Do I see a future? Yes. Do I see kids? Yes.
However I also have begun to see her superficial flaws which have begun to reinforce my thoughts of flight.
I have been stressing to no end...and when I mean no end I mean 8 days solid. I've been looking in my head and my heart for answers but neither seems obvious to me...looking online has only made things substantially worse as some of the things I'm reading has told me, "any doubts, cast her out" , "if your stressed...leave." , "if you are finding yourself holding back...end it." , "because you are starting to find superficial issues with her...end it." , "if your having doubts, it's because you truly do not love her...end it." etc. etc. etc.
I've noticed, since I've been stressing, that I think about two distinct questions..."I think I should go." which is followed by a sudden urge of flight response. After I think about that feeling, I immediately think "but I want to stay with her!" but when I think about staying, I get stressed which then cycles back to the "Can I be with this woman? Am I truly ready?" and the cycle continues endlessly.
I do see someone for my anxiety, but I feel they are not helping...especially since I feel I need to make a decision...today.
I know that you cannot answer my question...I know no one can...I feel rather childish looking for someone to tell me what to do...the adult thing would be to make a decision and go for it...I'm just scared...
To sum things up, hopefully you may shed wisdom on this... here are my boiled down thoughts...
I look at her and feel a sudden urge of fleeing with the thought of "I think I need to leave."
My feelings at the moment are:
I feel scared
I feel stressed
I feel depressed
I feel like running
I do not have strong attachment to her (at this time)
I feel unhappy (due to stress)
I'm afraid my feelings for her won't comeback (they have dwindled since I've been stressing)
I then think about actually leaving her...and I immediately think "But! But I WANT to be with her! I think this relationship IS right!"
My feelings at the moment are:
I feel scared
I think it is the right choice
I do not want to feel sad (I'd been devastated to leave her.)
I want to be with her
I want to be happy again
I want to hold/touch/hug her
I want her to hold/touch/hug me
I feel GOOD holding/touching/hugging her
I feel GOOD listening to her voice
I feel GOOD just being in the room with her or doing any number of activities with her.
As far as our relationship goes...we are emotionally and physically compatible (I think she's cute, but since i've been stressing these feelings have dwindled.) I REALLY love her personality, and she definitely feels like more than just a lover, but a best friend.
Again,
I know you cannot tell me what to do...I feel very childish asking for help. I guess what I am asking is...is my thought to leave with my head, or my heart? Is my want to stay with my head or my heart?
I reviewed your list of reasons to end things...I can answer "no" to almost all of them, the only one I was kinda hesitant on answering "no" was "comfort" level. Is this relationship comfortable? Absolutely (just not right now due to stress).
However I am definitely not afraid to be alone or by myself, and in the past if things were bad, I didn't dwell on this thought as much as I have with this current relationship.
Can you please give me advice?
- Mr. Indecisive
My Response:
The irony!  That we discover we can choose, but we don't know how to.
I chose your letter today, Mr. Indecisive, because the dilemma you're describing here is universal on so many levels. This is the crux of what so many of the women – and men, yes, you're not the only male here – struggle with.
Afraid to stay, afraid to leave.
Afraid they might miss their one chance on a love that really is everything they've ever wanted if they go. Afraid they might miss their one chance on a love that really is everything they've ever wanted if they stay.
Ironic, isn't it.
But it's really the same thing. We don't trust ourselves to make our most important decisions in life. We don't know how to listen to ourselves, to hear what we need, to trust we know best.
Do our thoughts come from our heads or our hearts? Do our gut feelings come from our heads or our hearts? And does it matter? Or does it matter more what we do with those thoughts?
We feel ashamed, childish, for a reason. It's because we think we should be able to make a decision. We think we should know what to do. We think we should be able to trust ourselves and know what we know best. If we keep "shoulding" like this, we can go on and on and on with even more things we think we should be able to do, with more reasons why there's such a shame in asking for help.
It's why we want to hide, we don't anyone to know we're asking for help. We just want to know the answer.
Why are we so anxious?
The question is really how can we not be? So much is at stake! We're so programmed with the idea of the one and only, the Mr. or Ms. Right, of soulmates, of one chance and if you blow it, it's gone.
Punishment. Shame. Blame.
So much hangs over us. We've taken all of this on ourselves.
Is that you under there? Hidden underneath that weight? I see you there. Come on out, Mr. Indecisive.
Does she do this to you? No, not her, but the idea of committing to her and what she represents to you; commitment. You don't know what you want, but you think you know what you should want, until you don't know if that's what you want anymore.
Let's put all thoughts of her aside for a moment and focus on the one person who knows what to do. You.
Because you really do!
If you can let all the noise around you disappear, if you can listen instead to your own heart, this isn't nearly as complicated as it seems.
You're here with her for a reason. You've chosen her for a reason. If there was no pressure, if there were no shoulds, would you want to be with her? Then be with her. There's only pressure and shoulds because you've allowed them to be put on you.
This is between the two of you, not anyone else. Not the people in your life who hold you to such high expectations and set the stage for you from the time you were a little boy who didn't know any better than to take their own fears and pressures on you. Not the culture that doesn't serve you – or her - well at all. Not your well-meaning friends and family and coworkers who only reinforce the cultural ideals.
We all have flaws.
Relationships are about two very human people who can live with each other's very human flaws. You navigate your relationship together, not outside of yourself on anyone else's terms.
The very best relationships are always between two humans who know how to let their hair down and be real with each other, not two idealized perfect people who only know how to do surface.  We always see flaws when we find ourselves falling under someone else's expectations, trying to measure up to them.
There's only the terms you set for yourself, Mr. Indecisive. Don't let this scare you. Take it slow. Let her know this is new unchartered territory for you but you're working your way through. Be honest with her. She can decide what she needs to do for herself.
But don't run. This isn't about her, this is about you.
She's showing you the mirror. What you do with that reflection she shows you of yourself is up to you. But if who she is and what you're looking for are one and the same, as it sounds like it might be, don't be afraid to feel a little uncomfortable as you work your way through.
There's her and then there's you. She can't make you be or do anything you don't want to be or do. Don't be afraid of that part.
You can't lose yourself in her unless you choose to.
Is she here to control you, or is she here to love you? There's a difference, even if the two were confused before. Maybe you've never been loved for you before. And maybe this is the beginning of finding out what that's like for the first time in your life.
You're absolutely right, I can't tell you what to do, but I hope my thoughts here have conveyed the message you needed to hear, and I hope it helps.
Love,
Jane