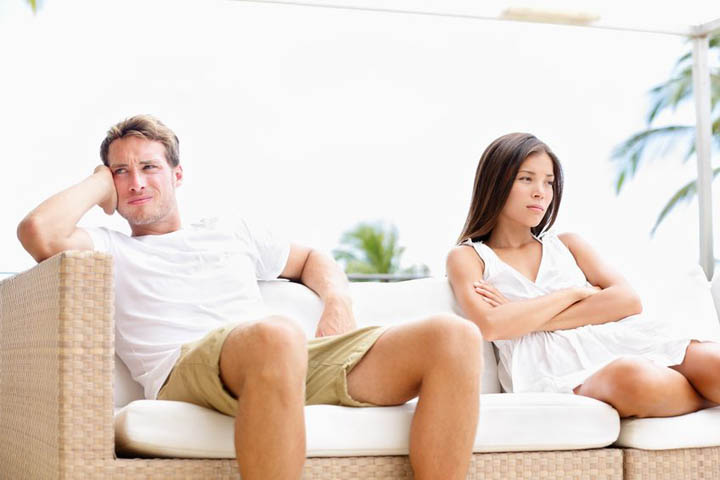 Beautiful Allie shares her story of waiting endlessly for a commitment - will he ever be ready?
Here's what she wrote:
I am going to be 32 the end of this year.
I have been with a man for the last 9 years. We dated when we were younger, in between friends with benefits, and more recently started dating (both of us have no children and have never been married.)
My question is, he is unable to define what we are at all, completely accustomed to seeing me out of pure convenience when he can pencil me into his schedule and is okay with seeing me 1 to 2 times a week (literally.) Maybe a dinner after work, breakfast and then I'm gone by 11:00 the next morning.
We have never spent two days together or had a weekend together.
We have had multiple discussions about commitment and things improve but then 4 months later go back to the same old cycle. It's almost as if he wants his life separate from mine; his time is his and he's very set in his ways.
This has been going on far too long and I truly need an intervention of some sort because do I believe that there is a possibility that he might want a committed relationship? Sure, but do I think that it will happen in the next 5 years? No.
I'm constantly  saying to myself "What am I really doing with myself? This is a never ending battle with myself."
I truly love this person with every ounce of my heart and every bone in my body... he's all I know. I don't think he knows how to love and more so do I say that because he recently told me this year for the first time he loved me.
He is never the first one to say it to me and is almost afraid to utter the words, but he does manage to pass them. If I can have some wise words, this would be ever so helpful.
- Allie
My Response:
I know you love him with every ounce of your heart and every bone in your body, Allie. We always do. And you're absolutely right when you say he doesn't know how to love.
Yes, every man is different. Yes, every man is unique and made up of his own combination of nature vs nurture.
But what is the same for so many men who live in this culture of ours, who grew up in this culture and were programmed with all the best of intentions to be the man that men are "supposed" to be here, is that they're not shown how to handle their own feelings.
These are some of the most sensitive men, and yet they've never learned how to be in touch with their emotional sides. On the contrary, they're only shown how to push those feelings down, to be strong and hard and not express their feelings. To be instead the "Guy's guy" or the "Man's man".
I've said this all before – how the boy who's not allowed to cry becomes the man who can't make an emotional commitment unless he learns the skills and the tools to acknowledge all of his emotions; he's never taught about what love feels like.
He's taught that being vulnerable in love is a bad thing, instead of being taught that being vulnerable is what is required in a real, loving, intimate relationship.
So it's no wonder that you sense he doesn't really know how to love, to express his feelings confidently, to be sure of what he wants and what that looks like when it comes to love, when it comes to commitment, when it comes to you.
He doesn't.
He's showing you his truth when he's still not able to define what you are, even if it's been for the last 9 years.
9 years, Allie. 9 years!
That's a long time for a man to STILL not know what you are. And so, like so many of us who've walked in your shoes for our own number of years know, what he's waiting for isn't really for himself to figure this out (because he has no idea when or if he ever will) but for you to figure it out for him.
He's not hearing your words, Allie. He can't hear your words. He shuts them out the moment they begin to feel like pressure to him.
Show him with your actions instead. Show him he can't pencil you in and see you only one or two days a week. Show him you're so much more than a mere convenience.Not because you're playing a game with him, but because he literally can't. Because you can't! Not anymore.
Show him with your actions that you mean what you say and you'll get that defining moment from him. But you have to first know that you really can't do this for another 9 years or months or days. That matters, because he can.
He can keep doing this. It works for him.
He's showing you by his actions over the last 9 years that this clearly is working for him. He's set in his ways. He doesn't have to change. This feels comfortable to him and he shows you every single day by his actions that it works for him.
365 days each and every year.
He feels safe in his routine, comfortable in his predictable order of things. I could tell you all about the psychology of why that is in detail if we had the time, but it's enough for you to understand that this is how he feels safe.
And feeling safe and secure is so very important to men like this, even if they go to great lengths to project their strength.
They're not that strong. He's not that strong. You're actually the stronger one here, Allie, if you allow yourself to see that side of you.
There's a reason you're asking yourself "What am I really doing with myself?"
This IS a battle within yourself. It always is. We know what we know for a reason. We know that 9 years is far too long already, and especially when we can't see anything changing even in another 5! That's a potential 14 years you're talking about here, with no realistic chance of change in sight.
Yes, you need an intervention here, but more than an intervention an infusion of love for yourself. An infusion of seeing yourself in a whole new light, as a beautiful young woman with such a beautiful heart, with so much to offer, so much to give, living for the dream of a man with so much potential who you've invested so much of your own life in over the years, finally giving you the definition you seek.
Until you can gain that clarity you're seeking for yourself, you can't be clear with him. Until you see that you have nothing to lose and everything to gain by choosing you and letting everything else fall into place, you can't be confident in any decision you might make.
You don't have to live your life without him. You don't have to give him up. This is your choice.
But what I think you've reached out to me for is to find that part of you that chooses something. Choose you or choose him, but make it your own choice. There are so many other men out there who won't be exactly like him.
And then there's him.
If he can't take the pressure or responsibility of defining what you are to him, what else can't he take? What else isn't he capable of handling? What else isn't he ready for, Allie?
I know you know your answer. I know you've already got it.
But what I want to give you even beyond my words, is the words of the women who have walked in your shoes, who are walking in your shoes right now. They've known their own answers, too. Hear them. Listen to them. Let them remind you you're not alone.
And then set him aside for as long as you can. Don't look for your answer from someone who can't give it to you even after 9 long years. I know they've been long, Allie. I know you never expected a year or two or three more of waiting to turn into how long it's been.
There's no shame here for you, only love. From the very women who've thought that, too.
I'm here for you if you want to walk through this together.
Love,
Jane
I know you've got something to share with Allie, Beautiful. I know so many of you could have written her words. Tell her what you want her to know in the comments below. She needs your support right now.