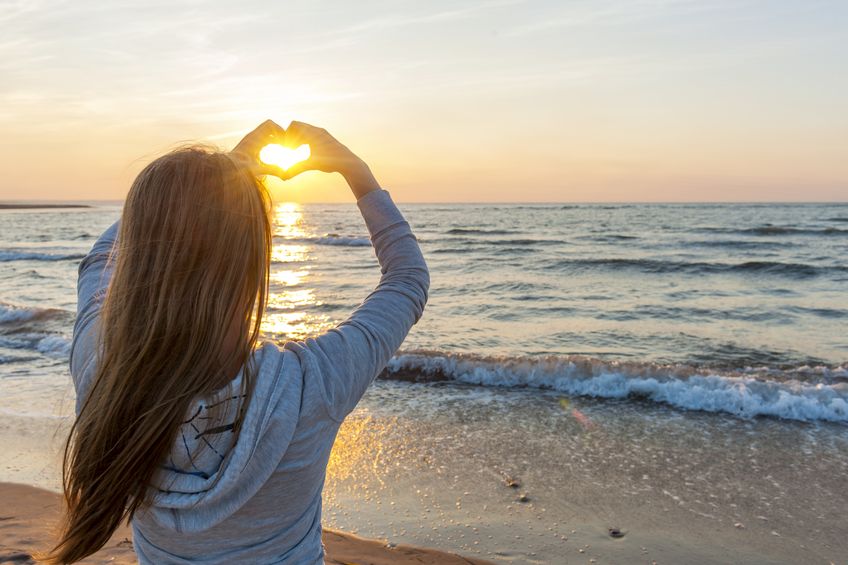 Our gorgeous friend, who calls herself "Looking for Hope", has recently walked away from a really bad relationship and is worried that she might not find anyone else. (Sound familiar?)
Here's her email:
Dear Jane,
About 6 months ago I walked away from a really bad relationship.
We were together for 5 years and engaged for 2.5 years of that time. After he proposed, he refused to set a wedding date and made up every excuse in the book like "He wasn't ready," "we needed to save more money", or "he wanted to get to know me more."
I drove myself crazy blaming myself for his lack of commitment and in order to put us in a better financial position I dedicated myself to paying off all of my student loans and investing in savings.
Once we got engaged, he became a workaholic where his career was his number 1 priority and starting a family or having a relationship with me was always on the back burner! I did and tried EVERYTHING, until one day it hit me that this had nothing to do with me and it had everything to do with him and his inner issues.
So, I told him that this wasn't fair anymore that I was ready for the rest of my life whether it was with or without him, that whenever I agreed to getting engaged to him we made plans of prioritizing each other and a future family and now his work was becoming the center of his life and that was not a life that I had agreed to.
It was time for him to decide what road to take, a marriage with me or the career that would make him millions of dollars.
I insisted that his job was something he loved, I would never make him quit but that his priority needed to shift back to me or I would be signing up for a life of utter sadness from constantly being dismissed.
I separated us for 2 months where I told him to take time to reflect on what he truly wanted but in the meantime, I had to focus on myself. During those 2 months, I worked out, took a painting class, hung out with friends and family, and even landed my dream job!
He was a wreck from what I understand and he asked his loved ones for advice.
While his family and friends thought marrying me would have been the best decision he ever made, he decided to listen to his boss and other "big shots" at work. I didn't know it until recently, but they had been telling him not to get married these past 2.5 years, that a wife this early in life would ruin his potential at also becoming a "big shot."
At the end of those 2 months, he broke off our engagement. I was devastated for a while, but decided to no longer love him and moved on with my life.
Today, I am happy -- enjoying my job, volunteering with children, meeting new friends, and working on myself. I know now I have the opportunity to actually get what I want – a happy, healthy marriage with a man who is committed to me and our family, and though he may love his job, makes it a second priority to the people that matter the most!
I know this in my heart and look forward to the future, however there are some days I have very dark and sad moments.
How am I going to meet this person?
Does this person even exist?
How am I going to know it's right?
What if I make the same mistake again?
I can't go through another heartbreak like this, especially when I stood up for what I wanted and deserved.
I would never want to go back to my ex-fiancé, I know walking away was the best decision. I don't yearn for him, but I do yearn for the life I was building with him – a great career, a wedding, a family, and a best friend at my side through it all! A relationship where the hard times make you stronger and where you both take responsibly for your actions.
I am enjoying this time to myself now, but while I want this time to be temporary, I fear that sometimes it will be permanent. I am 26, so I am surrounded by weddings and engagements. I am just SO worried that it will never happen for me again...the way I want it to...and this stage in my life will isolate me from my friends and family members who are getting married and starting families now.
How do you deal with this fear? How do you make sure you don't make the same mistake? Where is the hope here? Will I find that man I described and be happy one day?
- Looking for Hope
My Response:
Dear Looking for Hope,
"I did and tried EVERYTHING, until one day it hit me that this had nothing to do with me and it had everything to do with him and his inner issues."
How inspiring  to hear your story.
As hard as it must have been to let it go, you absolutely saved yourself from so much more pain and heartbreak down the road. Yes, those men may make their millions and have so many things that our culture epitomizes as success and happiness, but for the ones who love someone on that path who want more, so much more than that, their's can be the most loneliest and unhappiest lives of all.
Thank you for sharing it here.
You found your freedom. You stood up for what you knew you had the right to desire and more than the right to deserve.
It sounds like you've moved on to a beautiful life that you've created for yourself.  You know who you are and all that you have to offer someone who's worthy of you, and you know that you deserve nothing less. You're finding opportunities to meet like-minded men who are on the same page, who want the same things as you, and you have a rich social circle.
You're happy and content and open to seeing things fall into place where they are meant to – for the most part. But the reality of your friends getting engaged and married all around you and starting families of their own is a part of that reality that you can't help but worry once a while that you might be left behind.
How I understand your concerns, Hope.  And how deeply your questions resonate with me.
They were once my own.
You want some real reassurance that you can trust. You want to know for sure.
We get so confused along the way. If we could trust what we already know in our heart of hearts, we would know without a doubt that everything really is going to be OK, that it all works out in the end and the real happily ever after is a story that becomes our own.
But from where we stand, when the never-so-subtle reminders start cropping up around us as we see that next stage start to call our name and we're still one-half of a couple, the pressure begins. The fear starts. The doubt enters our minds.
Let it be.
Let these feeling and questions surface when they come. They don't own you. You've got this one.
They're only there if you let them be. And you've got the answers yourself in your own heart of hearts.
Look those fears and doubts that seek to unnerve you from this steady, clear path you're on, right in the eye and tell them to pass on by. There's no place for them in your world.
You've got a life to live. You've got more opportunities to create. You've got more plans to make, dreams to dream, passions to follow, places to go, things to do, not to  mention all those delicious quiet moments when you're all alone and you don't have to answer yet to anyone but you.
Don't miss out on these moments at this current life stage that will just as quickly become a distant memory.
Savor them.
Relish them. Don't let your mind wander so far away into the future of what isn't yet, that you miss the once-in-a-lifetime opportunity to enjoy every single one of these days you have all to yourself right now.
You deal with the fear by being aware of it, by acknowledging it, and then accepting it. Yes, it sometimes really needs you to know it's there. Yes, sometimes it refuses to be silenced. And yes, it sometimes demands to be real.
But it's only in your own mind where it matters.
And if you can look at it as a familiar friend who sometimes just needs you to notice it and accept it for what is before allowing it to continue on its way, it will be easier to let it have its place without derailing you and the life you've built for yourself. It's only as big as you allow it to be.
You won't make the same mistake because you know so much more now. You've been through it. You've lived it. You've seen it. You've felt it. Your body and mind and soul sense it and will let you know in so many different ways if you allow them to  - and listen to them.
They only get louder and more vocal if they're not heard. They're your gauge. Watch. Listen. Feel. Use your senses. If it seems like something familiar, somewhere you've been before, it probably is. It's how you'll know.
The hope is already there. It lives inside of you. All you need to do is remember that. And keep going. Keep participating. Keep showing up. Keep letting the true light of you shine through.
It's in those everyday moments of living your life that he'll find you. That you'll find each other. Look at all the stories of people you know and how they met. Especially the ones who had given up all hope. Find your inspiration from them. You'll have your own story, too.
And I have it on good authority that you'll find that man you described and be happy one day. The best kind. Yours.
Because you're the one doing the choosing here, Hope. You know what you're looking for.
And you're in tune enough with yourself to know who you are and who you're not. That's the kind of clarity that gets you there.  The one based in reality, not fantasy. The fantasy can never deliver. Reality delivers every single time.
Love,
Jane
What do you think? Do you have any additional words or advice for our beautiful friend, "Looking for Hope"? Tell us in the comments!