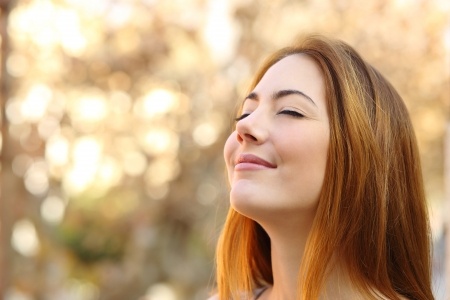 Stop.
And take a deep breath.
And know that it's all going to be OK. It's going to be different this time.
Because we're going to do things differently this time.
When I look back in my own life, when I was at the exact point where you are right now, when I answered the call of my heart and declared to the Universe, out loud and in no uncertain terms, that I was finally ready for the real thing, I wanted it bad and I wanted it fast.
When I finally realized that I needed to do something different, when I finally acknowledged that what I had been doing wasn't working, when I was finally done with the chasing, with the trying to make one more someone love me who wasn't meant for me, I felt like I was so ready!
But the problem was I didn't know where to start.
I didn't have anyone to guide me. I didn't have anyone to tell me what to do or how to do it.
So for the first time in my life, I did something that, at the time, was so unlike me.
I stopped.
I gave up the searching, the craving, the seeking, the looking for someone or something outside of myself. I gave it all up. And I started at the beginning. With life. As if it were my first breath of my new life. Because when I look back from where I am now, I can see that this was exactly how it all began.
And that's how it begins with all of us. In the silence, in the quiet, alone with ourselves.
Because, my beautiful friend, the kind of women we are, the kind of women who, when we make our minds up about something, want it all and want it not even now but yesterday, we're the kind of women that go from zero to 100 in two seconds flat when we're finally ready to do something.
But that isn't going to get us where we need to go.
This is about the big picture, not a quick-fix or a short-term solution.
This is about your own happily ever after. This about that road that leads to that place where there is someone standing there, waiting for you, who, for the first time in your life, is actually meant for you!
And so in this silence, in this space, this is where we begin.
With that first breath.
It's all going to be OK.
When I say breathe, I'm talking about that deep, in through the nose, out through the mouth kind of breathing that instantly takes your anxiety level down several notches and puts your body and mind into a state of wonderful relaxation.
The kind of breathing that makes you realize it's all going to be OK.
Because it is.
It's the kind of relaxation exercise that's so important to keep us out of that alarming fight or flight mode, or more accurately, the time is running out mode of desperation that most of us live in on a daily basis, at least where our love lives are concerned.
It's exactly that mode of living that causes us to make decisions that aren't going to get us where we need to be.
Don't dive in head first.
Any time we set out to achieve a new goal, whether it be weight loss or yoga or eating better or finding true love, it's totally common and oh so normal to want to dive in head first and hit the ground running.
We get ourselves all worked up and excited, thinking this is it, I'm really going to do it this time and we build it up in our minds so much that we are so pumped with adrenaline that we need to do something, we need to do a LOT of somethings, and we need to do them very quickly very soon or we'll explode from the adrenaline coursing through our system.
Exercising is the perfect example.
We get all fired up, we've joined our new gym, we've got all of our pretty new workout clothes, and we head on in for the first day.
We pick one of the shiny torture contraptions called exercise machines and we strap ourselves on and work ourselves into an exhaustion.
The next day we're so sore we can't even take our pajamas off without wincing much less put those pretty new workout clothes back on.
We don't see the instant results we want, so we understandably burn out quickly, go back to our old habits and we're left feeling worse than before with the belief that we just can't do it.
It's no wonder most New Year's resolutions fail so quickly.
The reality is that you just can't go from zero to 100 right from the starting line.
Imagine the same New Year's resolution to start exercising, but instead of rushing into it and jumping on the first machine that caught your eye, you stopped, and took a moment to breathe.
To relax.
To think.
To center.
To plan.
Then maybe instead of jumping in head first, you would lay out a good plan, starting with the basics. You would probably think about a long term plan that might take, say, 6 months to reach your goals, and what that would look like. Really think through the best way to reach your goals.
You would think about the interim goals you could set along the way to mark your progress and keep you on track and motivated.
Maybe include a healthy nutrition plan, and knowing that trying to change too many things at one time is a recipe for failure, you might decide to start by stopping one bad habit, like, say, eating chips, every couple of weeks until all of the bad habits are gone.
But only one at a time.
Maybe you would get really serious about it and hire a personal trainer, a good one that knows what they're doing, to help you because you know how hard it is to do it alone.
Maybe, instead of setting unrealistic goals like I'm going to lose 5 pounds a week, you set realistic and simple goals like I'm going to go into the gym every day this week.
The kind of goal that sets up a lifestyle, a new way of thinking, a new way of being, instead of an end result. The kind of lifestyle that is guaranteed to get you to your desired goal.
Think about it; if your goal is to go to the gym five days a week and follow a prescribed exercise regimen, along with sticking to a healthy nutrition plan that works, then there can't be any way that you won't become healthier and ultimately get to your goal.
The goal is not to get to the end result, the goal is to change your way of being. Then the end result is a given!
Set the right goals.
It's the same thing with love.
If you think "I just want to find the love of my life quickly" then you'll likely do what most of us do when we're trying to meet men – you might start going out to bars and clubs more, maybe you'll start trying to catch the attention of men by dressing more provocatively or by flirting more. Or maybe you'll join an online dating site and quickly throw together a profile and start winking at guys left and right.
And you'll get burnt out and discouraged just as quickly as our friend in the exercise example.
Yes, you might find that you can quickly meet more men, you might get more attention (particularly if you're going the dressing provocatively route), and you might get some dates, but you'll find that even with all of the flurry of new activity you're still left feeling empty and unfulfilled with the wrong kinds of men.
And chances are you'll wind up used and heartbroken with your self-esteem squashed even a little lower than it was already.
So what can you do?
Like I said earlier, let's take a moment to breathe.
Seriously.
I want you to stop and take a few moments to do some deep breathing exercises and find your center. I know to some of you that may sound a bit spiritual or new-agey, but trust me, this deep breathing thing really works and these days it's used by psychologists and medical doctors almost as much as spiritual practitioners.
Breathe.
Try it right now.
Start off by sitting comfortably – it doesn't have to be cross-legged on the beach with your hands on your knees, with your finger and thumb touching one another, chanting "ohm" like the typical image we have in our heads.
If that appeals to you and it's comfortable, then by all means do it – it's certainly a great method.
But if you're at work at your desk, or if you just feel more comfortable in a chair, then just sit in that comfortable chair with your back relatively straight, and your hands resting comfortably on your thighs, or you knees, or in your lap or even on your desk if that feels good. The point is to be comfortable.
Close your eyes, and breathe in slowly and deeply through your nose.
Breathe in slowly until your chest and your stomach are full, and hold for a few seconds before slowly exhaling through your mouth.
Take a more time to breathe out than to breathe in. I find that it helps to imagine the breath that you are taking in is going all the way up to the top of your head, and the breath going out is going all the way down to your toes. I find this easier than trying to count.
As you do this breathing exercise, know that this is your year to have the love that you've always wanted. As you breathe in, imagine that you are breathing in abundant love and it's filling your entire body. Breathe in and out like this ten times.
Doesn't that feel great?
I know, it's wonderful. I do it all the time.
Now you're in the kind of relaxed state of being that you need to be in to really make some good decisions.
Remember, it's not a sprint – we don't want a flash in the pan relationship - we've all had plenty of those. We want the real thing - a long term relationship that lasts the rest of your life.
Let's take things slow and do this thing right. There's no need to panic.
It will happen.
Remember, slow and steady wins the race. Anytime those feelings of fear or anxiety creep up, just remember to stop, breathe, and center yourself again.
When you change your lifestyle, when you change your way of being to one of love, then you are guaranteed to have the love you want in your life. We're going to get you there, together.
Try this and then tell us all how it made you feel in the comments!