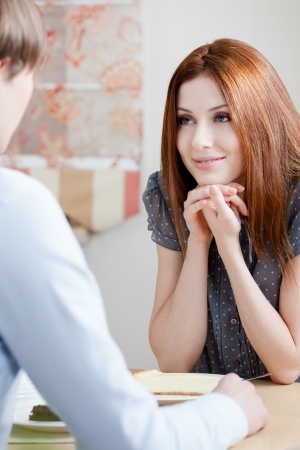 I get it. I used to do it to.
We all think about what we need to do to get his attention. Sure, we think about what we want in a guy, but as soon as we meet a guy like that, our thoughts turn to trying to figure out how we can catch him.
As in, he's such a great catch. We try to be sexy. We try to be hip, or cool, or loving or whatever other adjective we think might get him to pick us. To choose us over the others.
We get so caught up in thinking about him that we forget that there's a whole lot more to this story - the part of the story that's all about you!
You see, this isn't all about him. We've all been programmed by our culture, the media, and our families and friends to believe it's all about being desirable.
We spend all of our time focusing on what we can do or be to make him like us, make him choose us, make him fall in love with us and make him want to spend the rest of his life with us.
But we're missing something here!
You.
This is about knowing who you are, and knowing your worth.
So the one thing you absolutely must bring to the table in a new relationship is knowing what you bring to the table.
This isn't about him. We're not here to convince him of anything. We're not here to make him fall for us. The only thing we need to do to put all this back in balance and put the focus back on ourselves, is to remember this one thing:
You bring a lot to the table.
Do you see the difference here?  When you know what you have to offer, when you know what you bring to the table, it changes you into the confident woman who knows her own worth and lives her life like she knows it.
She doesn't accept just anyone in her life, she doesn't settle for just any kind of behaviors, she doesn't compromise her values just because someone makes her feel special or says all the right things.
She doesn't change herself to try to make some guy like her. And she certainly doesn't go bending and twisting herself into a pretzel to try to keep him happy.
She doesn't worry about whether or not he's a great catch, because she knows she's a great catch.
So many of us don't even understand our own true value, our own true worth. We don't realize all of the wonderful things about ourselves, and we sell ourselves short. This is why it's so important to really look at yourself, and know your worth.
So pick up a notebook, your laptop, your journal or just some scrap paper and a pen, and make a list of everything that you are that you have to offer a potential partner in a relationship. Make a list of everything that's wonderful about you.
Think things like:
Kind. Compassionate. Supportive.
Are you intelligent (yes!)? Are you beautiful (YES!)?
Are you organized? Artistic? Fun?
I'd give you more ideas, but I don't want to influence your thoughts – these need to be your best qualities, and you know what those are much better than I do. The point is that every one of us is unique, and we all have absolutely wonderful things we bring to the table. The problem is that we are so used to them we think they're no big deal.
But they really are.
Often it helps to enlist the help of a trusted friend or family member to assist you in pointing out your best qualities – they will probably remind you of many that you didn't write down yourself.
Once you have your list, keep it handy and refer to it often. Look at it right before going on a date, or to any place where you're likely to meet men.
Why?
Several reasons.
First, it instills in you the self-confidence that you need going in, so that you remember what a great catch you really are. Reminding yourself of your real value, of your worth, will make you feel worthy and subconsciously radiate a self-confidence outward through your body language, your facial expressions and your overall appearance, as you shine that beautiful light of you for everyone to see.
Second, it helps you to know if you will actually be compatible with him and reminds you of your values so you'll know if he shares these same ones. Once you realize just how much you bring to the table, you will be more likely to focus on making sure he is a man of character that has similar or complementary qualities and is in line with your values.
Third, it helps you to remember that it's not just about him picking you. You're doing the evaluating also.  Once you know everything that you have to offer, and everything that you bring to the table, you'll be much more likely to make sure that he brings a lot to the table also – at least more than good looks and a charming personality.
It's a good reminder to yourself that you're not just going to let any guy have this amazing package known as you – you're going to make him prove that he's worthy of you before you get in too deep or move too far along.
Lastly, it helps to ground you in reality when you are evaluating him, and it helps you to see his excellent qualities also.  Are you kind? Knowing this helps you to notice if he's kind. Are you loving? Caring? Then he better be also. If not, then you know he's not worthy of YOU.
This is such an important exercise for all of us, and something we all need to do whether we realize it or not.
It's so important that I've dedicated an entire section of my upcoming course to this particular topic. In the course, we'll go into depth on what makes you uniquely you, and uncover some wonderful and amazing things about you that you don't even realize. The course is due to be released at the end of the month – so watch out for the announcement!
What's the best quality that  you bring to the table in a relationship? Tell us about it in the comments!