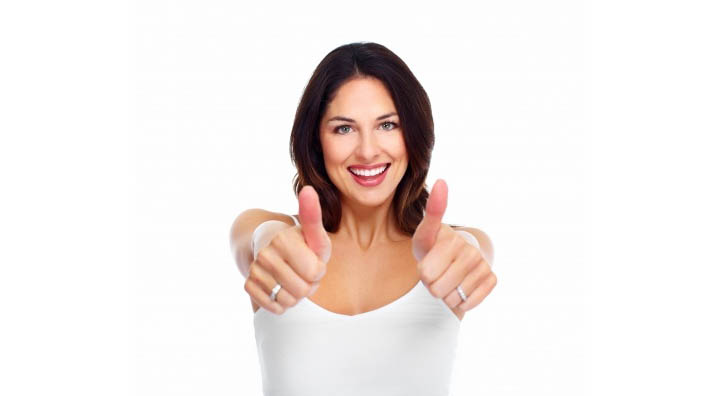 I hope you had a wonderful holiday and you're going into the New Year with joy, health and happiness.
I always love starting a new year. I love the feeling of renewal that it offers and the enticing promise of a fresh start with a clean slate.
The feeling of change in the air.
But I also know that when it comes to making New Year's Resolutions, sometimes we can go over the top with all the goals we set out to accomplish.
I do it too.
We all go in, raring to go, with tons of energy and high expectations and a list of changes we want to make that's as long as our arm:
I'm going to lose weight!

I'm going to get a better job!

I'm going to save money!

I'm going to eat more vegetables!

I'm going to get out of debt!

I'm going to call my Mom more often!
While all of those are, of course, wonderful goals, keep in mind that habits are very difficult to break and the experts say that in order to really change anything we need to focus on one thing at a time, and one thing only.
So, you need to ask yourself, what is the ONE thing that you really want for yourself this year?
Since you're found your way here to my website, I'm going to make a guess that the biggest thing you want in your life that's missing right now is LOVE.
You're not alone.
It's understandable. Psychologists know that our need for love ranks just behind our basic physical needs of food, water and physical safety. First we need to be able to eat and breathe and stay alive, then we need to be loved and to love.
We all need it.
So let's make a decision here.
Let's make 2014 your year to really have the love that you want. That's your one New Year's resolution this year.
Don't worry, you're not going to do this alone. I'm here for you, as are all of the other beautiful women in this community we've created in this small corner of the internet.
We can do this together.
It's time to make a firm commitment that this is the year you're really going to do it – have the love that you've always been dreaming of. The kind of love that you know you deserve.
We're going to put all of those other resolutions on hold – this is the most important thing you need right now. I want you to commit to having your next most important need met this year – the need for love.
And there's some really good news here.
You've got a huge head start.
You're here.
If you've been coming to this site for a while now, or even if you just found us and are starting to poke around, you're in the right place.
I've dedicated myself to helping you to have the kind of love that you've always wanted, the kind of effortless, abundant love that we all want and that we all deserve. It's there, available for all of us for the taking.
I'm going to show you how to get it.
Over the next several weeks I'm going to be giving you some amazing tools that are going to put you directly on the path towards the kind of love we're talking about here.
But for now, for today, I just want one thing from you.
A commitment.
I want you to say to yourself, right now, out loud if you can (if you're sitting in the middle of a Starbucks reading this, then maybe just say it to yourself in your head):
"This is my year, World! I'm done with this lacking, this push and pull, these teasing little tastes of what love could be like. I know that love is abundant, so I want mine right now! No more messing around – I want the real thing, and I want it NOW! Bring it ON!"
Yes, I want you to say it just like that.
Yes, I know that you're a sweet, caring, loving, beautiful woman who wouldn't dream of screaming at anyone like that, much less The World, but for this one time we need to change that, and change it drastically.
You need to yell.
I want you to feel it. Deep down inside.
Scream it again with me:
"That's it, I'M DONE! This changes RIGHT NOW! I want real, true LOVE, and I'm tired of waiting!"
Then take a deep breath and let it out slowly.
And know that this is your number one priority this year, and it starts right now. You're not going to let anything stop you this time.
I know it can be scary, intimidating, even nauseating. But don't worry. I'll be here, holding your hand the entire time, leading the way. There's nothing to be afraid of.
The only thing I need is for you to commit to coming with me.
Are you ready to make this your top priority this year? Tell us in the comments!