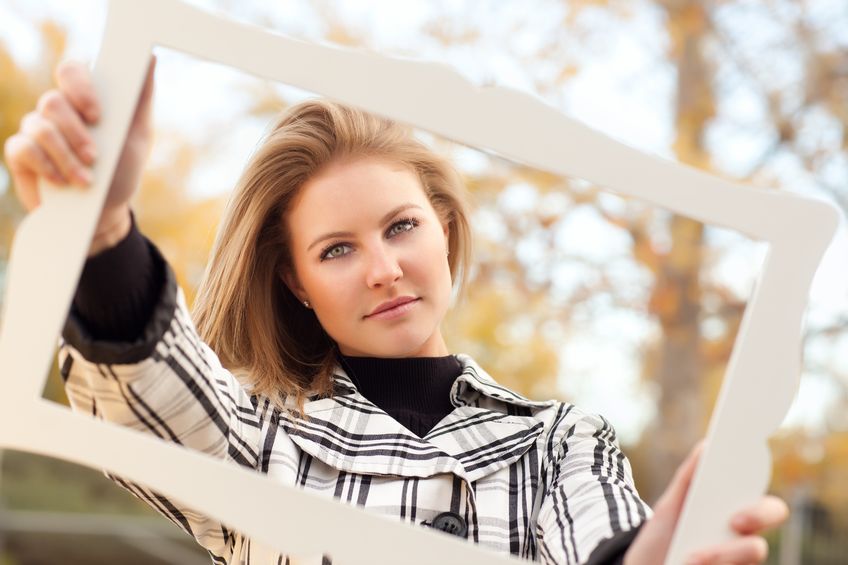 I'll be the first to agree that sometimes our "aha" moments come to us in the most unusual of places.
Like recently, when I was sitting in the audience at our local high school annual holiday concert.  Listening to the beautiful music being played and sung by these talented young students in the band, the choir, and the orchestra, I realized I had lived my own student years in all the wrong places.
Here in this place where the music touched my soul and made me feel like everything was all right in the world (and especially with me!) it all suddenly became so clear.
With a clarity I never had before, I realized exactly what happened during those formative years that now seem so long ago.
You see, without even knowing it, the words from my older, popular sister (who I secretly aspired to be like) had influenced where I went, where I didn't go, who I was friends with, and who I wasn't friends with.
Five years before me, when my older sister entered high school and had the option to choose band and choir or art and drama, I had overheard her and her friends referring to all the kids who took art and drama as cool and popular, while the ones taking band and choir were described as the opposite.
I never forgot their words.
So, five years later when it was my turn to choose, wanting to be cool and popular myself for once in my young life, I decided my own fate. The very people who I would have felt more connected with, who would have been a better match for me, I never knew them.
Living the wrong life.
Instead, I was living a life that others had led me to believe I wanted.
It's the same cultural or familial programming behind our choices in who we date. It's the number one reason why the ones we choose aren't the right ones for us.
They're a match for this current version of who we think we are, but it's not the real you.
Oh we try to make it work. How we try and try and try some more! We try for months, years and what can be feel like a lifetime trying to make him into the one who can fill that deepest void within us.
But it doesn't happen, because the truth is that you're the match for someone else, not him. No matter how much you try to make him the one, he can't be.
And here's the reality check: it's not just because he doesn't want to be, but because you don't want him to be either. Not the real you, deep down inside. The one who you're eventually going to grow into (hopefully sooner rather than later).
Because when you grow into the beautiful, confident woman that's the real you without all this other stuff that's been put on you, you'll understand exactly what I mean.
You see, we search everywhere for the rules, the answers, the magic formula that will bring him back, make him commit, keep him interested, and have him wanting us, loving us, the way we so want to be loved.
And if we can only somehow find the magical words or method that will make this happen, we think we've hit the pot of gold.
But the reality is that it's not about inserting a one-size fits all answer into a relationship made up of two real people, compatible or not. It's not about making someone love you, making someone want to be with you, persuading someone to give you a second look.
We've been sold such a bill of goods!
It's why it can't be him, and why love and the universe or God or whatever you believe in keeps gently nudging at you to look, listen, look within, and see the bigger picture of what's really going on. It's not working because if you could see yourself the way you truly are, you would see that you don't really want it to work. You don't really want him the way you think you do.
I know that's so hard for you to hear right now. Not when you're still in the place you are with this future place feeling like a whole other world you can't even imagine being a part of right now.
It's OK.
We each go down this road at our own pace. Not on anyone else's timeline but our own.
If you're still at the holding on part, that's where you are. Don't be too hard on yourself just because you can't see past that from where you are right now.
I couldn't either.
I even had a friend fly across the big old country of Canada from Vancouver to Toronto one time to try to show me what she saw that I couldn't see, but it didn't change a thing for me. I still waited almost three long years before there was a part of me that finally spoke up and sealed my fate with that particular dream when my words couldn't be reversed, no matter how hard I tried. And it still took me several years while I sifted through all the books, the articles, the conferences and retreats that my journey took me to before it slowly started to sink in.
Beautiful, confident, you.
That's how I see you. That's how you're meant to be seen. All that other stuff that covers that up, it's not you. It's only the years of being told you're wrong. It's the years of been told who you are by the very ones who had no idea who you were, who only knew how to project their own lives and longings on you.
It's years of feeling like there was something wrong with you, even if you never expressed those words yourself; the feeling produces the same results.
It's time to stop searching for something that we never seem to be able to find. That missing piece. That missing key that we're convinced will change everything if we can only find it.
It's usually a him. Someone we've given so much power to believing that if we can only have him – if he'll only see all that we are and all that we have to offer him and choose us – everything else will fall into place.
It was all I wanted in the world. Different guy, same person underneath. Someone who didn't want me the way I wanted him to want me. Someone who wasn't there, who wasn't on the same page as me, but who I so wanted to be.
I missed them all. Every single one of them until I finally woke up and started with me.
Not them; me.
And it's the same for you. No matter how much we think it's about him, it's not. It's starts with the tiniest part of you that's open to seeing this too. Then you start to catch more glimpses of yourself reflected back to you in the people and things you start to notice that you never could before.
Until finally, one day, the light of it all dawns on you. And in that moment, it all begins to make just a little more sense.
You see yourself clearly for the first time in a lifetime.
It was never about any him, you say, it's about me!
No matter where you are right now, no matter how far you've traveled away from that beautiful woman known as you. We're on a mission to find her, to bring her back, to let her be seen like she's never been seen before.
It all begins with that tiniest bit of belief that there just might be more to this life you're living right now.
How about you? What programming do you struggle with? Tell us in the comments!