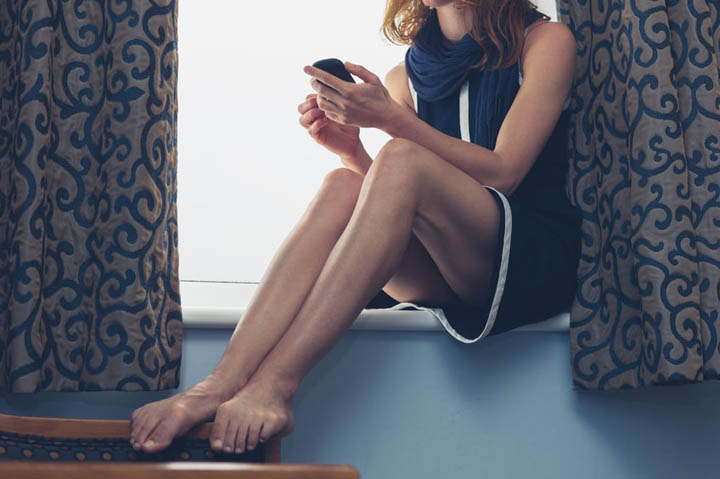 Beautiful Jude writes about the situation she's in, wondering why he hasn't called when he said he would, and I know so many of us can relate to this one!
Here's her email:
He said he'd call yesterday, but didn't. Why does this make me feel so needy?
Why don't I just contact him? It's been going well so far.
So afraid of being vulnerable and of finding out he's not as committed as I hoped. And that I'll then put up with it...
How do I approach this without sounding like a lunatic and without compromising myself? Is it OK to say "I was expecting to hear from you; is all OK?"
Then how do I trust his answer... Oh dear!
My Response:
Is there anything that triggers us more than this? He said he'd call but he didn't.
It's not just that he didn't call when he said he would; it's what it does to us. It's the second-guessing it leads us to do on ourselves. It's the fears it brings up in us, the awareness of who we are - and who we aren't - that it sheds a light on.
And maybe more than anything else, it's the self-doubt that calls everything into question that does the most damage.
Was I just imagining things were going so well? Was I a fool to believe he felt the same way about me as I did about him? The self-disparaging words flow so wrongfully directed.
It can't help but make you feel so needy, Jude. "So afraid of being vulnerable and of finding out he's not as committed as I hoped. And that I'll put up with it."
Oh you've captured exactly what goes on here inside us in moments like this. This is exactly why it affects us so much. Because it reveals what we know – and so much that we don't.
To understand this and have this awareness is huge! Huge! Be proud of yourself first for having the insight to go there. It's never just about him and the call or the absence of a call. It's about so much more.
There's so much substance (and information to be had!) in your questions. The very fact that you're in this position in the first place gives you a whole lot of information about him.
Let's break this down.
If he's really busy, he could still find time to give you a quick call, right? Even if he lost his phone, at some point, he's perfectly capable of getting another one – or borrowing one from a friend, right? At some point he's going to get a message to you one way or another so that you're not worrying about him.
We know he could have contacted you, but for some reason he didn't.
So how do you reach out to him without compromising yourself and coming across like a lunatic? And lest you think you're the only one who's wondered that, I think it's safe to say that most, if not all of us, have tried to figure this one out before!
What you've come up with here: "I was expecting to hear from you; is all OK?" is completely reasonable.
The catch, of course, is that you're wondering if you can trust his answer. Which also speaks volumes.
His answer needs to be more than words; his answer needs to be behavior that gives you that same answer that's too easy to put into words, with the demonstrable, no-doubt-about-it action to back those words up.
Which, of course, brings us back to the whole point of my answer to you.
It's through his behavior that you find out what you've actually got with him. That's how you know. That's the only way to know for sure!
You reaching out to him, saying this pretty benign phrase is for you. By doing nothing, you'd know soon enough exactly where he stands. But if you can't wait for that, then do what you need to do for you, and reach out to him.
Doing what doesn't eat us up inside is what really matters. Doing what we can live with matters. Doing the lesser of two evils to the detriment of our hearts matters.
By that I mean if NOT reaching out to him is harder on you and your peace of mind than reaching out to him (knowing that since you're initiating contact first, you really won't know how long he would have gone without reaching out to you) then that's a no-brainer. Reach out to him.
On the other hand, if you want to know just how long he thinks is acceptable to go without contact, even after he told you he'd call, then wait it out and see. This may tell you quite a bit about whether he's the right guy for you or not.
We're not here to be martyrs or play games. We're here to be who we are. We're here to be loved for who we are.
The fact that you're not sure if you can trust his answer has me more concerned than whether or not you reach out to him. Without knowing more about your relationship it's hard to say, but simply from your question "How do I trust his answer?" I see a major red flag there.
Trust is one of those things that's earned, Jude. It can't be rushed.
It's proven over time by consistent actions, consistent behavior that tells you who you think you're with is actually who you're with and not someone who just pretends to be that person. Over time, you start seeing consistencies that tell you "Hey, I can trust you."
And so does he. It happens naturally. Or it doesn't.
But in the meantime, don't worry about messing this potentially amazing relationship up simply because of reaching out to him to make sure he's OK when you don't hear from him. If a reasonable amount of time has passed for you, and it jives with your internal sense of knowing (that thing known as your gut) then go with it.
If he's the right guy for you, it won't matter.
You're doing awesome! Awareness is everything.
Hope this helps, Jude.
Love,
Jane
What do you think our beautiful friend Jude should do in this situation? Should she reach out to him or wait it out? Share your thoughts with us below in the comments!