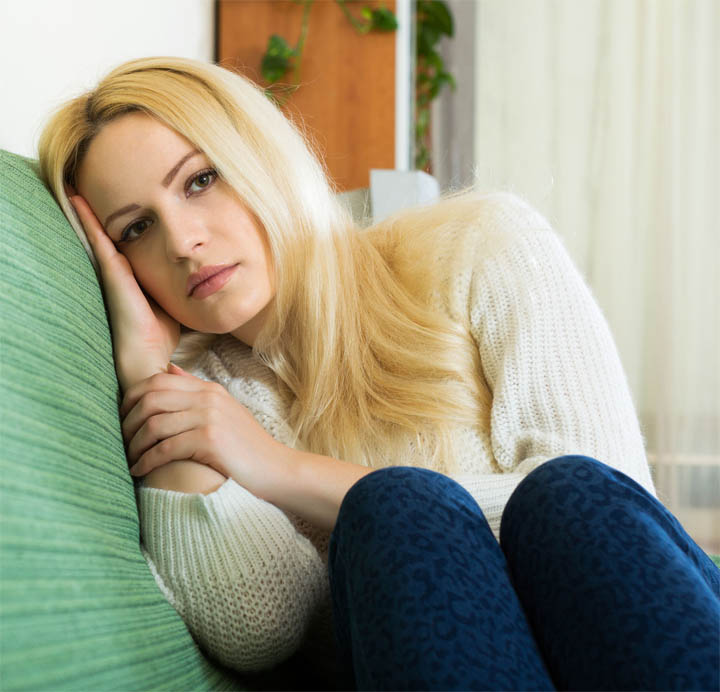 This week, Patricia writes in to tell us about her surprising recent breakup that she's having trouble understanding.
Here's what she wrote:
My Boyfriend, partner of going on 4 years and I got into a huge argument over my trying to rescue an abused Horse, and my Girlfriend was going to buy it.
He thinks he knows it all  with 4 degrees and got all bent out of shape when things were not going the way he wanted them to with the transaction, saying a lot of incompetent things were going on with communication with the owner of this horse, my girlfriend and me.
My Girlfriend is an X News Anchor/now Author of 5 books and he demeaned me and her acting like we did not know how to carry out a transaction to rescue this horse.
So we had a big argument.
He wrote me an email and said, Goodbye Forever! It has hurt me so badly. He has an anger problem I am sure of and a hot temper.
Then two days later he called and I did not answer. 2 hours later he texted and ask if I was okay. I texted back and said,"Yes, thank  you for asking".
He did not text back or call. It has been 3 days.
Do I call him or just wait and see what he is going to do? He is the love of my life and everyday we said I love you to one another plus talked every night on the phone for 2 hours.
I am heart broken for I am not sure if he has broken up with me or just was so mad he said that to me? Or should I just lay low and for how long?
Thank you Jane!
- Patricia
My Response:
I'm loving you already, Patricia! Anyone who's rescuing an abused animal shares my heart. You obviously have a beautiful, caring, loving, compassionate heart that does more than just beat – it feels. Deeply.
So I'm assuming this man we're talking about here is a practical one who loves and appreciates this heart of yours but also sees things from the practical side and likes to contribute in his own way.
Many men have a fragile ego, the measure of which is proportional to their sensitivity.
He obviously loves your kind heart and sensitivity. But for some reason, it also sounds like something here has triggered him more than usual.
Let's talk about what we know here.
It's been 3 days and he hasn't contacted you.
For two people who've gone from saying "I love you" everyday and talking every night on the phone for 2 hours, to this last exchange and nothing more from him, that's quite a jump from one extreme to another.
Something's off. Something bigger got triggered in him by this. In a case like this, I wouldn't hesitate to listen to your heart here and reach out.
Listen to him first.
Try to understand why this triggered him to the point that he wanted to end the relationship. As much as you feel hurt right now, really try to put that aside and understand why this triggered him the way it did. Do your best to remain quiet and just hear him.
The longer he keeps talking without interruption, the closer he'll come to understanding his own true feelings. Then he'll be better able to communicate them to you.
My guess is that it goes much deeper than what's on the surface here.
Go into this conversation with absolutely no intention of telling him about how you feel, or how hurt you are, or any of that. That will come later. For now, you're just trying to understand why he felt so strongly about what happened that he wanted to end your relationship over it.
Just let him get it all out and when he's finished talking, simply end with something along the lines of "I want to understand what you're feeling and I appreciate you exploring your feelings with me. I need some space from this so that I can process my own feeling and understand this better. Let's talk again tomorrow".
Or it could be in two days, or three days, or however much time you think you need.
This will give you some time to sit with it and truly understand your own feelings without responding to him on a heightened emotional level. Take this time to write out your feelings in your journal (start one if you haven't already) and process through them until you understand your own triggers here.
You said that "he thinks he knows it all" and that "he has an anger problem", so those are probably good places to start.
Does he make you feel small and unimportant with his words and/or actions? Do you feel like you don't have a voice in the relationship?
Keep writing and exploring your own feelings, along with what he's told you about his feelings, until you feel like you really understand why this escalated.
Then, when you're ready, be true to your own self and honor your heart by saying to him what you need to say.
Ask him to respect you by listening to you explain your feelings the same way you listened to him explain his own earlier. He may not be able to do this, and you can't control that, but give him the chance to try.
Regardless of whether he chooses to listen and understand or not, you'll know what you're dealing with in this relationship. Then you can decide if this is what you want in your life.
It puts YOU in the position of doing the choosing.
You can choose to accept him and love him the way he is, or you can choose to move on to something else. Just don't expect him to change.
If he's loved you for 4 years, he's seen you for a long time. He knows who you are and what you're about. And he knows how you feel about him, about your relationship with him and what you mean to him.
Also, know that if somehow something in your rescuing of this beautiful animal and its arrangements - the transaction, or something else in the details  - was a deal breaker to him, you're much better off knowing this now.
Because I have a feeling this isn't just about one abused animal, but that if there comes a time where there will be another one to rescue or some other kind of lost soul or cause, you'll be back here again in another transaction, with more details that may somehow trigger him.
Through this, you are learning more about him. Obviously, there was something here for you to find out.
I hope this helps.
Love,
Jane
What do you think our lovely friend Patricia should do in her situation? Share your thoughts with her and the rest of us below in the comments!