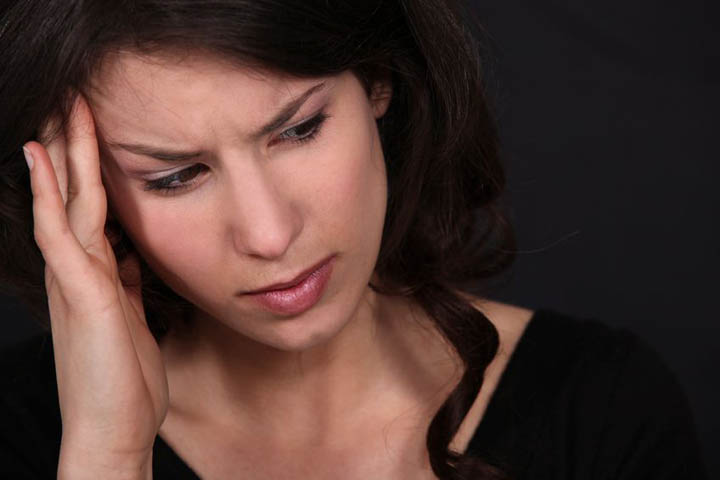 The letter this week comes from one of our gorgeous readers, who has chosen to call herself "A". She's getting mixed signals from a guy at work, and she's asking herself "Is he into me or not?"
Here's her email:
So, I work with this man (think he's under 40, I'm 48). About 7 months ago we were at a mutual friends party and were dancing and being silly. I went to say something to him and he pulled me close, and it was then my tummy flipped and I realized I liked him.
So every time I saw him from then on at work he'd say hello and we held eye contact, so a few months on and it's clear we like each other. Then I bumped into him when we were out and we ended up having a kiss (he said afterwards he'd wanted to do that for ages) and swapping numbers.
After some texting back and forth we arrange to go to the cinema (my idea). I was really, really nervous but it went OK. Afterward we had a few pecks and he said about going out again, this time for a drink. Yay.
When I got home I text to say thanks and I'd had a good time and was looking forward to going for a drink and he said he was too.
So I text him later that week and said I was free over the weekend if he wanted to go for a drink.
He replied that, when he'd got home he was worried he was leading me on as going to the cinema felt to much like a date, and he didn't want to be dating anyone neither was he looking for a relationship, then went on to say he thought I was really hot and attractive and that's why he'd kissed me on both occasions and he'd happily go for a drink as he thinks it would be fun.
I stupidly replied he hadn't led me on (but clearly he had) a drink sounded like it would be fun and not to worry. The thing is I think he's maybe just not into me, I deleted his number in case I was tempted to text him.
This was 2 months ago and I've not heard from him.
When I've seen him at work he's been really nice and chatty and friendly and a few people have noticed him looking/staring at me. I can't seem to stop thinking about him and still get butterflies when I see him. I also have a feeling he could hurt me.
Sorry for rambling on. I really don't know what to do, I have tried forgetting him but it's not working very well!
Hope you can offer some advice.
- A
My Response:
Yes, I do have some advice for you, A. And some good news, too. There is something so powerful that you can do, A;
Believe him!
Those butterflies come from feeling anxious because your beautiful sensitive heart senses all those possibilities you feel. But it's the imbalance of power that you feel more than anything else!
It feels so exciting because the possibility of bringing around a man who says he's not looking for anything remotely close to a date but whose actions give us that glimmer of hope that he might be, is huge!
Unfortunately, the reality of that happening is actually so very slim, especially with how little you've really been able to experience with him.
Honestly, A, if this man can't even go out with you on something that might remotely resemble a date because under no circumstances will he accept the responsibility that he may have led you on, there's no way there's anything more there for you.
This is the part that's so important for us to remember.
The reason why we're so confused is because we're always going to be confused when there's a disconnect between what we sense and what is real. We're so good at sensing the possibilities, at seeing the potential of someone who's telling us he's not going there and making sure we understand this but who leaves something – anything – to give us hope that we can change this around.
I want to give you a new mantra.
We don't pursue someone's potential. We need more than what might be. We need something real, not an illusion.
And most of all, we believe someone's words and actions more than what we want to believe.
More than anything else, A, I want you to take from this that you can trust yourself. The fact that you feel like he can hurt you IS your answer.
It's so ironic that we feel confused because we sense his own confusion. We sense the mixed signals, however subtle they may be. We create a relationship – or at least something more than it is – based on what we feel could be.
Whenever we feel confused, we have to remember that someone who knows what he wants isn't confused and doesn't elicit confusion in us. Someone who's only winging it, who isn't looking for anything serious until the "right" woman comes along, plays right into our own story that we can become that "right" woman who brings him around simply by making ourselves into the essence of that woman.
The reality, instead, is that trying to become the essence of anything but who we are, only pushes him away further. He sees right through that simply because he IS that sensitive guy with so much potential!
So do yourself a favor here, A. Listen to what he told you.
Ask yourself if he's giving you anything more than a mere response to your initiative. Ask yourself if he's telling you he's on the same page and looking for a real relationship by his words and action.
You know your own answer. You've got such an accurate read on this and if you can learn to trust yourself,  you'll always know the truth about him and anyone else!
Always!
I hope this helps.
Love,
Jane
What are your thoughts? Do you have any other words of encouragement or advice for our gorgeous friend "A"? Share them with us below in the comments!