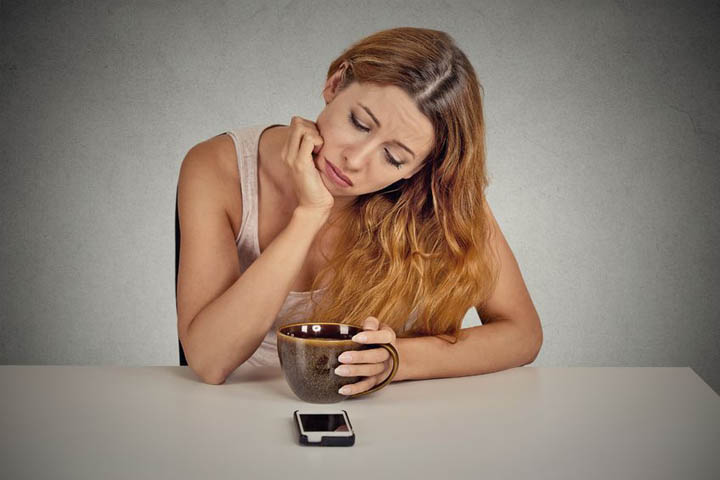 One of our lovely readers, who has requested to remain anonymous, was dating a guy for a couple of months when he suddenly disappeared on her, both emotionally and physically. They went from seeing each other often and talking or texting every day to, "poof", nothing.
Here's her story:
Jane,
I am at a loss for what to do and I feel I need someone who is objective and doesn't know me personally to give me an honest answer. I will try to give as much info as possible without making it too long.
I began dating this guy whom I met online. Or at least I thought we were dating.
We spent two months together to be exact. He would call me every day and we would talk for at least an hour he would send me a good morning text every morning and good night texts every day and we texted throughout the day.
Then he just walked out of my life without so much as an explanation.
I did confront him about ignoring me and had asked him if he was blowing me off to which she said he was not ... he just had a lot going on. Of course I couldn't just let things go. Every few days I would attempt to initiate contact asking why he would ignore me, did I do anything wrong, why does he hate me?
I missed him and because I felt the distance between us growing before this I reacted by telling him I needed some time as I had things going on in my life, which I did it wasn't a lie. I myself was under a lot of stress but I explained that I still needed his friendship.
Anyway it was about two weeks ago I had called him and told him that I felt that something was going on and asked him if he was OK - it was just a gut feeling that I had gotten that told me that something had happened. He told me his mom had had a stroke that day and it didn't look good.
I told him that I was really sorry and if there was anything that he needed to please contact me as I care for him and to know that I was there for him if he needed anything.
Then I proceeded to remind him that I had felt that there was something going on with him and I had wondered what had happened with us. I explained that this was not the time to discuss it but to please promise to call me when his mom was doing better.
He promised to call and set also stated that this was not the time .
Needless to say 10 days had gone by and I sent him a text saying that I was thinking of him and hoping that his mom was doing better. Then a day later I noticed an obituary that his mom had passed away three days after he had told me about the stroke. A week had gone by and he had not reached out to me.
I felt like such a fool for not knowing and sending him a text that I was thinking of her and praying for her when she had passed a week earlier.
Now I don't know what to do.
Of course I don't know if he got my text or not as it looked like he had blocked me from his phone. I honestly don't even know why he would do that.
Anyway, I know this is not about me right now but I know I played a big part in it that he felt he couldn't let me know about his mothers passing. What I gather is that because he didn't reach out to me he no longer wants any contact with me. That whatever there was  initially between us is completely gone.
He had gone from seeing me twice a week calling me every day texting me every day to nothing.
Of course I was hurt and confused and curious as to what was going on and I feel I may have pushed him even further away causing him to not feel he could reach out to me.
In my heart I want to reach out to him and tell him how sorry I am about his mothers passing but feel it would be even more detrimental. But I don't want him to think I don't care because I do and I don't want to already make a situation worse than what it already is.
I guess my question is how should I handle this?
Should I just let it go because he never reached out to me? Should I send him a sympathy card? Should I call him?
I'm not sure what to do.
I feel  that it is the end. And I feel that way because he didn't reach out to me. He didn't need or want me during this very difficult time.
Should I just let him go? Because to me it sounds like he has already let me go. I would appreciate any thoughts that you or your readers have.
Thank you so much for reading this.   And I look forward to your response.
- Anonymous.
My Response:
I'm so glad you reached out to me.
It can be so hard to make sense of what's right there in front of you when it's your own heart on the line. I chose your letter today because it touches on a theme that resonates with so much of what I hear from women just like you.
We no longer know what it means to be in a relationship. We're no longer clear about what dating means.
The lines between dating and relating and communicating and so many other facets of dating and relationships have become so ambiguous, that it's no wonder you're feeling so lost and unsure about where to go from here.
It's not your fault.
It's just that the more we see and hear what seems to be simply the way dating and relationships are these days, the easier it is to accept things the way they are, to settle for what we know deep down doesn't feel right to us, and to keep doing more of the same because we have no idea what else to do and it seems like neither does anyone else.
I want to clarify a few things first.
Don't assume you're dating or in a relationship with someone unless you are both clearly on the same page and communicating with each other by your words and your actions that you're on that same page.
This means both of you, not just you or what you imagine he must mean. If you're not sure, then you have your answer. Someone who is on the same page as you will make sure you know; that doubt is what tells you you're not.
Don't assume you're exclusive until he says he wants to be exclusive with you, until he clearly communicates with both his words and his behavior that exclusivity is what he's looking for with you.
How do you know for sure? Again, it's the doubt. If you have reason to doubt, if your gut instinct is having you question what you've got and you feel the need to constantly check in to get a reading on the "temperature" of the two of you, listen to that. There's something to that that bears finding out.
You are NOT dating and you are NOT in a relationship if all you are doing is communicating with someone via text or phone or Skype or some other social media medium.
Dating and being in a relationship means you are seeing someone face to face, that they are communicating with you in a meaningful way as much as you are with them. It means more than just good morning, goodnight, and various "checking in" points during the day that have no substance and no real person's actions and behavior to go along with them.
If you're seeing someone, it means there's a real person showing up who's communicating with words and actions that they're building something with you, getting to know more of you, giving and sharing more of themselves with you. It means more than words or promises or compliments or smooth talking.
It means consistent actions over time that clearly show you someone wants the same thing you do – with you.
Go back and reread what you wrote to me as if it's your best friend telling you her story. You've got your own answers right there in your own words. You reached out and reached out and kept reaching out until there was no one there anymore to reach out to. You offered your support when you found out there really was something that had happened, but still got nothing back in return.
You don't need to send a condolence card or do anything else unless not doing so is tearing you up. He knows full well that you care, in fact, that's why he didn't take you up on your offer of support. That you do care is what he can't handle.
The reason someone blocks you is because they don't want anything more to do with you but aren't able to communicate this honestly with you.
At any point when you stopped reaching out to him and gave him a chance to reach out to you, you would have seen this pattern. But when we want to avoid the truth at all costs, when we believe it will be far more painful to see what's not there after all, we end up losing our own equilibrium on what's ours, what's his and what yours together.
"Because to me, it seems like he has already let me go". You're right. He has.
But not because there's anything so wrong with you.  Not because you don't deserve to have all the love in the world with someone truly worthy of you. Only because you're on two different pages, looking for two different things with someone who isn't the other.
There's no need to tell yourself a rejection story, or give yourself any other explanation that only keeps him in the power position with you only giving more of your own beautiful power away.
Where do you go from here? You choose to let him go.
Not because you have to, but because you make the conscious decision to choose to not keep holding onto anyone who doesn't see all that you are and all that you have to offer without you having to convince them of any of this.
That's what we're going for here, and nothing less. The irony is that it's only when we do choose to let go of someone like this who can't give us what we're longing for, that we free ourselves to be available to someone who can.
And that, Beautiful, is always what you and every one of us deserves.
I hope this has made things more clear for you.
Love,
Jane
What to you think our lovely friend should do in this situation? Share your thoughts with her and the rest of us below in the comments!