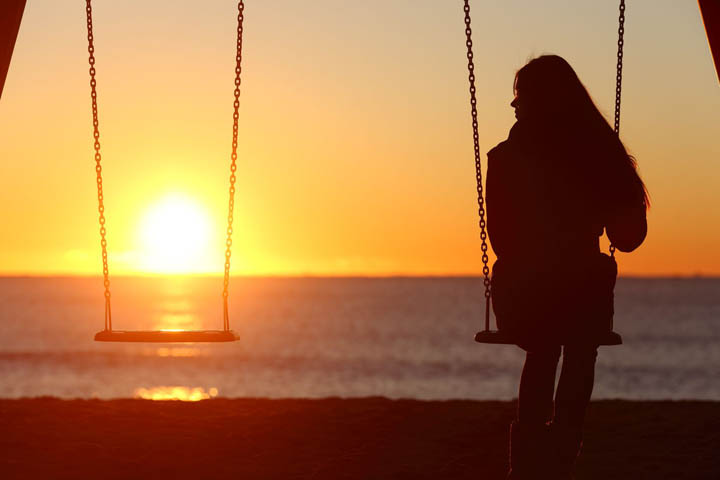 One of our beautiful readers, who has chosen to remain anonymous (I've called her "Hurting"), has been dating a man for 3-1/2 years who has been playing with her heart, but she just can't bring herself to let go.
Here's her story:
Hi Jane:
I would like to start off by saying how much I enjoy receiving your newsletters everyday. Sometimes, when I read them, I feel like you can see right into my current situation.
I have been with a man for 3 1/2 years now (IF you want to call it being with) who has been playing with my heart. For the first year and a half, he made it very clear that I was just a temporary fixture in his life. He did tell me that he couldn't promise anything, and who knew what tomorrow would bring.
But, he would lie to me a lot.
After the first year and a half, he told me that he loved me, too (yes, it took him almost 2 years to say he loved me). After that, things were good for a few months. But, to be honest, he would and still does lie so much that I don't believe anything he says.
After another 6 months, he went back to telling me that he couldn't promise me anything, and who knows what tomorrow brings. He also pointed out that if another man came along and we hit it off, as much as he would hate to lose me, he would let me go because that would be best for me.
Fast forward to 3 years.
We went to his company's holiday party, and it was a great evening. After the party, he told me that he was in love with me and wanted to be with me. The winter went well, for the most part.  There were still a lot of lies about so many things that it was ridiculous.
Now, 8 months later, after a fight that we had, he is telling me that he values my friendship more than anything. That he isn't having sex with anyone else, nor does he want to have sex with anyone else. And, he repeated about if I met another man.
I think it is important to know that I have driven to him for 3 1/2 years, the entire time I have known him. He has never once driven to me.
Everything is on his schedule: Us talking, seeing each other, etc. He has never once gone out with me when I HAVE invited HIM. HE has either ignored it, blown it off, or forgotten about me asking altogether.
He has a lot of female friends. A lot.
And, when we do go out, it is always with his friends, according to his plans. Women do hit on him a lot. And he takes every opportunity to point it out to me. He lies about where he goes, who he's with, etc. I know that I am a temporary fixture in his life. But, for some crazy reason, I still want to be with him.
It drives me crazy.
I cry almost every day because I know the reality. I'm not building a fairy tale in my head. And, that makes me even crazier. Don't know why I would want him, when it's clear that we aren't on the same page.
One minute he tells me that he's in love with me and wants to be with me. 8 months later, he is calling me his friend with benefits.
Oh: He was telling me that he loved me every week for the past 8 months. But, he has not told me that he loves me at all in the past 2 months.
I am so confused.
He is playing games with me and it really hurts. I don't know how to remove myself from this situation. We talk everyday, and if I don't hear from him, I start panicking.
I know that I am attached.  This has consumed all of my time, and it is really hurting me. Which, in essence, is hurting my children.
HELP!!!!
- Hurting
My Response:
Dear Hurting,
I'm so glad you reached out to me. My emails always seem to reach the ones who need the message within them – so it's no wonder they feel like I'm talking directly to you.
In so many ways, I am!
Because it's no accident that there comes a time when we're ready to hear what we couldn't hear before. A time when we're ready to see what we couldn't see before. And most importantly, a time when we're ready to do what we couldn't bring ourselves to do before. That's why I'm here.
Beautiful, this isn't a relationship you're in.
This is you playing to a script that has you giving your heart and soul to a man who couldn't care less about you except on those rare occasions when he wants something from you.
Why are you with this man? What's in this for you?
These are the questions that jump out at me. What are you getting from being with someone who you can't trust, you isn't on the same page as you, whose actions have you crying like this?
There's a hurting little child here. More than one.
There are the innocent ones who have no say in this. And there's another innocent one who didn't have any say in what was shown to her a very long time ago when she learned the programming that has attracted her to this type of man.
That's you, Hurting.
But the past doesn't have to predict your present or your future! You can change this. If you can't see the power you possess within yourself to change this, get some help so that you can. Life isn't meant to be lived like this; nor is love ever meant to feel this way.
This is about a choice you have all power in the world to make! Choose what you will, but choose so that you can take back the power he holds over you.
Either choose this man who hurts you, who has you hurting your children because you choose him over anything else and this affects how you can be as a mother to them.
But choose this, not as a victim, not because there is no other option, not because you're so confused, not because you simply can't not choose him, but because you are in control here, you hold the power here, and so you choose him.
Or you can decide to choose you and your children.
That's really what this comes down to, Hurting.
I know it feels like that epic love story with you playing the role of the tragic heroine who knows what she needs to do, yet somehow can't because you believe in a love that conquers all, and that if you only give him a little more time to sort out his confusion, you'll win the prize – him.
There's only one prize here: you.
You choose who's the lucky man who gets to win your heart. You choose who he is. Not because of his potential, not because of what he says but can't back up with clear, consistent actions. But because he shows you clearly and consistently so that there can be no confusion that he is either on the same page as you or he isn't.
You have to actually have something to be able to lose it, Hurting.
What's here for you? What does he give you besides a few crumbs to keep you holding on as the rest of your life passes you by?
Don't let fear keep you from seeing what you actually have with this man – and what you don't.
You remove yourself by choosing to remove yourself. If you can't do this for you, do it for your beautiful children who are learning their worth from you. And do it for that little girl inside you.
He can't play with your heart unless you allow him to.
Love,
Jane
What do you want to say to Hurting, to help her set herself free? Please tell her in the comments!