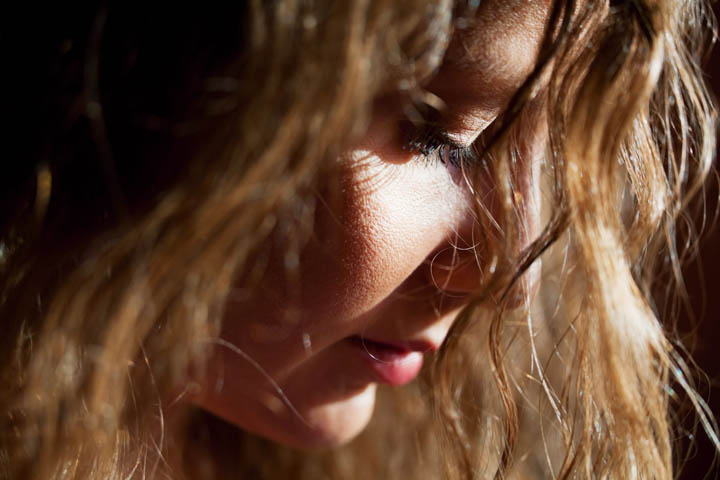 Our beautiful friend, Eve, is dating a guy that has told her he doesn't want a commitment, and she's wondering what to do next.
Here's her story:
Dear Jane,
First and for all, thank you for all the good advice and real life stories. I have learned a lot from them.
My story is similar to some I already read, although I feel there is a nuance which makes me still doubt my situation.
The end of March, I met a guy through mutual interests (we were both playing Music at the same event) and after adding me on facebook, we quickly started chatting and he asked me on a date in the same week.
The date was incredible; he was thoughtful, funny, humble, intelligent and very handsome. He kissed me during the date and after a little while, asked if he could come back home with me. I wasn't planning on doing that, but for some reason, I went along with it.
He took the train back the next morning and the online talking started again. Twice he invited me over for home made dinner and both times he couldn't get his hands off me. The attraction was mutual. Not only physically but mentally as well. We were, and still are, quite compatible in a lot of ways.
And then.
The morning after our 3rd sleepover, he messaged me saying he didn't want a serious relationship because he just ended a 8-year long relationship and doesn't want 'that concept' for the time being.
He told me he just wanted to do fun things with someone he's really attracted to (which also includes our conversations)
I totally understand that because he had been in that relationship since he was 16, which is a very long time, (and I know I shouldn't have slept with him that quickly), but I am ready for a relationship. I told him we could see each other until I went on vacation and afterward we would see. Those dates were great and he didn't mind showing affection in front of both mine and his friends on a party. After that 3 week vacation, he still had the same opinion, but he told me so just after he kissed me.
Last time I went with the intention of making it the last date but I couldn't end it. We went to a park and he had brought wine and a blanket and we talked until the sun went down; it was so nice.
But even though he says I mean more to him than 'something for the moment', I do feel as if I am exactly that, and that is not what I'm looking for. Everytime we meet, I feel fantastic at the moment but strange and slightly lonely the days after.
I think it is the best (most difficult though) solution if I just say that I want a relationship or nothing, one of the two. No "friendship" (we were never just friends), and no contact (or at least for the time being).
He can come to me if he's serious.
The only hesitation is that he may not change his mind. I know he likes me and that he thinks I'm great, but that's not enough. And I may prefer talking than nothing, but that leaves me waiting for messages more than I would want to.
Do you think it is the best solution? And is there a chance he would want to become serious after a while and "come back"?
I noticed that he started to use nicknames for me and texting me slightly more, but I don't think it would become a full blown relationship if I already agreed on so-so.
Thanks so much for your help
Your European friend,
Eve
My Response:
Dear Eve,
Hello to you, my European friend! I always love to hear from my readers and to learn where in the world you are.
It's never easy to shift from the beginnings of a relationship that felt so incredible in the beginning, to the reality when someone tells you they're not ready for a serious relationship - and you are.
This is why we are the ones who need to slow things down, to wait to give our hearts and our bodies away to someone who we don't yet know well enough to know where they stand. Someone who's truly looking for the same thing as you will respect you more for slowing things down and won't pressure you for more than you're comfortable with.
They won't need to, because they're looking at being around for the long term, too, getting to know you for more than just something casual.
I know it's so easy to get caught up in the potential of what seems to be so mutual, and yet, once we've gone there, our ability to think clearly becomes compromised. We get caught up in the moment, in the feelings, in where it feels like it's going. We don't think as clearly as we need to to protect our giving, loving, caring, understanding hearts.
We set ourselves up for this kind of heartbreak when we agree to get together in a place where there's wine and a blanket and a beautiful sunset in a park. It sounds so romantic – but it's the worst possible setup when it's with someone who's not looking for the same thing we are. So romantic, but so empty when we long for so much more.
You have to do what you can live with here, Eve.
You've got a guy who is being honest and clear with you about what he's looking for, and what he's not. Yes, his actions may seem to carry some mixed signals with them, but his clarity in what he's saying to you needs to override any of those mixed messages.
He doesn't want what you're looking for. There's nothing wrong with what either of you want, but when you put two conflicting desires together, it can't work, no matter how much you want to believe it can.
You've told him your terms. You've let him know what you can live with and what you can't. You've stated what you can't do to yourself anymore. Any solution is only the best solution if it is actually working for you. So my question to you would be, is this what you can live with? Is this working for you?
While it may seem that talking is better than nothing, you are so right to notice that this is only leaves you waiting for him and his messages instead of feeling your own power within an equal relationship that gives as much back to you as you give out to him.
Is there a chance he would want to become serious after a while and "come back"? Yes, there's always that chance, Eve. But don't live for that.
Don't wait around for that to happen.
There's a whole life out there waiting for you to embrace it, an incredible and amazing love that will be everything you've ever dreamed of and more. But will you see it if you're secretly fooling yourself pining for someone else? That's the bigger question to ask yourself. And it's one that only you can answer.
Love,
Jane