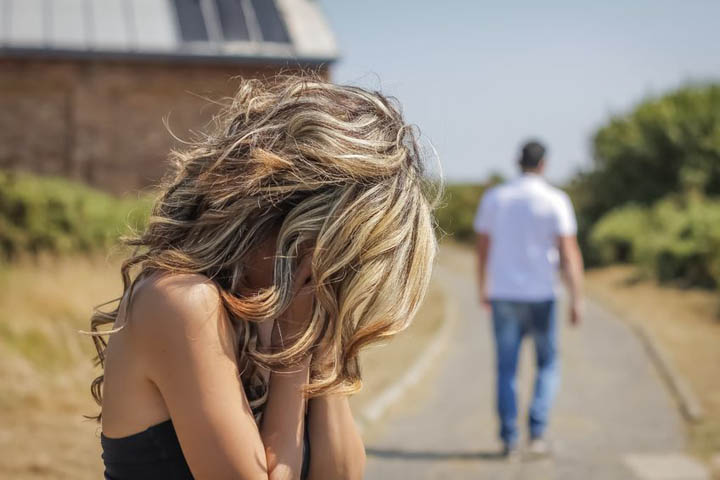 One of our dear friends, Kim, has been in a relationship with a guy that keeps on disappearing on her.
Here's her email:
Hi Jane:
I read your article 'Why you're attracting Emotionally Unavailable Men' and it motivated me to take action with your Weekly Love Steps program.
I am well versed in working with steps as I'm in recovery through AA, and have been sober now for 19 months after spending 10 months in limbo relapsing, and trying my best to be a social drinker but thankfully am an alcoholic and believe that today.
It has been an incredible, life changing journey filled with misery and confusion at first and now an entirely new perspective on the world.
I now have a community, true friendships with other alcoholic women, a connection to God I never knew existed, I'm able to be of service in and outside of the rooms of AA and have so many tools to use to keep me away from having to drink again.
I have been trying to turn my situation with a guy I care deeply about over to God, but cannot seem to let go of the hope and trying to control the situation.
I even read some bogus articles about how to get your ex back, etc.
After ceasing all contact for three weeks, I finally felt like I was turning the corner and truly gave it to God. 45 minutes later he (lower case h not H J) texted me. Three weeks of radio silence, and 45 minutes later he texts me?
I've set boundaries and kept them in allowing him to see me. However, this undeniable hope has been ignited in my heart.
He was not sober and drank the entire time we've been on this roller coaster (5 months), until two weeks ago. He is in the contemplation stage of whether he too is an alcoholic, brought on by the death of a friend, and another friend having a seizure due to detoxing.
For the previous four and a half months he has been back and forth with me, disappearing, coming back then when we have an incredible time together he runs for the hills. This happened again last week after spending two days together at the beach, with him not drinking, but going through the loss of a friend due to alcoholism.
I set the boundary that I'd be open with him and act as if we're a couple while there only (kissing, holding hands cuddling).
We had an incredible time, which I always knew we would in a bubble - the part of him not drinking was a welcomed surprise and I could feel how present he was vs before. Our connection grew deeper.
After two years of not being in a relationship I experienced a snap shot of me the me of today, sober and loving and compassionate having a make believe relationship and feeling a true connection with him.
We've been back a week, and while I know he's in the throes of determining what if any his issues with alcohol are, and spending time with his friends who are in town for the memorial of the friend who passed- he has once again completely disappeared.
I told him I was giving him space and that I was here for him. I also said I thought the time we spent together at the beach could be possible here at home. He did not respond to that, but a day and a half later sent me a text that he was sorry and had been sad/busy/sick.
Even though I expected this to occur, it still hurts.
Now I know I want a relationship, I am so excited to share the me of today with someone deserving of it. My confusion is how to just stop this cycle with him. He's dealing with so much, but hasn't reached out to me either.
He may not, but he likely will at some point whether tomorrow or another three weeks down the road. I want to step away, but I also care about him. I think I'm using his losses and circumstances as an excuse to stick around.
Even if I don't say anything to him now today that I'm done, how do I stop within my own heart and mind still having hope that he'll step up and want to be with me? There's so much on his side of the street that I have no control over, but what can I do on mine within me?
I have crawled out of the deepest hole my heart and mind and soul has ever known when I got sober.
I didn't work so hard, and continue to each day to live a sober life to be in half a relationship that exists only on his terms. I need your help to learn how to start the process of ending the five month cycle please.
Thank you for your inspiriting articles that motivated me to sign up for your program, and to reach out to you today.
Warmest Regards,
Kim
My Response:
I'm so glad you're here, Kim. Thrilled you're being inspired. And so honored that you're starting my program and reaching out to me.
Be so proud of yourself for taking these courageous steps to sobriety, to emotional health, to the life and love you so deserve. This is all you!
Your words about not being able to let go of the hope said so much to me.  We think it's about stopping the hope, but it's exactly the opposite. Don't change that beautiful hopeful part of you; it carries over into so many beautiful things. Instead, work with that hope. Look at that hope in the light of reality, in the light of what you actually know about this man.  Living with hope is about recognizing where that hope leads - and where it doesn't based on the reality of what is, and not the fantasy that you so want it to be. It's about a choice. Seeing the effect that hope has on you, and choosing how much you want to let it run free. And how much you want to see.
I used to think the secret to letting go of someone was all about being able to turn my feelings on and off. But what I discovered was that trying so hard to turn that off, and it's fulfilment of actually turning it off, only hurts us in the end.
And so what I most want to say to you is don't turn off that hope.
That hope is who you are. It's how you live. It's so much a part of everything that's so wonderful and beautiful and precious within you. It's what makes you that beautiful, hopeful, inspiring woman you are.
Yes, it's someone just like you with all that hope that can inspire in others that same kind of hope in themselves. And so many other things.
Because when you find yourself with someone who's on the same page as you, who's capable of the only type of love and relationship you want for your life – the real kind – you'll find just how much that hope becomes one of your most beautiful qualities instead.
"I didn't work so hard, and continue to each day to live a sober life to be in half a relationship that exists only on his terms."
Your words are so telling here. They speak of a strength and a courage and a resolve to refuse to settle for less than you know in your heart you deserve. They speak to what you've been through; to that knowing part of you that knows what it feels like to try to pretend you can live with someone else's terms, only to find out the truth. That few of us ever can. And none of us can ever do this well.
There's a reason you came back from that beautiful time spent in a bubble at the beach and couldn't go back to anything less than that. You're not meant to. There's so much more to life than that. There's so much more to a love relationship than a part-time kind of love.
It doesn't feel right because it isn't right for you.
You're so very right that there's so much on his end that you don't have any control over, but there's everything you have control over on yours.
Start by looking beyond the hope and asking yourself what's real. What's really there? What can he offer you that's real? What can he offer you that's consistent? What can he offer you that will last longer than a vacation, longer than some temporary time away from the real kind of everyday life we all eventually return to, spent in a bubble?
And most importantly, Kim, what can he offer you that you need, that  you want for your life, that you desire?
Take a good, clear look at him.
Not the him that you were just on vacation with. Not the side of him that he can't consistently deliver. But the real him.
Take in all the potential that you can see so well. Allow yourself to see and feel and embrace it all. Write about it. Write about how you're feeling when you go there, when you think about him in light of his potential and your hope.
And then compare that with the everyday real version of him.
Ask yourself if you really want to spend your life living for that kind of potential. Because that's exactly what we sign ourselves up for when we let that potential and hope override reality.
You need more than potential, more than hope, more than an idea of what could be for you to base a real kind of relationship on. This is when everyone's on their best behavior, in the beginning of a relationship when you're first getting to know each other.
It's when we put our best selves forward and reveal the best version of who we are.
He's not a bad person. You don't have to feel like you have to make him out to be. But that doesn't mean he's got what you need. It doesn't mean he's capable of giving you what you deserve. And more importantly, it doesn't mean he's going to get there anytime soon, or anytime at all.
Can you live with that?
That's the bigger question to ask yourself. Can you live with the reality of who he is right now, without anything changing, without anything more than what he is and has to offer you right now? Take that step back and see him. I know you want to help him. I know you want to save him on some level, especially since you've so courageously taken that step to do your own work and save yourself. It's so hard to not want to help him get there to. But this one's got to be his, Kim.
His own work. His own choice. His own decision.
You can't take it on for him. This isn't your role to play.
Keep choosing you. Keep looking at your own progress and seeing just how far you've come. And how much is still to come for you living this new life based on nothing less than what's real.
Keep looking at the reality instead of the fantasy we're so drawn to make someone's potential into. We make love out of nothing at all and keep calling it love, when it's anything but what love is all about. I'm glad that you're enrolled in the Weekly Love Steps program, because in it I cover all this (and more) along with exactly what you need to do, step by step.
And through it all, always remember - love isn't about playing the martyr, it's about being loved. And you deserve nothing less.
Love,
Jane
What do you think our dear friend Kim should do in this situation? Share you're thoughts and any words of encouragement with us in the comments!