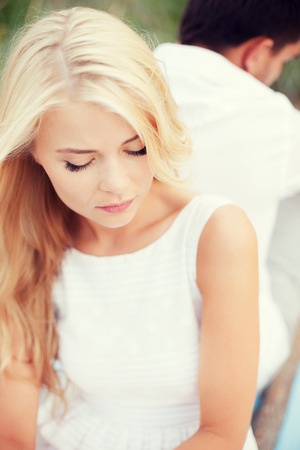 You know all those songs about being grateful that you didn't get what you wanted (think: Beyonce, The Best Thing I Never Had)?
Well, there's a reason.
Because when this is all over, this "going through" process that you're trying so hard not to fight right now, you'll be writing your own version of this song.
Because this isn't just about a relationship, it's about your life.
It's about being able to trust what you didn't believe you could. It's about seeing things for yourself in the only way we ever really learn those real lessons in life. By going through them firsthand.
Those are the lessons that we never forget.
I understand all too well just how hard it can be to believe that, and how tired we can be of hearing our well-meaning friends and family offer the empty promises with words like "it's going to get better soon".
And then we wait.
And wait.
And still nothing changes. Or so we think.
But oh how much is going on that we're not even aware of! There are so many changes happening that we can't yet see.  Maybe not now in real time, but look back and see how it was always a piece of the puzzle coming together.
The call that never comes. That committed relationship he never gets to.
Why not? We ask. Why didn't he want to call? Why can't he commit to us the way we're so ready to commit to him? Were we not good enough? Were we too much of something or not enough of something else?
Or was it getting us closer to seeing something we otherwise couldn't have seen? What if it was the only way? Would we feel the same way then?
It seems the easiest thing to blame ourselves, to go down that road where the absence of what we long to call love - of this person who shows so much potential - becomes all about us and our own lack. What does everyone else seem to have that we don't?
Stop right there, my beautiful friend. Don't even think of going there.
Can you see the rest of the story? Can you see what life would have been like over there? Not the way we always imagine it to be, in the fairy tale that only exists in our own romantic minds, but in the reality of what life with what you think you wanted so much would have really been like.
Today, tomorrow and the next day after that.
Could it ever really have been that amazing? That good – for you? Could he ever really have changed, have gotten on your page, have been able to give you what only you saw the potential for him to give?
No, of course not.
When we have the gift of hindsight, which is the only place from where we can see the true reality of what actually was and not just what we imagined it could be, we finally see the bigger picture and not through those rose-colored glasses of our own hopes and dreams that see only what we want it to be.
And what was the reality there? Was there love? Was there a two-way relationship with two people on the same page who were able to give to each other the way love is meant to be? And what of the ones that we let get away? Was it worth beating ourselves up like that over what we could have or should have done differently?
And what of the ones who let us get away, were they really as amazing as we remember them? Did the ones who never could find the time for us suddenly grow up into the ones who would be willing to find time for a family? Did the ones who couldn't commit to us suddenly turn into the loving husbands and dads who knew where the real priorities in life lie?
Did the ones we had to be dragged away from, kicking and screaming, when we wanted only to run back into arms that were never open to us in the first place, did they turn into arms that would have opened wider if we only gave them another decade or two of our lives?
The stories we tell ourselves and try to convince ourselves only lead to one thing; the proliferation of the idea that we somehow know better than someone or something that sees the bigger picture and leads us toward what is in our best interest in the long run. Whether it's God, the Universe, the infinite spirit, or whatever your particular belief happens to be, you can trust there's a reason for this, too.
Look back at what you've already been through – and what you now know.
I can't tell you how hard I fought to keep the very men who could never, ever have been the men for me if I knew then what I know now. But fight I did. I wasn't going to be the one to let them go. Until, finally, one by one, I couldn't hold on any longer.
Until eventually, the one who I didn't need to let go of was right there in front of me. The irony was, of course, that he was the only one I didn't find myself fighting for because there was no reason to.
And so it will be for you, too, no matter how far away that seems to you right now with whatever it is you're going through. When you look back on this day, in a different place and time, you'll look back with gratitude. Not just any kind of gratitude, but the real kind that you feel deep within, with the knowing that comes from having seen this for yourself.
When that day comes, I promise you, you'll be singing a similar song, too.
What about you? What are you grateful for today with the gift of hindsight? Or what are you still struggling to see?  Share it with us in the comments!