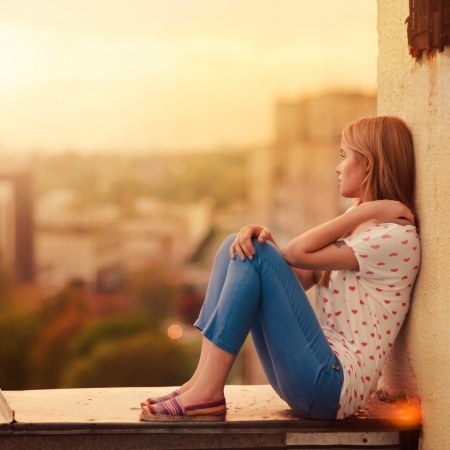 One of our gorgeous readers, who calls herself "V", is in a great relationship with a guy that she loves. The problem is that it's suddenly turned into a long distance relationship because of a job that he's taken.
Here's her story:
Dear Jane,
I am having a really tough time right now.
I moved last year to a small town my retired parents and never expected to stay. However, I ended up starting a business here, one I'm hoping will eventually afford me the ability to travel when I choose to.
For the past 6 months I have been in a friendship that slowly turned into a relationship. It gets better every day, but it didn't start out as him wanting anything more than friendship so we haven't been officially dating for very long.
The man I met had been focused on getting out of this small town he grew up in and making a name for himself outside of his family business. We have very similar hopes and dreams and that is how we bonded in the first place. We are both in our twenties, he is a few years younger than me.
This past week he finally got a job that is really wonderful for him. It's a huge raise, but he will be traveling all of the time and probably working 10-12 shifts. It is a really great opportunity, however we are both just realizing how much we want to be together and how important our relationship together is.
The reason we didn't start dating right in the first place was that he thought a girlfriend in his home town would tie him down. I accidentally changed the way he feels on that issue, at first because I'm just living here but I'm not attached to the town, and then because he sees how free and good we are together, not that it's a ball and chain- I guess we both matured a lot together already .
Unfortunately this job might take him all over a state about 12 hours away for the next several years. He would only be able to come back here for a few days every few weeks.
I am devastated.
We both want very badly to be together and don't want to let go of each other, but it seems like we're being pulled apart. It sucks because we both want to travel and would love to travel together, but it just doesn't seem like it will work out. Him not taking this job is not an option for either of us.
He has worked at getting something like this for years and I understand completely how he feels.
I just escaped my small hometown myself.  If my business takes off I would have more money to visit (he also said he would pay to fly me down to him).
I just don't know what to do.
From what I think you've said, this just isn't the right relationship for me because I don't want to be away from my love all the time. A week or two wouldn't be a big deal if we were sure to see each other for a few days, but we're pretty sure it'll be like that all the time.
I don't want to let go of something that would be so wonderful for us if only it was a LITTLE different. When I say it, it sounds like this is going to be something that everyone tells me to move on from.
I don't know what to do.
I don't want anyone else, I want him. People say that there are other fish in the sea, but how could I just give up on our life together when it's something we both want and just can't figure out a way around it? Or if it's meant to be, it'll be.
That's so awful to hear all the time. I'm scared because we haven't had a huge amount of time together and I feel crazy for being so completely attached already. Right now we are on "snooze" while he's still home for another week (traveling for four weeks after that and then home for two long weekends) because neither of us wants it to end.
He doesn't feel like it will be fair in the end to be absent from my life all the time physically, even though he says he selfishly wants to stay together.
I can't stop crying and I'm so stressed.
Trying to distract myself with activities has not helped. He is such a good man, but we are both young, still learning, and not settled in one place. He is also the only guy that I've been with that is 110% trustworthy.
The issue is the distance. Please, please help because I am at a complete loss.
I can't handle having my heart broken this time.
- V
My Response:
Dear V,
I understand how much you want this to work in spite of the distance, and I have some great news for you. You're not the only one in this relationship. There's two of you here, you and him.
And what that means is if you both want the same thing, if you both want to be together, then the distance won't be enough to keep the two of you apart. If it's only you who wants to be together more often, than you're definitely right that I would say that this isn't the right relationship for you. Because it would mean that you want more than he's going to be able to give you.
Life in general, which includes relationships, is always about what you can live with and what you can't.
Don't worry about trying to distract yourself. I know full well just how hard it is to distract yourself by focusing on your life when something like this is occupying so much of your time and energy.
But you're not the only one in this.
This isn't only up to you. It's in recognizing what is yours that you can control here and what isn't, that you can accept the reality of what's really going on that can bring you some peace here.
You can't change him. I suspect that because you mention that you've changed his opinion of dating someone from his hometown, that you want to believe you can be enough to change his desire to take this job that would take him away from you for so long.
The reality is, it's not about you being enough – you're always enough! But this one isn't up to you. It's up to him to see this for what it is, to recognize that you can only make decisions and be in control of what is yours to control.
When it comes to this job opportunity, if traveling and being away from home are a priority for him right now, then this is a part of who he is that you're now finding out more about.
Of course you don't want to let go of someone that's ideal in every way except the distance part. But that's no small thing if you're not on the same page here. If he's content to move forward with this even if it means the two of you won't see each other very often, then this is something you have to decide if you can live with.
Focus on the day to day reality of what that will look like to you. What will being in a long distance relationship with someone like this look like and can you live with that?
I suspect that underneath what you're feeling here, you're questioning why you can't be enough for him to not take this job that will take him away from you. You're feeling like you've invested so much of yourself already that you can't bear the thought of letting him go.
And you're hurting not so much because of the fact that you may not be able to be with this man, but because you're realizing that you may be the only one who wants this to be something more, who sees the potential the two of you have to be so much more. Yet you're sensing he's not there. And you're heartbroken at the realization that you might be the only one on this page.
If you're both here, V, if you're both on the same page, distance won't matter. But it sounds like this is about more than distance, it's about him.
If he's truly right for you, distance won't change this.
But don't sign up for something that isn't about distance, but instead is about two people on two different pages, looking for two different things using the distance problem as a disguise to cover up what's really going on.
You'll know because it won't be an issue that can't be overcome. You'll know because even if he chooses this job, there will still be a willingness to make this work in spite of this great opportunity. He doesn't have to give up this job opportunity to give you what you're looking for, but he absolute does have to give you enough for you to know that he's on the same page and wants the same thing as you.
If you look closer, if you see through eyes that are willing to look beyond the fantasy to the reality of what is, your answer will become clear. As much as we can deny it, deep down we always know.
I hope this helps give you something to think about from an outside perspective.
Love,
Jane
Do you have any other words of advice or encouragement for our dear friend V? Share them with us in the comments!