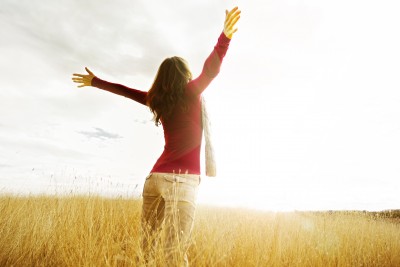 Like so many of us, I grew up with an idea of God that was handed to me from my parents. And, like most of us, when I was young I believed what they believed and took everything as truth that they taught me about God.
But somewhere along the way, I realized that I didn't really know what I believed. I didn't know what was true for me.
So, after believing so long in something that wasn't really my own in the first place, I started to search for my own answers. I found myself questioning who I was, where I had come from, and what I believed.
Then something amazing happened.
I found the answers I was searching for not outside of myself, but deep within me, in being open to seeing what showed up in my life. It was in the simple, ordinary things such as a passage in a book or a line in a song, or a word from a friend that would appear right in front of me exactly when I needed it most.
To someone else, these might have been written off as mere coincidences. To someone else the might not have meant anything. But to me, all of these little things were obviously anything but coincidences. They were very big, very clear indications that someone was looking out for me. That someone or something really cared.
And often that very thought gave me reason to hold on.
To hope.
To believe.
To trust.
And more importantly, to believe in myself and trust that I would always be taken care of. That someone or something held me in their hand, and that all I had to do was watch and listen and do the best I could with what I knew and everything would be exactly the way it was meant to be.
And I would be safe.
But of course it's never that easy. In the worst of those moments when I felt so alone, so lost, so void of any hope, the last thing I was confident of was that there was any kind of greater plan. That anyone was looking out for me. That there would be some sort of silver lining that would emerge out of the devastation that I was feeling.
But each and every time I felt that way, sooner or later (sometimes painfully later), I would recognize why I had to go through what I went through. As long as I remained open to seeing it, the next steps in the path would become clear and I would know once again that things really were just as they're meant to be.
If this is you, if you find yourself doubting yourself, questioning yourself, questioning that there could be more to life than the way it is right now, and doubting whether there will ever be something more, know that you're not alone.
This is what we do so well. We look all around us and see that everyone seems to get this except us, that no one seems to need that reassurance over and over again quite like we do. And then we fall into that downward spiral of doubting ourselves, of questioning who we are to think we have anything of real value to offer, and we go back to that place we know so well.
But you never go there alone. Whatever you believe in, it goes there with you. It meets you where you are. Whether it be God, or the Universe, or the Infinite Consciousness - or whatever you choose to call it, it's there for you. And it will always be there for you, right where you are, and it will show you.
All  you have to be is open to seeing it.
You see, you're worth that extra time and attention you need to show you what you can't yet see for yourself. You're worth that extra investment in you to remind you of all that you are and all that you have to offer the ones who are meant to be in your life.
Don't beat yourself up for needing that reassurance. For needing those repeated reminders that there's more – so much more! – still to come for you. That life hasn't passed you by. That you haven't been forgotten. That you didn't do anything so bad that would negate any love and happiness for you. That there's no judgement in love, only compassion for the beautiful human you are.
We all make mistakes, we all lose our way. We all question whether that master plan, that life that we were made for really exists for us. There's no one who understands what that feels like in real time as much as I do.
Won't God/ the Universe get sick and tired of me always needing to be reassured?
Shouldn't I know by now?
No, not with where you've been and what you've been through. Instead, look at who shows up. Look at the people who cross your path. Look at the places you find yourself. Look at the little coincidences that are anything but and how they keep turning up in your life when you choose to see them. They're always there, they're always happening, if we're open to seeing them appear.
You're always met right where you are. You're not too much trouble for the universe to go out of its way to spend some extra time and attention making sure you see what you need to.
Don't  you see? It's what makes you you! All those beautiful qualities you forget you have, they're the other side of this. You might need a little more, but you give that much more!
And just like you were made exactly the way you are for a reason, so too is there that kind of grace for you to give you those little reminders along the way, to make that next step just a little more clear, to give you that little stitch of hope to believe if only just for today. You don't need to know what tomorrow will bring, all you need to remember is that your answers will come along the way right when you need them.
It's only our impatience that gets in the way. We want to know now. We want it to be so clear. We want that gift of hindsight where this all makes sense right now.
You'll know more when you need to, and as I say to myself as much as I say this to you, it's OK to not know. Look for it. Be open to it. Be open to it looking different from what our programming and all our cultural influences says it has to look like.
All you need to remember is that when it matters, it will be clear.