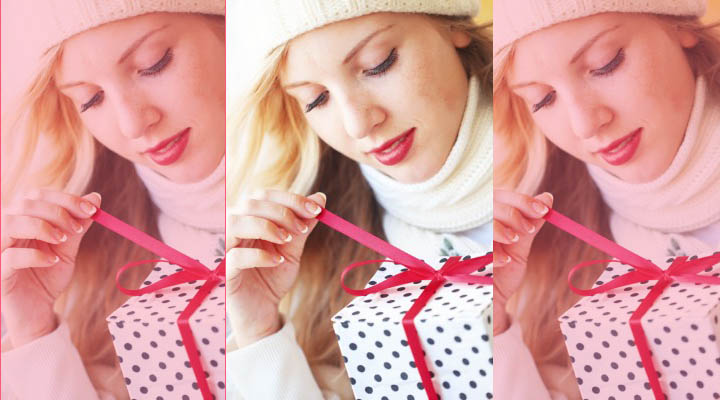 I have a confession to make.
I'm the one who starts crying (OK, I have to admit sometimes I'm actually bawling) at some of the Christmas songs playing this time of year.
Maybe it's because they bring back such memories of more than just time and places and experiences, but of actual emotions, and the feelings I had, whether it be happy, sad, excited, when these particular songs were playing.
Times that now only exist in the back room of my mind, and are brought out and dusted off for a fresh new look by my current self, whether I want to look or not.
Baby, Please Come Home for Christmas – my favorite version is the one by Bon Jovi (being the true 80's girl that I am – hey, in Canada the 80's didn't happen until the 90's, so it's not that far off!). 
Sure enough, whenever that song comes on, the flood of memories comes rushing in, and it's like it all happened yesterday.
I'd be singing at the top of my lungs, imagining that the particular guy I was with at that particular time (which could have been any one of the numerous relationships that I had been in, all of which I so wanted to work out) had actually come to his senses and was singing that song to me.
It was my turn to be begged to come back to him for Christmas.
Well, that's how it happened in the fantasy anyway. It made me cry then because it didn't work out, and it makes me cry now because I'm soooooo glad it didn't.
And then there's the classic John Lennon's So This Is Christmas. It never fails; this one gets me blubbering every time. I mean, how can it not? To make a difference in the world, to have peace on earth, no more wars, no more fighting, no more pain, no more hurting. Who doesn't want that for the world?
It gets me every time.
Then there's my favorite. The one that really gets the river of tears flowing down my cheeks. My Grown Up Christmas Wish.
It doesn't matter who sings it, I've got the tears rolling the whole time. Especially the lyrics that say "…no more lives torn apart, and wars would never start, everyone would have a friend and love would never end." That's it. That's the kicker. That love would never end - for anyone.
That it would all be the way we all wish it to be. The way it's supposed to be, right? Without tearing so many lives apart when it ends.
Men, women, and especially the children (if there are children involved). That does me in. Because true love isn't supposed to be like that. And it isn't, when it's the real thing.
So here's my Christmas wish for you, my single friend, wondering where the love is for you this Christmas.
My wish is that you can see all the love that's around you. All the love that's waiting for you to embrace it and claim it for your own. It's all around you. Everywhere.
I was just reading that realizing and feeling the abundance of the universe is the first step towards prosperity. I believe that applies to love also, and even more so. Because not only can you never run out of love, the more you give of your love, the more it multiplies.
The more you use, the more you have.
Just because that special love hasn't found you yet, doesn't mean there's any less love for you. It's in your friends, your family, your furry pals, your passions, your dreams, your you! The birds in the air, the sunshine that warms your beautiful face, the cool rain that washes away your precious tears, the frozen snowflakes that grace your beautiful head of hair.
Love is everywhere around us if we choose to shift our focus and see it.
Because every time someone whispers I love you, every time someone engages in a warm embrace, every time someone shows love to someone else regardless of who they are or where they've been, the message is the same: there's so much love in this world of ours, this world that can seem so cold and unloving at times.
There really is love there, you just might not be able to see it unless you can look at it a little differently.
So whatever you believe about Christmas, or if you don't believe in it at all, take from it the simple message that doesn't depend on subscribing to any belief system to participate, except the belief in love.
Celebrate Christmas with me as a promise of love. Whatever that means to you.
Whether it's in the belief of a baby boy, born to save the world with love, or the gift of a father's love to the world, or just a simple reason to have hope in mankind. Know that the whole point of the holiday season is about love.
Feel the love, embrace it and know that it's there for you, too. There's always enough love in the world if you just let it in. And there's someone waiting for your love as much as you're waiting for theirs.
But in the waiting, there's the living. Of your life. Of your unique, beautiful you.
That's the kind of love that's worth giving. And the only kind worth receiving. The true kind that you'll know when you see it. When love finds you.
And it will.
Merry Christmas.