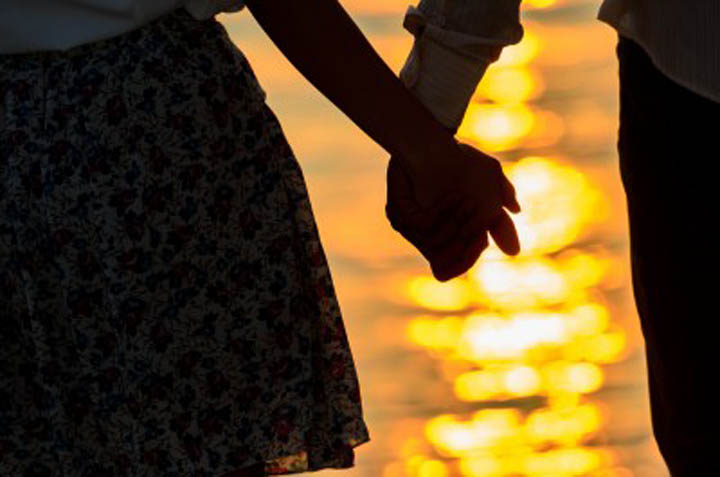 I wasn't real.
They, on the other hand, might have been. But I would never know.
Because until I was able to get real, nothing was real. What I came face to face with was the reality that I didn't know how to be real. I was too busy trying to be perfect.
Trying to figure out what it was they wanted me to be and then being that. Trying to prove my worthiness, my perfectness, my "perfect girlfriend-ness".
That's all I knew. And that's what I thought mattered.
I knew I wanted someone to choose me, to make me feel like something. To give a life to fit into. To give me a world to fit into and a role to play. To give me the instruction sheet on how to do a relationship.
Just tell me what you want me to be and I'll be it. 
I was really, really good at picking up on cues on what someone wants me to be. I could read people like a book.
In fact, we're so good at reading other people because we have to be. One slip up and we could be out of there. Tossed out. Discarded. Not chosen.
Not worthy. Not loved. (Read: worthless.)
Our survival as a person depends on it because if we don't read the cues and pick up on what it is they're looking for, we won't be loved. At least not by the ones that matter. And without that, we have nothing. We are nothing.
Or so we think.
Girlfriend, please read this slowly.
You have worth just because you exist! You have worth just because you were born! You have worth just because you are! 
You don't need a guy to give you worth, to make you feel worthy, to make you feel like you can take your place among everyone else in this world because they're chosen too.
You have worth just because you are here on this earth!
That's why I'm here writing this to you. It's not just in everyone else and not in us. Oh, it's in us all right. We just don't see it.
And the only way we're finally going to see it is by opening ourselves up a little, even just a little crack, to the possibility that we might just have everything we need right here within ourselves.
The kicker is that you won't believe this until you get there yourself. My saying it or anyone else saying it - no matter how many times - won't make a difference until you're ready to receive it.
And the only way you'll be ready to receive it is when you finally give up this search.
This incessant search for something outside of yourself to make you feel okay inside yourself. Deep down inside.
You know, that place where you feel there's everything wrong with you and nothing right.
And you don't know why or what to do about it or how to get it, but here, in our culture, where we're raised to believe that something amazing happens to us once some guy chooses us and makes us his bride and we live happily ever after. That something magically happens to suddenly make us okay inside and takes all the wrong away and makes us all right.
The tragic part is that you actually believe that's how it happens. And so did I. And that's why we'll sell our souls, give up what we might actually enjoying doing, give up our lives, what little we know of ourselves and what we might like to do for a life.
Give it all up if we can get a script to what we need to be to get that feeling inside of us that makes us feel like we're okay. That we're chosen. That we have worth because someone chose us.
Like an auction block.
It's us against them so we can't get too close to the competition either, which is why we sometimes don't have too many girlfriends, lest they get picked over us.
Oh, we can be the jealous type, too.
Because what we're fighting for isn't just about a guy. It's about worth. Our worthiness. And if they get chosen over us, then that means they have it and we don't.
So you see? It isn't really about this great guy. It's more about him choosing us than about him. More about him picking us than who he is as a person.
We forget that we have worth without him. That we need to be carefully picking him, making sure he's the right guy for us instead of the other way around.
Somehow, we have it so backward. The tragedy is the extent that we actually believe this.
It's only because I've been there that I can tell you that it's not. Because I believed it, too. And one of these days you're going to see it, too. Something's going to click and you're going to see the light, and yourself, for what you really are.
It's the day you give up the search for him and begin the beautiful search for yourself. Because she's in there just waiting for you to see all that you are, all that you have to bring to a relationship from you, not what you think he wants that you try to present yourself as a perfect package.
There is no perfect package. That's the first lesson of real love.
There's just a real you and a real him and a real relationship that's waiting to unfold and begin. But the irony is it can't begin until you show up.
Not the you that you think you need to be or that someone wants you to be, or what you think a relationship is all about. There's only two people who can make a relationship and no one will know what that looks like until you bring yourself.
There is no script. There is no mold or role. That's just not real. Think about it. A relationship is just you and him.
What he brings of himself and what you bring of yourself. You determine what it looks like. For you.
So does he. For him.
And it changes, all the time. Because you change. You're not going to feel the same way every day. Some days you'll feel one way and some days another, and so will he. And the beauty of it is that you're both in the same boat; you're both making your way through the relationship waters together.
He doesn't know any more than you do. And he's no better than you.
Yes, I know, that can be scary. Because sometimes, it's a lot of work to be who you really are if it means conflict or messiness in sorting it out together. Sometimes, it's a whole lot easier to just be given a script with a role in a play where you just act out the character; in our case, it's the perfect girlfriend leading to the perfect wife.
But life isn't like that.
Even if it was, if you found someone who pegged you in a role and all you had to do was act, it would eventually make you miserable because no one can be that disconnected to their true selves and be truly happy.
Are you getting this? There's a reason why we're making plans to go to them, to fit into their lives - it's easier that way, it's the role we've been playing our whole lives.
But here's the thing that we just don't seem to get. This guy, and any guy, all he wants is to be loved for who he is, too.
Just like you. We all do.
We're scared that if he sees how much we want that, it'll scare him off, because somewhere along the way we learned that it wasn't safe to be vulnerable, to let our guard down and be real. Just be ourselves.
Because we don't know ourselves that well. And what we do know, we don't like. We don't think we're good enough, and we don't think anyone will love us if they know how needy we are.
But listen to me here.  We only get needy when we get scared.
We're only needy when we get scared that there's a scarcity out there, that there's no one left for us, that there isn't someone who's going to come alongside us one day and be that guy for us. And that we'll be alone.
It all comes down to that.
We're scared to admit that we want to be with someone because we think we're not supposed to need anyone like that.
Why can't we ask for what we want? Why can't we see that we all just want to be loved and accepted by another person who will love us just the way we are? Because that's what we deserve -nothing less.
Every little glimpse of awareness of the real story behind the story we're so used to telling ourselves because it's the only one we've been told, opens us up a little more to seeing the truth. The real truth, Beautiful. The truth of who and what you absolutely deserve!
What do you deserve, Beautiful? What have you forgotten along the way? Tell us all about it in the comments below.