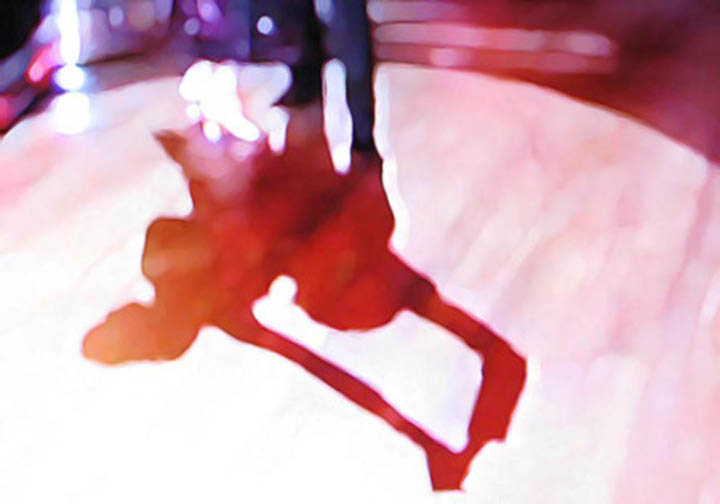 There's a song I used to love belting out the lyrics to – never mind that it was sung by a sensitive, soft-spoken man with a perm who could have been old enough to be my dad.
When I heard the words and looked up the lyrics to make sure I had them right, they resonated with me in a way that nothing had before.
It didn't matter that I was only in my twenties myself. It didn't matter that I was probably the last person he imagined identifying with them and he certainly hadn't written them for someone like me.
What mattered was that in my twenties I felt old.
I had always been an old soul. I knew more and felt more and understood more than most anyone my age, and almost all of my friends and boyfriends had always been much older than me. So when first heard the song, I understood from my old soul standpoint just like everyone who it was actually intended for would.
When we're young and in our teens, twenties, thirties we don't think about running out of time. We're not thinking about our biological clocks ticking. And we're not worried about whether the good ones are being taken while we're still having our fun.
We have our lists. We have our criteria. We're picky and we deserve to be!
So we date and play around and make love for fun and live the life of someone for whom the world is an oyster, where everything is an open book, and love and excitement and dreams coming true are all around us.
We can get almost anyone we want. We can create almost any kind of life we choose to. And we feel like we can do this all so effortlessly, with so little pressure to make anything happen because that's just the way it is when you feel like it is.
It happens so easily and effortlessly for us.
Until the magic starts to fade. Until the reality hits us when that guy across the room isn't looking at us anymore. He's looking at the younger version of us on the other side of the room.
What then?
Go create that magic again. Go become her again. But this time with the knowledge and experience and insight and emotional intelligence you now have.
Sure you learned the hard way. Sure you figured it out when it feels too late. But it's not. It never is. Only in your own mind.
Only in that place where the pressure comes again. In that place where the pressure to conform and fit in or prove yourself at your 20, 30 or 40 year high school reunion when the invite comes out again.
I don't know about you, but I  can't do anything well under pressure except freeze. And doubt myself. And feel my perfectionistic self rearing its ugly head again because, well, my perfection may be different now, it may have even gone underground, but it's never, ever far from home.
Give up the search. Give up the answering to anyone else. Give up the perfectionism that holds you hostage.
You're not her. You never were. And you never will be.
But the point is, you never wanted to be. Not really, anyway.
From the outside, everything looks wonderful, perfect, amazing. But you're not on the inside. A different story plays out there. Or maybe it doesn't. Maybe it is that perfect. Maybe you missed your chance and there's nothing left for you.
But are you going to just accept that fate as your own and let everything stop you?
Maybe for a season. Maybe for a time. But I know there's something in you calling out for more.
It's more than your perfectionism. It's more than what anyone else might think about you. It's so much more than proving - proving anything to anyone.
After all, who really cares? I mean really?
Who's paying that much attention to who you are and what you've become and whether you measured up to what you were supposed to? Only in your own mind.
But we spend so much time there, it's no wonder it might as well be our reality. It's where we live.
If only I'd done this. If only I'd done that. So many regrets.
So what's holding you back now? Why not create now what you couldn't then?
Yes, you were different there. We were all different then.
Now we know. And now we choose. And now we find our own way back. Not really back, but it's a new kind of back. The kind where we know so much more now, and with those lessons learned, we learn to give up, to take the pressure off ourselves.
And we wind up taking back our power in the process.
We all grew. Or we didn't.
He did, or else he didn't. Either way, you'll know how to spot the one you're really looking for now. Even from a mile away.
Sure you might try again, or you might see him for who he is and who he'll never be and resist the urge to try to change him like you used to think you could.
You don't have to be by yourself. We've learned a lot about that.
There are so many ways now to never be alone again. And we've also learned that being alone but not lonely is possible to.
We can find our tribe, our people, the ones who bring us up and never let us down. We don't have to be ashamed of who we are or what became of us or what we never got around to do. It's never too late - that's only in the stories we tell ourselves.
Who are you underneath all that pressure? What might be possible without that albatross that hangs around your neck? What would it feel like to stop absorbing everyone else's "shoulds", everyone else's regrets, everyone else's opinions for you?
What would it feel like to go back to that little girl and find her again? She knows what you can do. YOU know what you can do!
If you need some help, I'm here. Just know that giving up, however counterintuitive it may seem, might just get you to the best place you've ever been.
What about you, Beautiful? Does this resonate with you? I'd love to hear your thoughts in the comments below. Because no matter what belief system you're buying into, it's never, ever too late for you or any one of you!